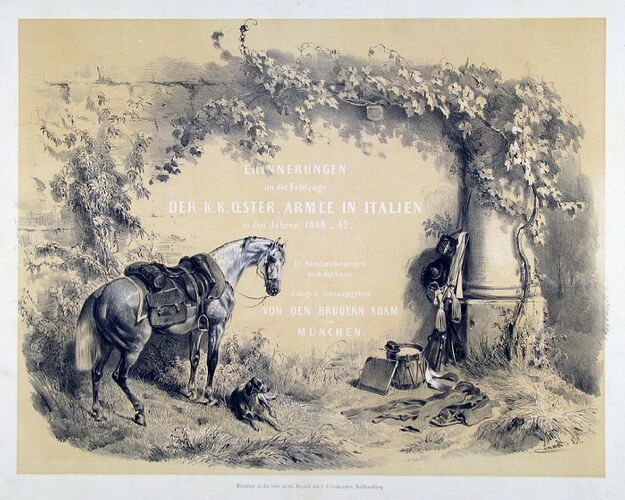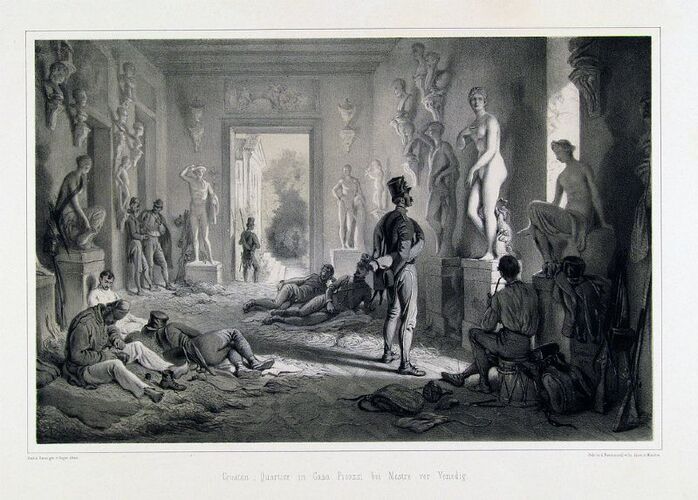 ADAM, [Eugen and Franz].
Erinnerungen an die Feldzüge der K. K. Oester. Armee in Italien in den Jahren 1848-49.
Munich, Cotta, [1851]. Royal oblong folio (62.5 x 45.5 cm). With tinted lithographed title, dedication leaf to Radetzky, preface and 24 lithographed plates. With 24 ll. of explanatory text printed on blue paper. Plates loose in a contemporary red cloth slipcase with a silk lining. [24] ll.
€ 5,000
First edition of a monumental commemorative work to mark the campaigns of the Austrian army in Italy during the years 1848-49. The plates, lithographed by Ernst and Franz Adam and printed by Julius Adam, depict the street riots, assaults, cavalry battles, and sieges near Milan, Santa Lucia, Vicenza, Custozza, Volta, Mortara, Novara, Malghera and elsewhere during the suppression of the Italian revolt by the Habsburgs. The war correspondent Friedrich Wilhelm Hackländer (1816-77) wrote the extensive explanatory texts (most in both German and French) for each plate. Austria won this first Italian War of Independence; a decade later, however, Italy was an independent state.
From the library of Duke Maximilian Joseph in Bavaria (1808-1888), father of Elisabeth, Empress of Austria ('Sisi'). Some minor browning and foxing. Frayed edges. Very good set of lithographs depicting military scenes during the first Italian Independence War. Hiler, p. 6; Lipperheide Qe 20.
Related Subjects: