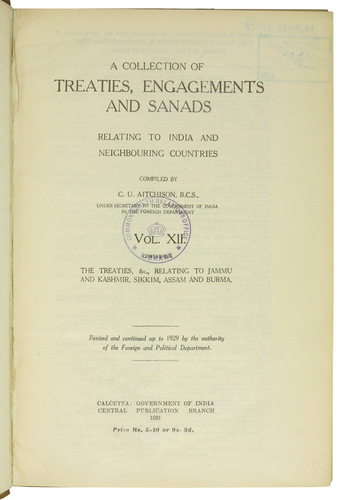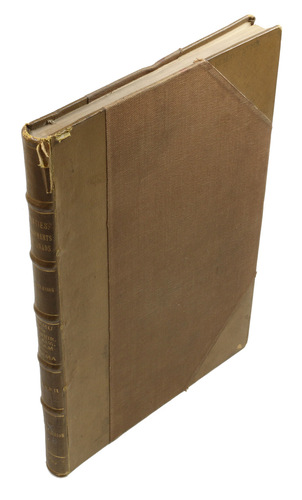 AITCHISON, Charles Umpherston (editor).
A Collection of treaties, engagements and sanads relating to India and neighbouring countries ... Vol. XII. Containing the treaties, &c., relating to Jammu and Kashmir, Sikkim, Assam and Burma.
Calcutta, Government of India, Central Publication Branch, 1931 Large 8vo. Contemporary half cloth over boards, buckram sides. [2], XII, 283, [3], XII, XXIII, [1] pp.
€ 3,500
Forming part of the fifth edition of an important government-issued series (incorporating revisions to 1929), this 12th volume records the treaties made with the countries on the fringes of the British Raj, most importantly those made with Burma, but also those made with Jammu and Kashmir in the northwest as well as with Sikkim and Assam in the northeast. The first treaty recorded here is a commercial arrangement with the King of Ava (now central Myanmar) in 1795, and those that follow demonstrate the steady progress of English intervention with a treaty "for the establishment of a Court at Mandalay" and various arrangements between the British and Chinese regarding the Burmese frontier.
Provenance: Foreign and Commonwealth Office stamp (Commonwealth Relations Office Library) on the title-page and cancellation stamp on its verso; "Council Reading Room" stamp on a flyleaf with pencil note "Amendments made to 25. 2. 35". Edges somewhat rubbed, front hinge beginning to split, but still a good, well-preserved copy. WorldCat 454612923.
Related Subjects: