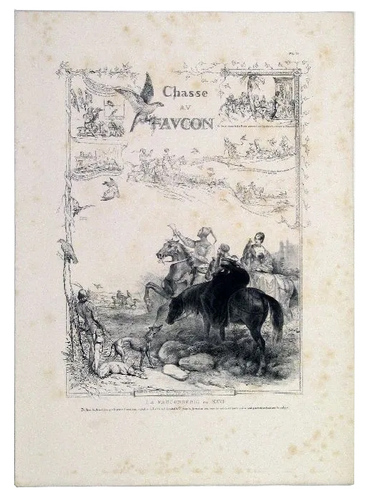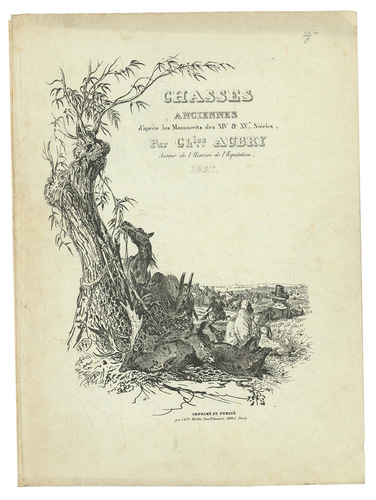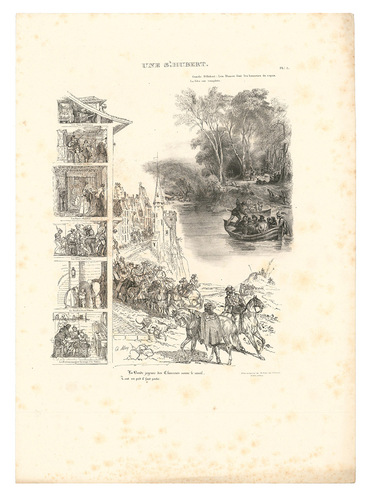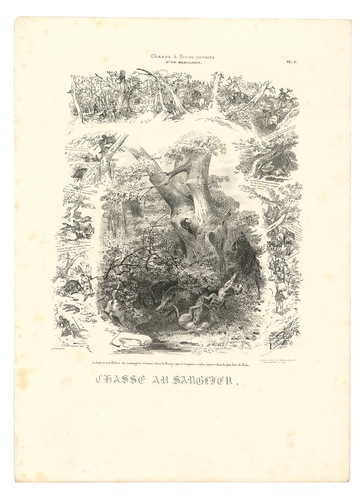 AUBRY, Charles.
Chasses anciennes d'après les manuscrits des XIV & XVe siècles.
Paris, Charles Motte, 1837. Imperial folio (ca. 41 x 55 cm). With 12 numbered lithographed plates. Plates loose in original lithographed portfolio.
€ 1,800
Beautiful series with 12 lithographs depicting hunting scenes by the French lithographer Charles Aubry, who was known for his hunting and military scenes. Depicted are scenes with boar hunting, deer hunting, wolf hunting wolves, foxhunting, hunting with dogs and falconry. Also are depicted the hunting of antelopes, gazelles and elephants. Furthermore a plate depicting Charlemagne hunting lions. Aubry was active from 1822 as a lithographer and later as professor of arts at the Ecole Militaire de Saumur.
From the library of Count Max Joseph in Bavaria (1808-88), father of Empress Elisabeth of Austria ("Sisi"). Some stains and foxing. Good set of lithographs with beautiful hunting scenes. Lipperheide Tf 24; Schwerdt I, pp. 47-48; Souhart, col.28; Thièbaud, col. 48; Thieme & Becker II, p. 231.
Related Subjects: