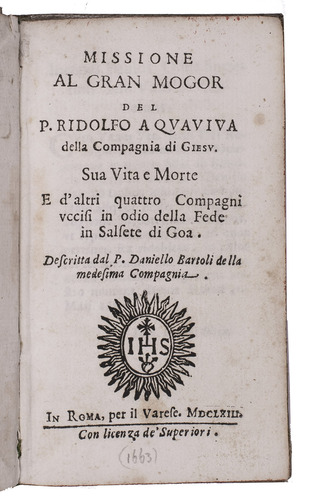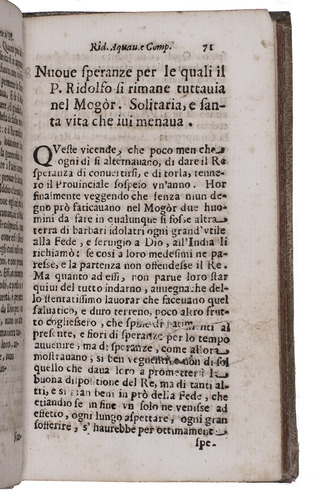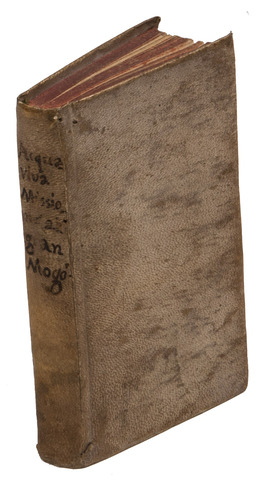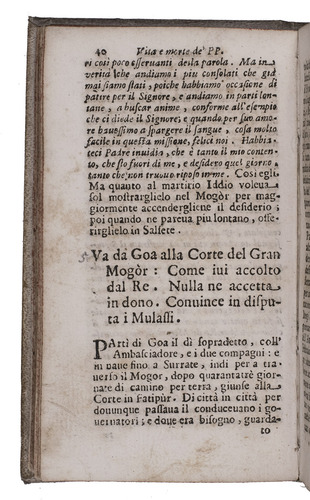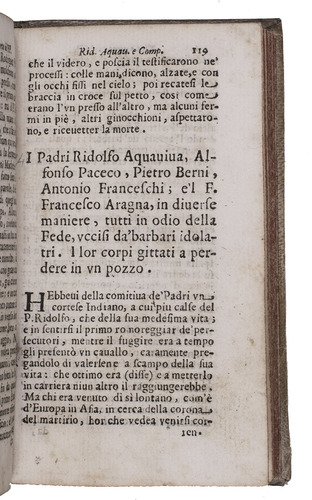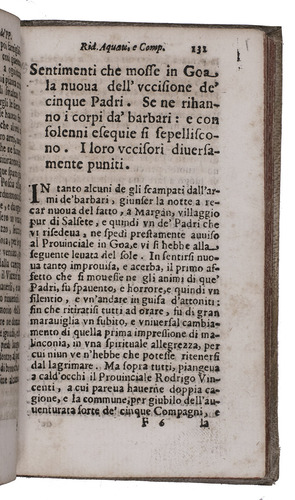 BARTOLI, Danielle.
Missione al Gran Mogor del P. Ridolfo Aquaviva della Compagnia di Giesu, Sua vita e morte, e d'altri quattro compagni uccisi in odio della fede in Salsete di Goa.
Roma, Per il Varesi, 1663. 8vo. Contemp. vellum. 218, (2) pp.
€ 12,500
Rare first edition of an important work on the Jesuit missionary activities in Goa by the Jesuit Daniello Bartoli (1608 - 1685). Bartoli was historian of the Jesuits. He entered the Society of Jesus in 1623 . He remained in Italy where he gained distinction as a preacher and a teacher of rhetoric. The story of the labors and sufferings of the members of the Society of Jesus in the Indies and Japan awakened in the youthful religious an ardent desire to emulate the zeal and devotion of the missionaries. The high quality of his writing became apparent to his superiors and he was called to Rome in 1650 where he was made historian of the order and published a variety of works on history, literature and science. From 1671-73 he was rector of the Collegio Romano (now the Gregoriana), the principal Jesuit university. His description of the Jesuit world was highly regarded at the time and later Italian writers such as Leopardi thought very highly of Bartoli's prose.
This account of the Jesuit missionary activities in Goa was published independently, but was later incorporated in Bartoli's general history of the Jesuits, published many times during the 17th till the 19th centuries. It is the earliest and most comprehensive survey of Jesuit missionary activities in Asia.
The present work is on the activities of Father Rodolfo d'Aquaviva who had been in Goa since 1574, and was sent to the court of the Mughal Emperor Muhammed Akbar in 1580. After his return in 1583 he suffered martyrdom at Salsette with four of his companions.
Good copy; hinge broken; tear in p. 71; some browning. De Backer-Sommervogel, I, col. 975, nr. 13; on Bartoli: Dizionario biogr. degli Italiani 6, pp. 563-71.
Related Subjects: