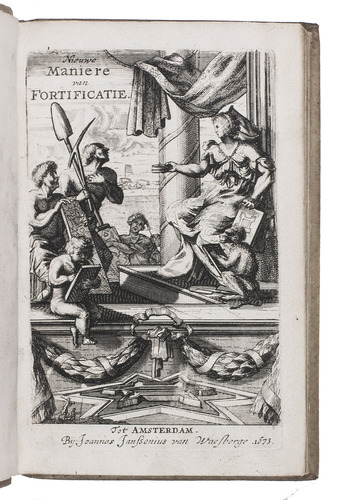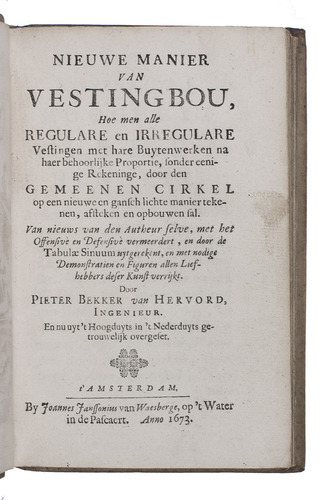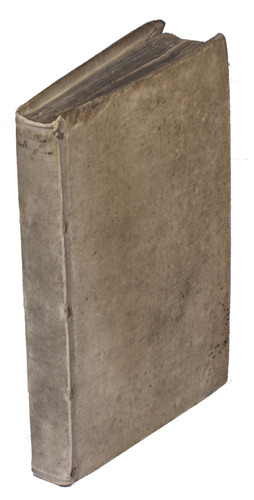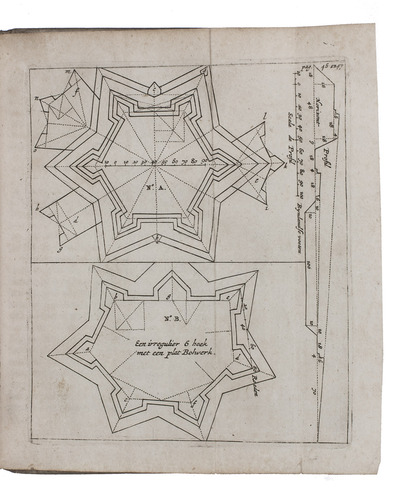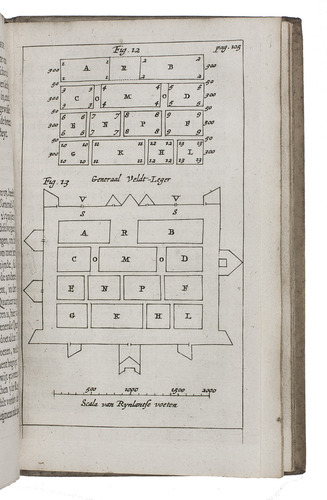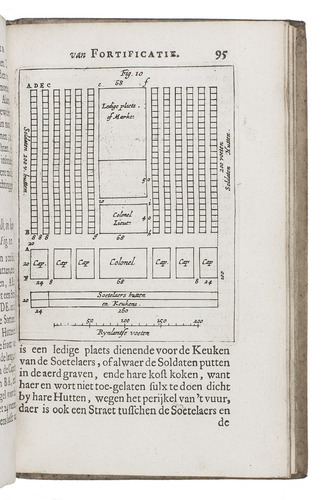 BECKER (VON HERVORD), Peter.
Nieuwe manier van vestingbou, hoe men alle regulare en irregulare vestingen met hare buytenwerken na haer behoorlijke proportie, sonder eenige rekeninge, door den gemeenen cirkel op een nieuwe en gansch lichte manier tekenen, afsteken en opbouwen sal. Van nieuws van den autheur selve, met het offensive en defensive vermeerdert, en door de tabulae sinuum uytgerekent, en met nodige demonstratien en figuren allen liefhebbers deser kunst verrijkt.
Amsterdam, Johannes Janssonius van Waesberge I, 1673. 8vo. With an engraved allegorical title-page, a letterpress title-page, 7 engraved plates (5 folding), 3 engraved illustrations in the text and 3 folding tables. Contemporary vellum. [16], 146 pp.
€ 3,500
Rare Dutch translation of a work on fortification giving a very detailed description of the mathematical problems encountered in designing and building fortifications. It was originally published in German in 1664 by the German military engineer Peter Becker. The translation is dedicated to Prince William Hendrik of Nassau.
The engraved title-page shows workmen with tools and plans facing a female figure, while a child or putto and an ape sit drawing. The ape may be a joke alluding to the informal Dutch name for a pantograph, which translates as "drawing ape".
A very good copy. Jordan 0208 (5 copies); Hoogendoorn BEKP01D (6 copies, incl. 1 incomplete); Sloos, Warfare 08049; STCN (3 of the same copies); cf. Jähns, p. 1207.
Related Subjects: