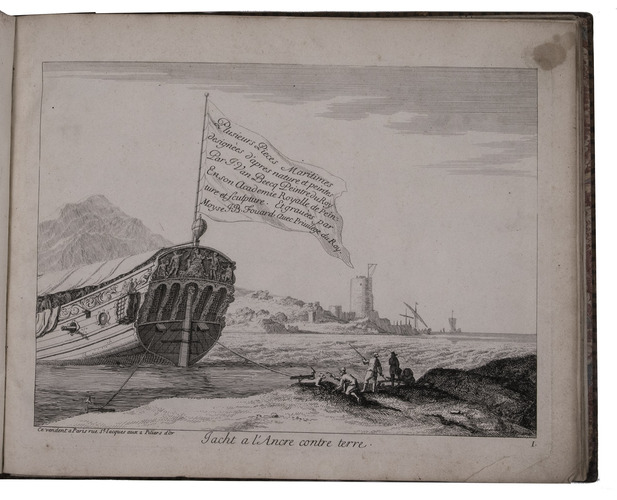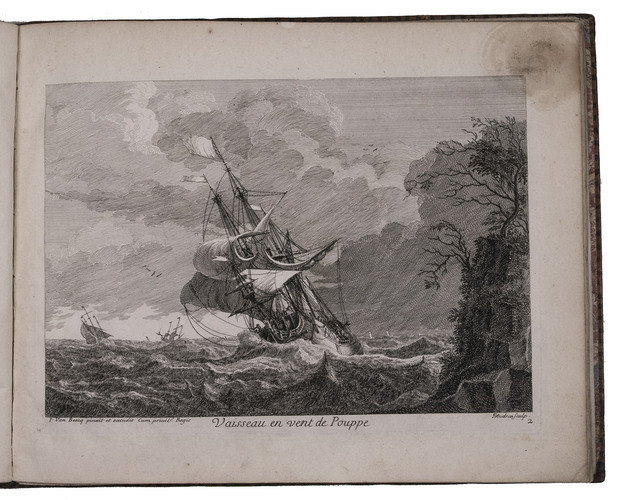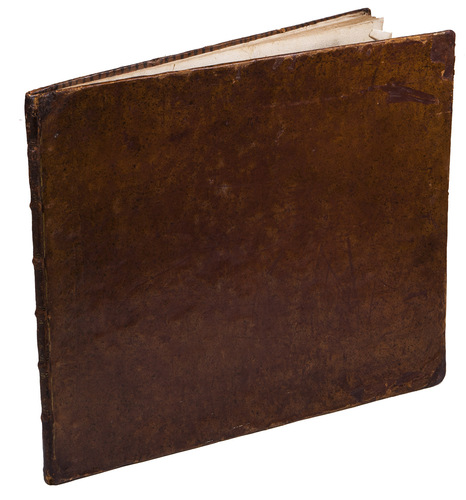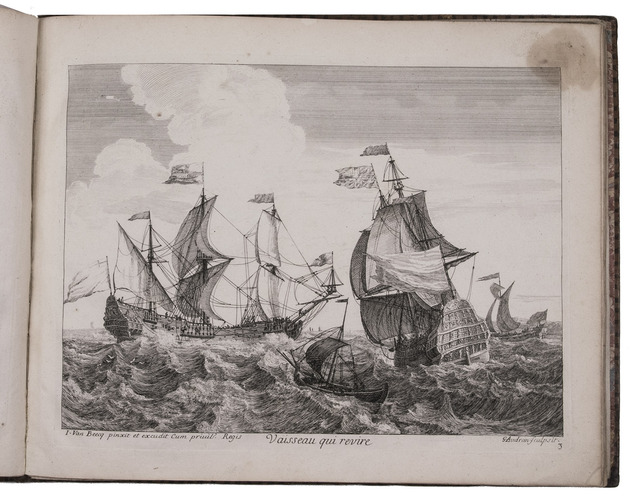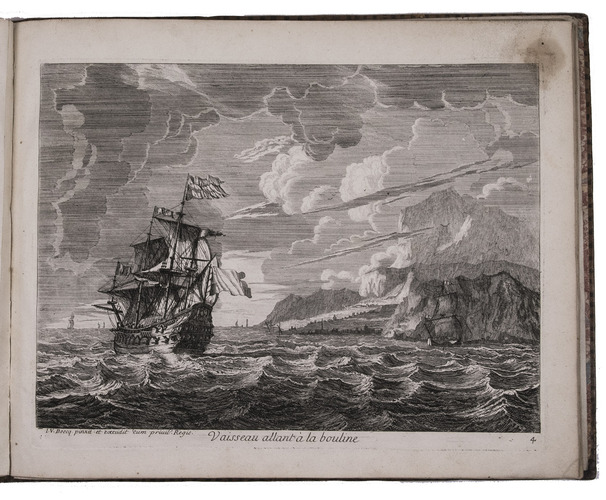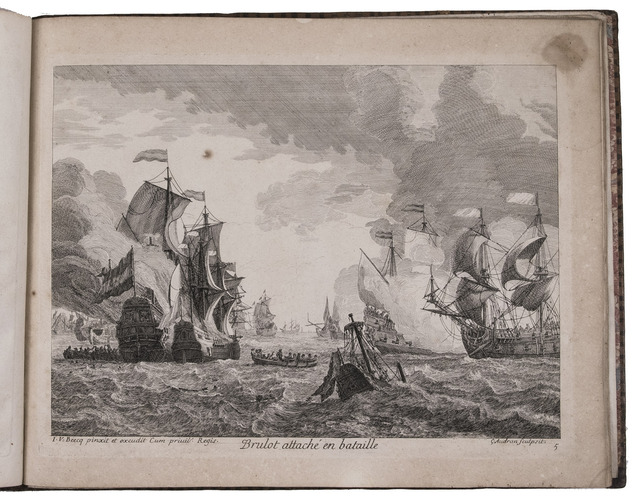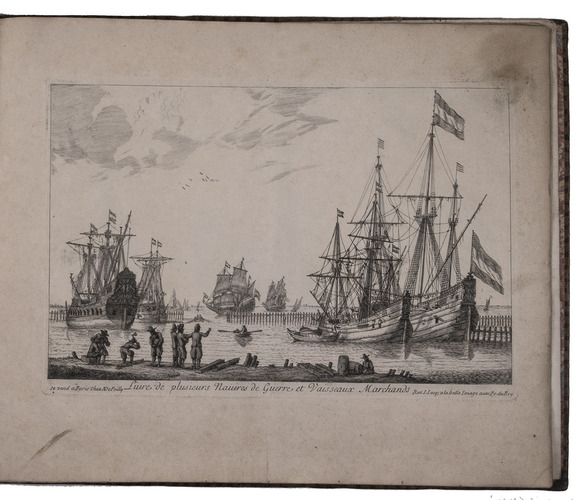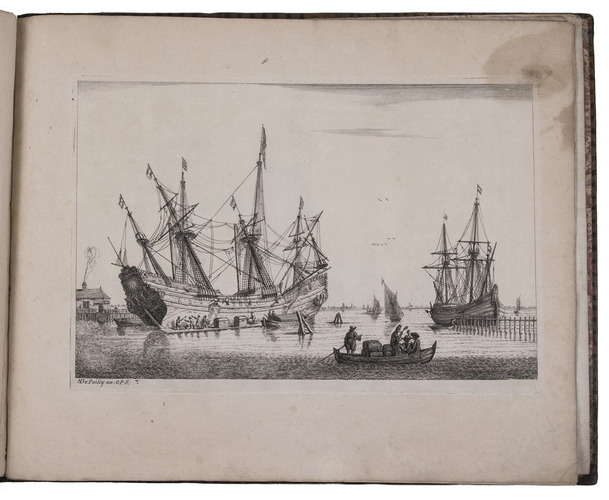 BEECQ, Jan Karel Donatus van (Jean-Charles-Donat).
Plusieurs pieces maritimes.Paris, "rue St. Jacques aux 2 Piliers d'or" [= Gérard Audran, ca. 1683]. Oblong folio. Series of 6 numbered engraved plates after designs by Van Beecq, including title-page and 5 naval views with captions below. The title-page indicates that the series is engraved by Moyse Jean-Baptiste Fouard, but three of the other plates name Gérard Audran as the engraver.With: (2) POILLY, Nicolas de. Livre de plusieurs navires de guerre et vaisseaux marchands.Paris, Nicolas de Poilly, [ca. 1683?]. Oblong 4to. Series of 6 plates, the first with the title as a caption below and the name and address of De Poilly, the others only note "NDePoilly ex C.P.R.", that is "cum privilegio regis". 2 works in 1 volume. Contemporary calf.
€ 19,000
Ad 1: Third (or second) copy located of an attractive print series by the Dutch marine painter J. van Beecq (1638-1722), a nearly forgotten master who had left the Netherlands when the art market collapsed in the "year of disaster" 1672. He first followed Willem van de Velde, father and son, to England, but soon moved to France where he became painter to Louis XIV, a member of the Académie Royale de Peinture et de Sculpture and a protégé of important patrons. In 1685, the art-loving naval official Esprit Cabart de Villermont wrote a letter to the Minister of the Navy Jean-Baptiste Colbert, marquis de Seignelay, recommending Van Beecq to his attention: "He is the only one here [in France] who excels in this genre". We have located only one other copy, in the National Maritime Museum in Greenwich. Schwartz also notes a copy in the Bibliothèque National, but the title is not in their online catalogue.Ad 2: Only copy located of a naval print series by the French engraver Nicolas de Poilly (1626-1696). He learned the art of engraving under his better known brother François de Poilly and mostly produced portraits and religious and historical engravings. The first plates show large war and merchant ships and the last shows several battered ships in the aftermath of a storm.A stain at the top right corner throughout, only affecting a small corner of the plates, and a vertical fold though the centre of the second series, otherwise in very good condition. Binding restored.[12] ll.l Ad 1: Hollstein I, p. 192 (no location); G. Schwartz, "J. van Beecq" in: Les échanges artistiques entre les ancien Pays-Bas et la France 1482-1814 (2010); KVK & WorldCat (1 copy); Wurzbach I, p. 68; not in Cat. NHSM; CCfr; Groot & Vorstman; Polak; SUDOC; ad 2: not in CCfr; Polak; SUDOC; WorldCat; for Poilly: Nagler XIII, pp. 68-69.
Related Subjects: