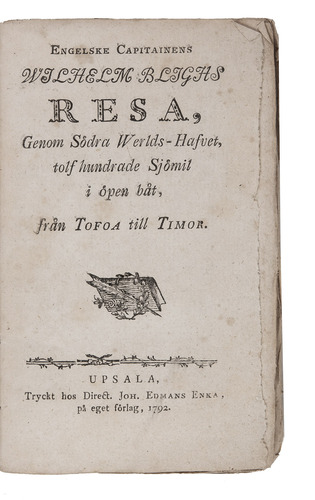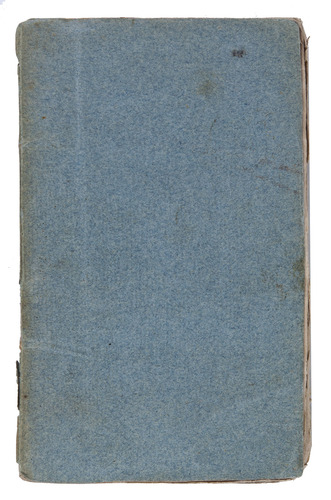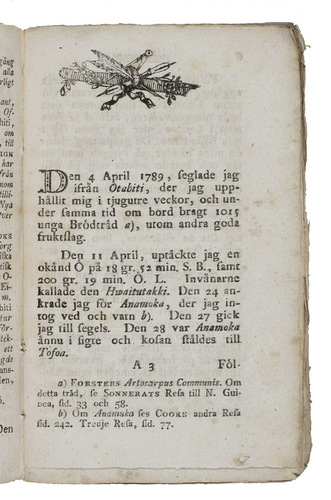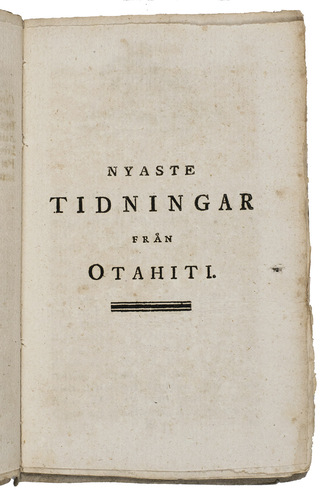 BLIGH, William.
Engelske capitainens Wilhelm Blighs resa, genom Södra Werlds-Hafvet, tolf hundrade sjömil i öpen bät, frän Tofoa till Timor.
Including: Nyaste tidningar frän Otahiti.
Uppsala, Joh. Edmans Enka, 1792. 12mo. Contemporary blue stiff paper wrappers. "119" [= 117], [1], [2 blank] pp.
€ 2,450
Rare first edition of the abridged Swedish translation of William Bligh's account of his voyage to Tahiti as commander of the Bounty, of the mutiny onboard the ship and the subsequent voyage of part of the crew in a small boat, "one of the most remarkable incidents in the whole of maritime history" (Hill).
In 1787, the English naval officer William Bligh (1754-1817), who had accompanied Captain Cook on his third voyage to the Pacific, was sent off to the Pacific for the purpose of introducing breadfruit trees from the South Sea Islands to the West Indies as cheap food for the slaves. After spending five months at Tahiti, he set sail for the Caribbean by way of Tonga, where the famous mutiny took place. Bligh and 18 of his men were set adrift in the ship's small launch boat and made a remarkable voyage to Timor, more than 6.5 kilometres away. "In the course of this hazardous journey Bligh took the opportunity to chart and name parts of the unknown north-east coast of New Holland [= Australia] as he passed along it" (Wantrup).
It includes an additional chapter dealing with Captain William Sever's visit to the Society Islands in 1788 (an abridgement in Swedish of chapter 20 of Stockdale's Botany Bay, 1789) and some notes on Tahiti by the translator Samuel Ödmann.
With the bookplate of the Swedish treasurer and book collector Gustaf Emil Berndtsson (1875-1964), active in Göteborg, and a 19th-century owner's inscription on the inside front cover. Only a few minor spots and the spine partly tattered. Very good, wholly untrimmed, copy. Ferguson 129; O'Reilly & Reitman 554; WorldCat (5 copies); cf. Hill 132; Howgego, to 1800, B107; Wantrup, pp. 128-129.
Related Subjects: