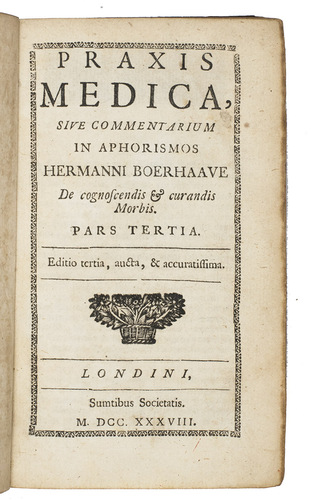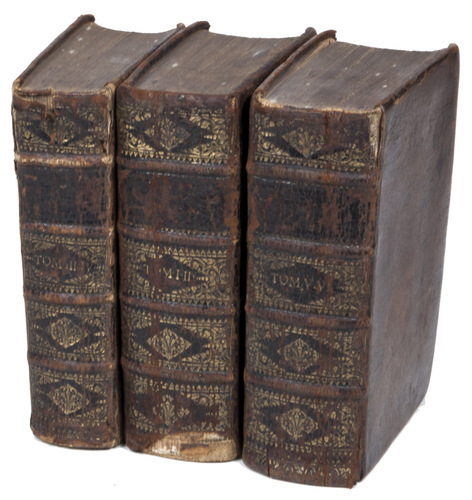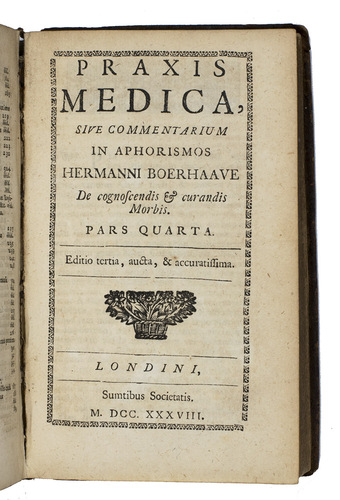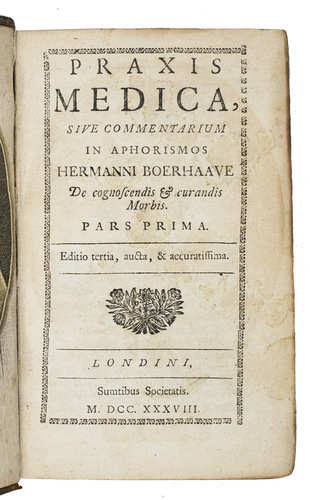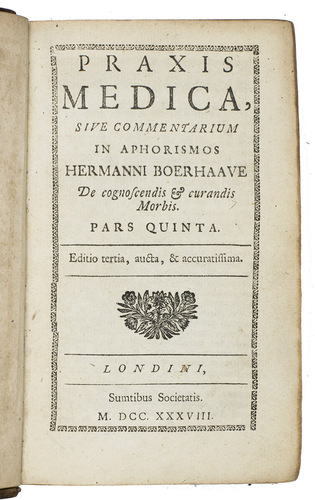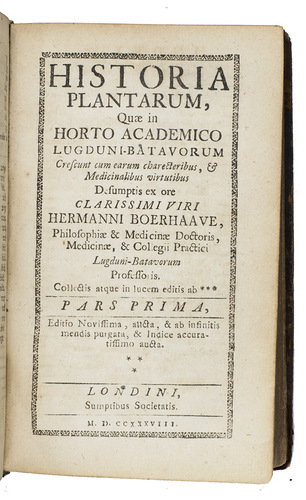 BOERHAAVE, Herman.
Praxis medica, sive commentarium in aphorismos Hermanni Boerhaave de cognoscendoid & curandis morbis. Pars 1-5. Editio tertia, aucta, & accuratissima.London [= Amsterdam?], sumtibus societatis, 1738. 5 volumes bound as 3. Each title-page with a woodcut vignette and a border built up from typographic ornaments. With an engraved oval portrait of Boerhaave as added as frontispiece, pasted to the first fly-leaf.
With: (2) Herman BOERHAAVE. Historia plantarum. quae in Horto Academico Lugduni Batavorum crescent cum earum charecteribus[!], & medicinalibus virtutibus desumptis ex ore ... Hermanni Boerhaave ... Collectis atque in lucem editis ab ***. Pars 1-2. Editio novissima, aucta ...12mo. Contemporary calf, gold-tooled spine. [8], 648, [12]; [2], 400, [6]; [2], 458, [2]; [2], 326, [6]; [2], 382, [10] pp; [4], 408, [2], 409-696, [30] pp.
€ 1,100
Ad 1: Although Boerhave considered Institutiones medicae (1708) his greatest work and it made him famous, his Aphorismi de cognoscendis et curandis morbis (Aphorisms on the recognition and treatment of diseases) published a year later in 1709, met an even greater demand. It is a collection of short pronouncements concerning the diagnosis of and therapy for various diseases, and numerous editions and translations spread the fame of its author all over Europe (Lindeboom 143-197). In 1718 an extensive commentary on the Aphorismi appeared in Padua (Lindeboom 198).
Ad 2: Third edition, with corrections and an expanded index, of Boerhaave's description of the plants in Leiden University's botanical garden. It gives an account of the various species, including the origins of the plants, their names, characteristics and possible medicinal properties. It covers trees, herbs, flowers, mushrooms and marine plants, including American, East Indian and other exotic species.
A second edition appeared with imprint London, S. Kuchel & J. Knapton [= Amsterdam], 1731: see Weller, I, p. 295), and the present third in 1738, again with a London imprint but probably printed in Amsterdam.
Binding slightly worn and rubbed, head (vol. 2) and feat (all 3 vols.) of spine slightly damaged. Otherwise in good condition. Ad 1: Lindeboom, Bibliogr. Boerhaaviana, nr. 204. Ad 2: Arnold Arboretum I, p. 91; Henrey 463.
Related Subjects: