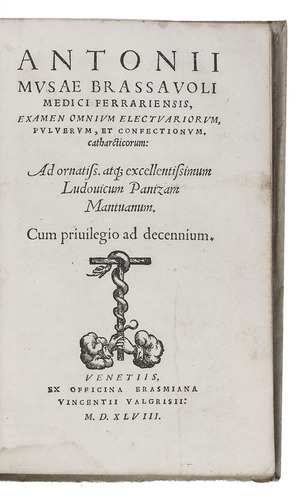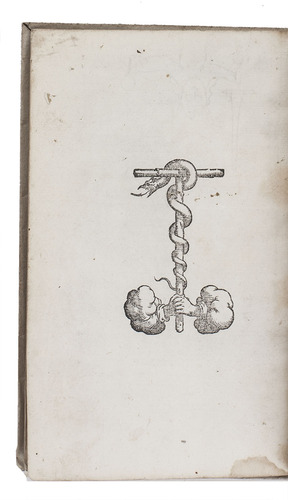 BRASAVOLA (BRASSAVOLA), Antonio Musa.
Examen omnium electuariorum, pulverum, et confectionum.
Venice, Vincent Valgrisi, 1548. 8vo. With a woodcut device on title-page and a larger version on the last page. Later stiff paper wrappers. 140, [2] pp.
€ 9,500
First edition of an important work on various medications, including powders. A second edition appeared one year later, printed in Lyon. It is written in the form of an imaginary dialogue on medicine between the author and senex, an old man. The author used the dialogue form to test or "examine" classical wisdom based on actual experience. He also used this method in his earlier and better known Examen omnium simplicium medicamentorum (1536), which examines classical botanical knowledge. He wrote to other books in the Examen omnium series, in 1538 and 1543, and by the time the present one appeared the three earlier ones were being reprinted almost every year. The Italian botanist and physician Antonio Musa Brasavola (1500-1555) was one of the first Italians, together with Manardi and Mondella, to revolt against the undisputed authority of the dominant medical system of Claudius Galenus. His witty method of examination through conversation allowed him to do so. The present medical work is not as well known as his botanical Examen omnium, but it is just as important, for he appears to be the first to perform a tracheostomy (an incision in the neck to allow air into the windpipe: see Garrison & Morton). Brasavola was a highly esteemed physician who served some of the great leaders of his time, including Pope Paul III, King Francis I of France and King Henry VIII of England.
Water stain in foot margin, not affecting text. Otherwise in good condition. Adams B2685; Durling 677; ; Hamilton, History of Medicine II,, pp. 27-28; Heirs of Hippocrates 230; USTC 816778; cf. Garrison & Morton 3244.1; for the author: Castiglioni, pp. 422 & 485.
Related Subjects: