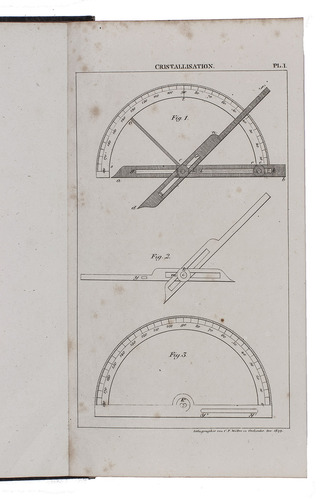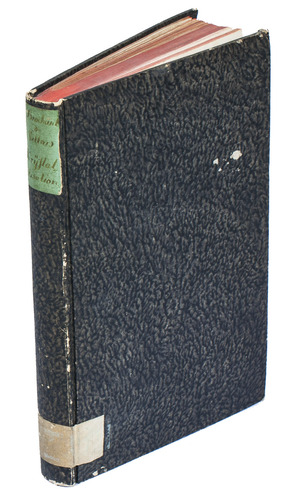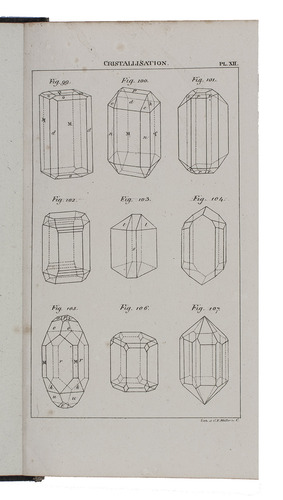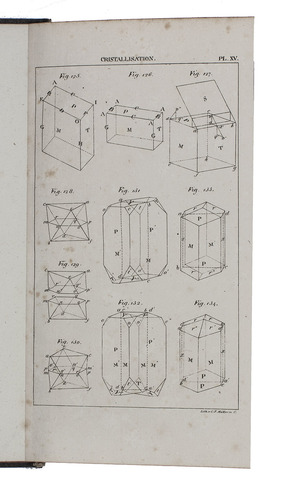 BROCHANT DE VILLIERS, André-Jean-François-Marie.
Die Krystallisation in geometrischer und physikalicher Hinsicht.
Heidelberg, Mohr and Winter, 1820. 8vo. With 16 lithographed plates. Contemporary paste-paper boards. XX, 200, [1], [1 blank] pp.
€ 395
First edition of the German translation of a work on crystalization by the French mineralogist and geologist André-Jean-François-Marie Brochant de Villiers (1772-1840). It deals with the geometry of crystals, as well as their formation, different types and forms, how to measure them, how to alter forms, and much more. "Brochant warmly supported Haüy's theories of crystal structure, although his writings also aided in the diffusion in France of A.G. Werner's mineral classification and nomenclature, as well as the early crystallographic ideas of C.S. Weiss" (DSB). "It is written in such a manner as to provide the beginner with a textbook but useful information to the expert as well. The first part provides a geometriacl description of crystals based on Haüy's theories. In this Brochant has helped by the careful examination of the collection of the School of Mines. The second part theoretically describes the physical phenomenon of crystallization, which had occupies the author's studies for some time" (Schuh).
With some minor foxing. Binding only slightly rubbed. Overall in good condition. DSB II, p. 482; Schuh I, 864; cf. Ward 324 .
Related Subjects: