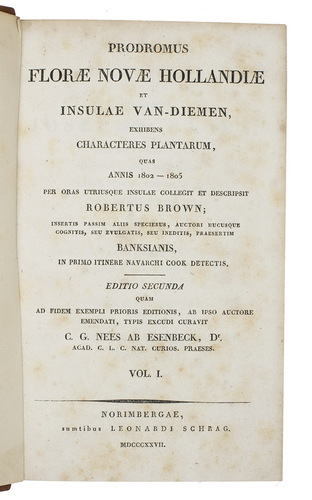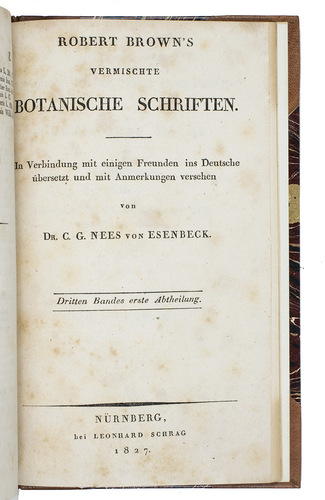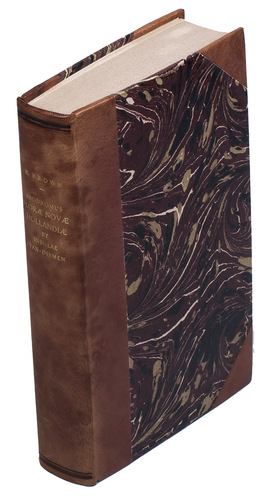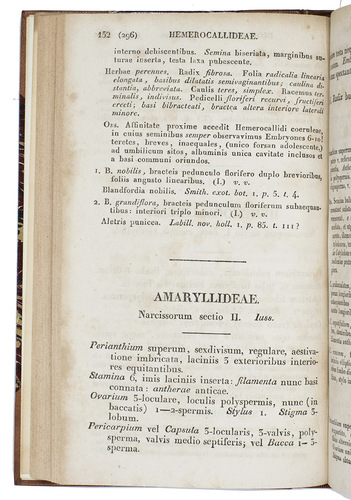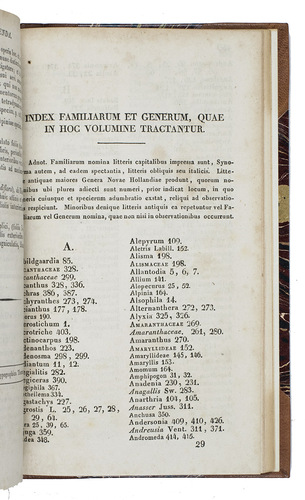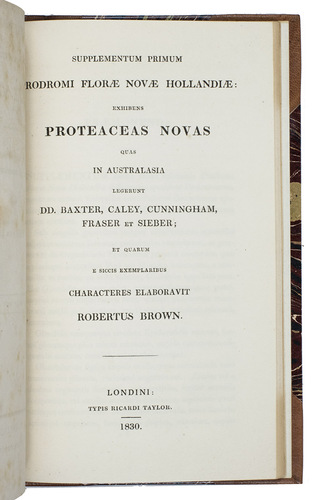 BROWN, Robert.
Prodromus florae Novae Hollandiae et insulae Van-Diemen exhibens characteres plantarum, quas annis 1802-1805 ... insertis passim aliis speciebus, auctori hucuque cognitis, seu evulgatis, seu ineditis, praesertim Banksianis, in primo itinere navarchi Cook detectis.
Nürnberg, Leonard Schrag, 1827.
With: (2) BROWN, Robert. Supplementum primum prodromi florae Novae Hollandiae: exhibens Proteaceas novas quas in Australasia legerunt DD. Baxter, Caley, Cunningham, Fraser et Sieber; ...
London, Richard Taylor, 1830.
2 works in 1 volume. Large 8vo. 20th-century half brown morocco. xiv, 460; 40; [2] pp.
€ 2,500
Second edition of Brown's famous first systematic account of Australian flora, the result of his botanical research in Australia in the years 1802 to 1805 together with Matthew Flinders (1774-1814) who led the first circumnavigation of Australia. Brown collected about 3400 species. 2000 of these were previously unknown and it is said that his Prodomus florae Novae Hollandiae et insulae Van-Diemen described more than half of the New Zealand's orchid genera for the first time. It describes species not only of New Zealand, but also of Australia ("Novae Hollandiae") and of the southeastern Australian island Tasmania, using the British colonial name "Insulae Van-Diemen" or Van Diemen's Land. Robert Brown (1773-1858), a British botanist, became librarian to the botanist Joseph Banks and to the Linnean Society of London, as well as the first Keeper of Botany at the British Museum. He "is one of the most versatile botanists of the first half of the nineteenth century" (Stafleu & Cowan, p. 364). Pages 1-446 in the present edition also indicate the pagination of the first edition: 145-590.
The present edition is also the third volume in Brown's Vermischte botanische Schriften, published in 5 volumes from 1825 to 1834, and therefore has that title-page as well. It is here bound with the Supplementum primum prodromi florae Novae Hollandiae, published in London by Richard Taylor in 1830, a 40-page supplement. It particularly concerns Protaeceae, an important family of flowering plants in Australia, discovered by the botanists William Baxter (1787-1830/36), George Caley (1770-1829), Allan Cunningham (1791-1839), John Fraser (1750-1811) and Franz Sieber (1789-1844), all well known for their botanical research in Australia and elsewhere.
With the owner's inscription of Thomas Jenzen (possibly the English botanist Thomas Jensen (?), 1824-1877) on the first free endleaf. In volume I, the title-page of the Vermischte botanische Schriften, listing the Prodromus as the third volume (pp. [i]-[ii], is misbound at the end. Bound after the Supplementum is Leonard Schrags 2-page publisher's advertisement, which belongs to the Prodromus. Some browning and foxing, first endleaf partly detached, but overall in good condition. Two highly interesting works on Australian botany. Ad 1: Ferguson 491; Pritzel 1215; Stafleu & Cowan 825; cf. BM NH I, p. 260 (1st ed., 1810); cf. Stafleu & Cowan 833 (the complete 5 volumes of the Vermiste Botanische Schriften). Ad 2: BM NH I, p. 260; Pritzel 1216; Stafleu & Cowan 835.
Related Subjects: