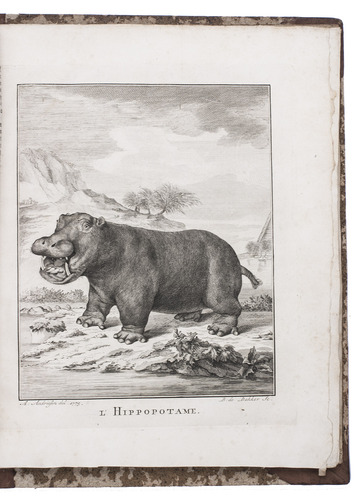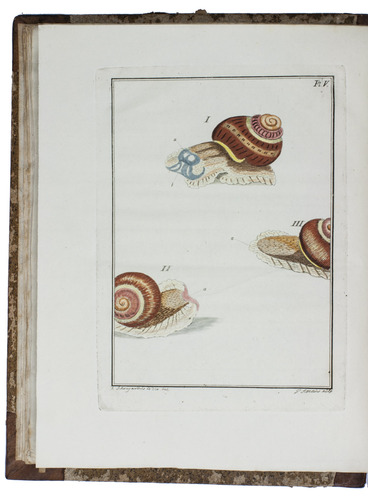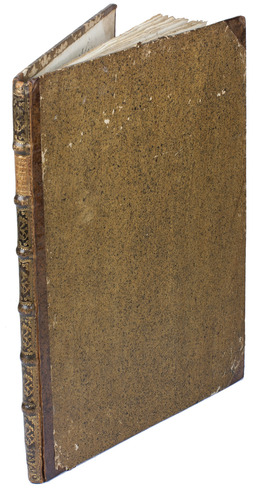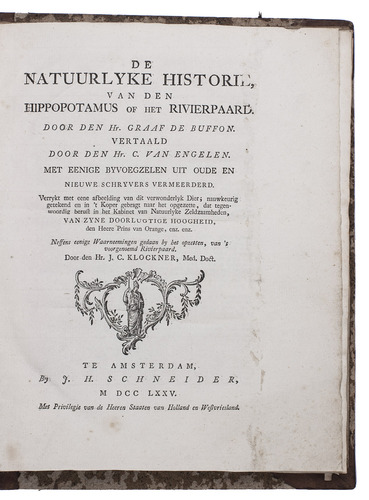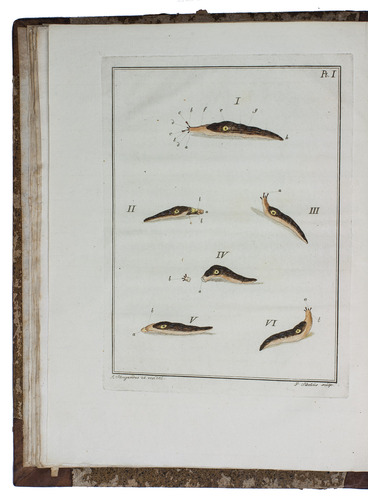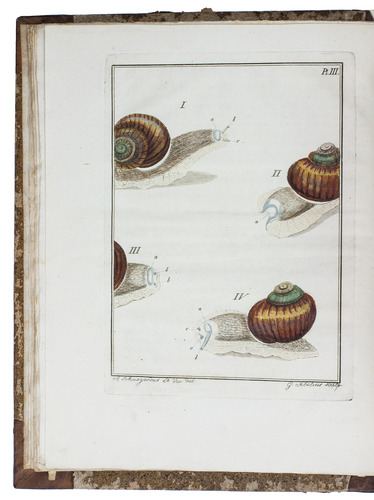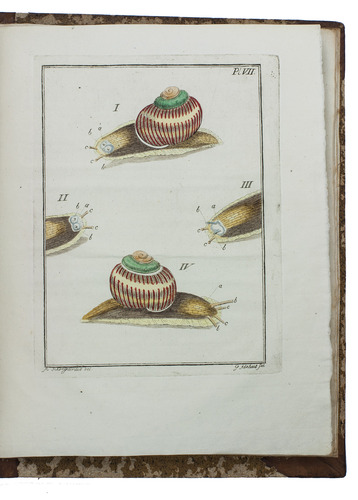 BUFFON, Georges Louis Leclerc, Comte de.
De natuurlyke historie, van den hippopotamus of het rivierpaard. ... Verrykt met eene afbeelding van dit wonderlyk dier; nauwkeurig getekend ...
Amsterdam, J.H. Schneider, 1775. With an engraved plate of a hippopotamus by Barent de Bakker after Andreas Andriesen.
With: (2) SCHÄFFER, Jacob Christian. Proeven op de slakken. ... Met zeven naar het leeven gekleurde plaaten. Uit het Hoogduitsch vertaalt.
The Hague, Isaac du Mee, 1776. With 7 numbered, hand-coloured engraved plates by Gerard Sibelius after drawings by Adriaan Schregardus. 2 works in 1 volume. 4to. Contemporary half calf, gold-tooled spine. 24; VI, 7-52 pp.
€ 3,250
Ad 1: A separately published chapter from Buffon's Algemeene en byzondere natuurlijke historie (the Dutch translation of Buffon's Histoire naturelle), dealing with the hippopotamus, containing the same engraved plate, depicting the hippopotamus on a river bank, as the French edition published by Schneider at Amsterdam. The Dutch chapter contains some new additions, not included in the original French, including an interesting description by the Amsterdam physician J.C. Klockner of the preparation and stuffing of a dead hippopotamus that was shipped from the Cape of Good Hope to Amsterdam.
Ad 2: First edition of the Dutch translation of Versuche mit Schnecken by the German entomologist, mycologist and clergyman Jacob Christian Schäffer (1718-1790). It is an account of many experiments executed on several species of snails to find out whether the heads, including the tentacles, grow back after decapitation, which Schäffer finds out to be the case. It includes 7 plates, all coloured by hand, showing different species of snails in different stages after their decapitation.
Title-page slightly damaged, as if something was pasted on it and later removed, hardly affecting the text, slightly creased throughout with some occasional minor stains or foxing. Binding rubbed along the extremities with partly cracked hinges. Overall in good condition and only slightly trimmed, leaving most of the deckles intact. Ad 1: Nissen ZBI, 737; STCN (2 copies); ad 2: STCN (3 copies); cf. Nissen ZBI, 3639 (German editions).
Related Subjects: