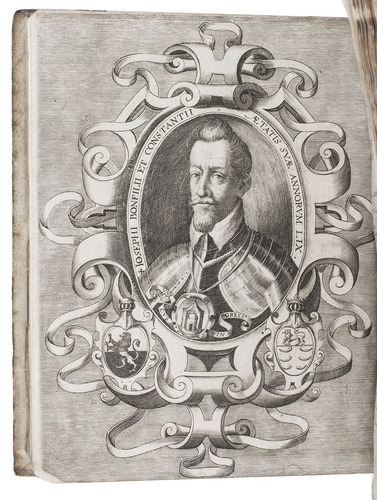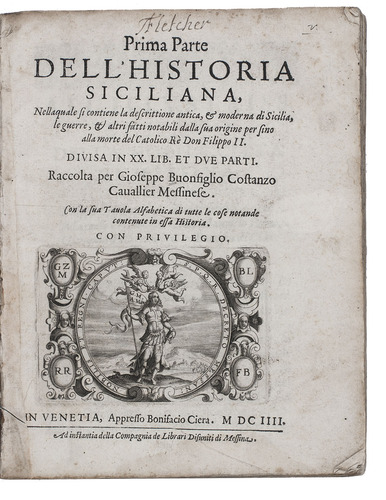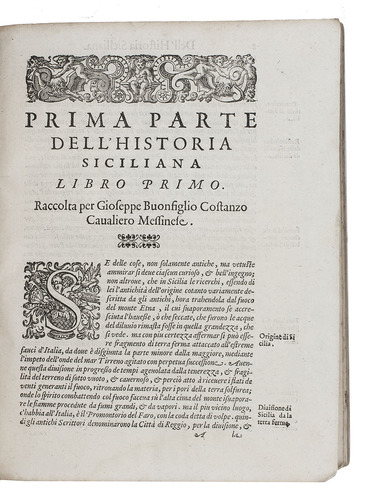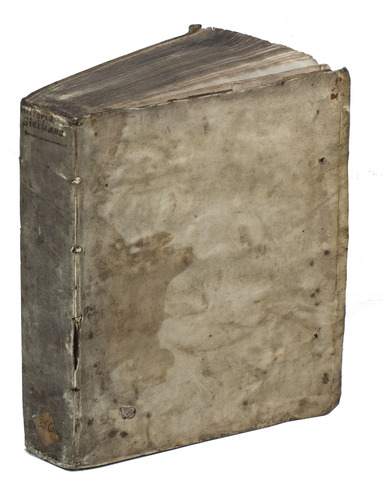 BUONFIGLIO COSTANZO, Giuseppe.
Prima[-seconda] parte dell'historia Siciliana, nellequale si contiene la descrittione antica, & moderna di Sicilia, le guerre, & altri fatti notabili dalla sua origine per sino alla morte del Catolico Rè Don Filippo II. Divisa in XX libri et due parti.
Venice, Bonifacio Ciera, 1604. 2 parts in 1 volume. 4to. With engraved device on the title-page, full-page engraved author's portrait, and numerous woodcut headpieces, tailpieces and decorated initials. Contemporary limp vellum. [48], 692 pp.
€ 1,500
First edition of Buonfiglio's history of Sicily, with the text divided into two parts, each with ten numbered "libri", giving an elaborate description of his native island, its origins, the scenery, geological conditions and illustrious inhabitants. He comments on early descriptions of Sicily, the place of Sicily in mythology and in classical antiquity, its general, political and military history from the Middle Ages to the 16th century. It includes an oration on the death of King Philip II and a description of the miraculous events in Messina during the famine. A third part (not included) was published in 1613, and a second edition in two volumes appeared in 1738-1739. A drop-title on 2B3r (p. [389]) signals the beginning of the second part of the text, so the two "parts" could not be issued separately.
Some marginal water stains, occasional minor foxing and the title-page slightly soiled; binding stained and with a cracked hinge. Still in good condition. BMC STC Italian, p. 152; Mira, Bibliografia Siciliana, p. 136; Monforte 348.
Related Subjects: