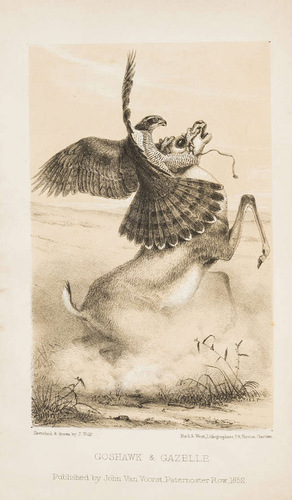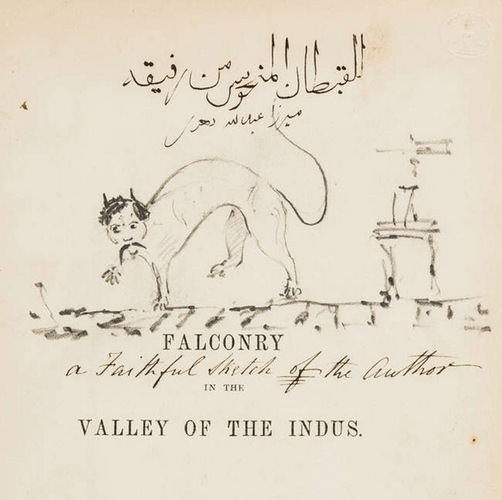 BURTON, Sir Richard Francis.
Falconry in the valley of the Indus.
London, Van Voorst, 1852. 8vo. The half-title is inscribed in Arabic at the head and accompanied by a pencil drawing, a self-portrait of the author with his own head but the body of a cat, walking across a roof, captioned below in ink: "a faithful sketch of the Author". With an 8-page publishers catalogue at the end. Original publisher's cloth. [16], 107, [1]; 8 pp.
€ 25,000
First edition with an inscription by the author, of a "well written" (Harting) work on traditional falconry in India and Pakistan, by the great British orientalist and explorer Sir Richard Francis Burton (1821-1890). After finishing his education at Oxford University, Burton enlisted in the East India Company and travelled all over India as a British officer in the colonial army. He was known for having an immense talent for languages and during his seven years of service he learned, among other things, Sanskrit. He made use of this skill by translating the Kamasutra into English for the first time. The practice of falconry by the Sindhis (native people of Sindh in Pakistan) apparently impressed him greatly when he was travelling in that region. This inspired him to write the present work on the traditional way of falconry in Sindh culture. Falconry as a sport was at that moment beginning to regain popularity in England. Burton dedicated his work to King Willem III of The Netherlands, who was an avid falconer. Burton's work is as much a study of Sindhi culture as it is a work on falconry.
The present first edition is very rare, and the surviving correspondence about it includes "an interesting letter from the publisher stating that of the 500 copies published 257 still (1877) remain unsold, and that he advises scrapping them" (Penzer).
Head and foot of spine worn, soiled. Light foxing in plate margins, occasional spotting elsewhere. Harting 66; Penzer, p. 41; Schwerdt I, 90.
Related Subjects: