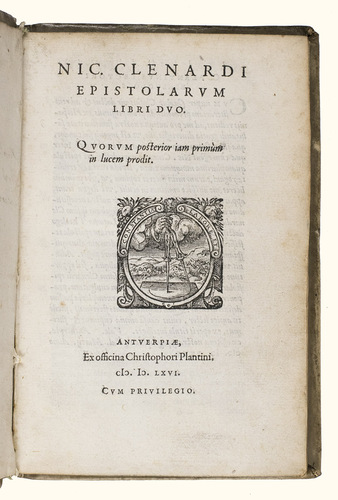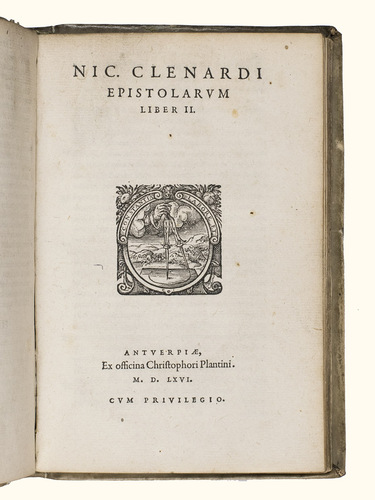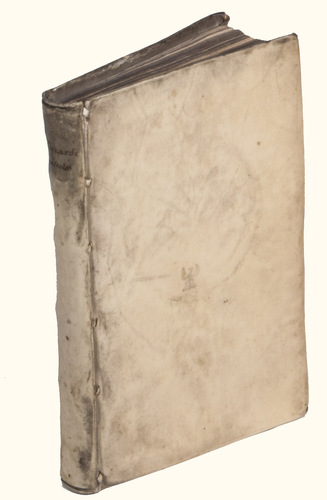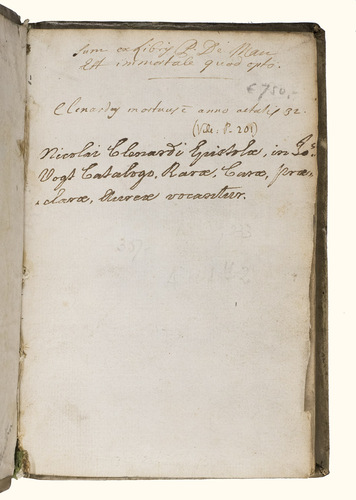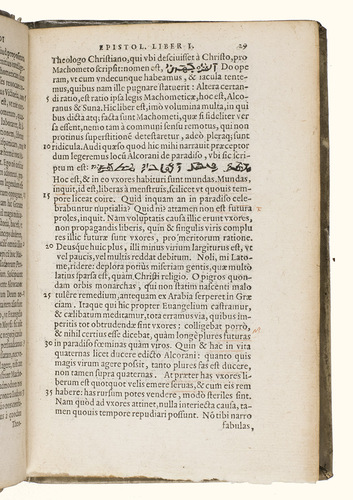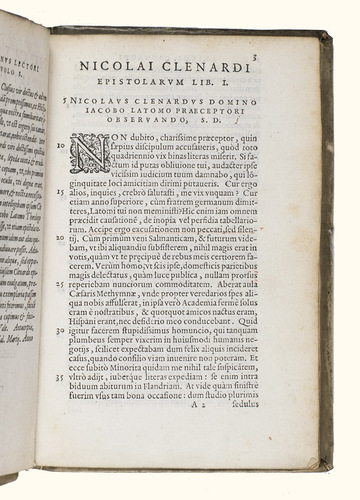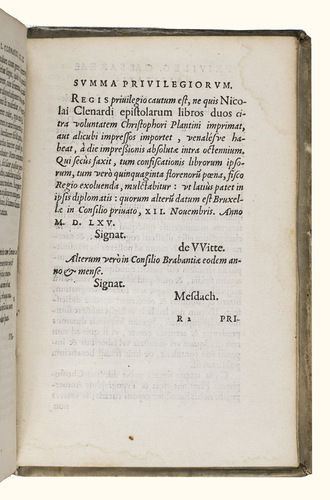 CLENARDUS, Nicolaus.
Nic. Clenardi Epistolarum libri duo. Quorum posterior iam primum in lucem prodit.
Antwerp, Christopher Plantin, 1566. 2 parts in 1 volume. 8to. Both title-pages with Plantin's woodcut printer's mark, Arabic type interspersed. Contemporary vellum with 4 raised bands and a manuscript title on the spine. 112, 258 [= 241], [4] pp.
€ 3,500
The Plantin edition of the letters of the Flemish humanist Nicolaes Cleynaerts (1493-1542), a Flemish priest, humanist, Arabist, and grammarian (also known as Clenardus), is truly remarkable. The first book comprises a series of letters previously published in 1551 by Rotarius, but in this edition, they have been thoughtfully arranged in chronological order. In Book 2, you will find new letters that were discovered by Clusius in Salamanca. This book also includes Clenardus' manifesto "Ad Christianos, de professione Arabica, militiaque constituenda adversus Machometum," which spans pages 218 to 258. The correspondence features the interactions of Cleynaerts with his contemporaries. He studied at the University of Louvain and authored a widely renowned Hebrew and Greek grammar, which was published in over 500,000 copies. Cleynaerts had a profound goal in life - to foster understanding and dialogue between Christianity and Islam, with the ultimate aspiration of bridging the gap between the two religions, as he believed God desired. To explore Islam further, he traveled to Morocco, seeking mutual comprehension and harmony.
However, his approach brought him into disfavour with the Portuguese authorities, leading to his disgrace. Nonetheless, Cleynaerts' Latin letters hold immense value for understanding the 16th-century Hispano-Portuguese and Moroccan cultures. Among the recipients of his letters was Johannes Vasaeus (Jan Waes), who, like Cleynaerts, was associated with La Colombina, the library dedicated to the explorations and journeys of Christopher Columbus.
Flyleaf with older owner's entry and annotations. Several leaves with older marginal annotations and underlining. Outer margin leaf M1 damaged. Minimally browned. Otherwise in very good condition. Adams, C 2139; Brunet, II 99; Cockx-Indestege Glorieux, 651; Index Aureliensis Catalogus Librorum Sedecimo Saeculo Impressorum, 141.406; Pettegree Walsby, NB 8459; USTC 401260 (83 copies); Voet, 996; WorldCat 633724543 (26 copies).
Related Subjects: