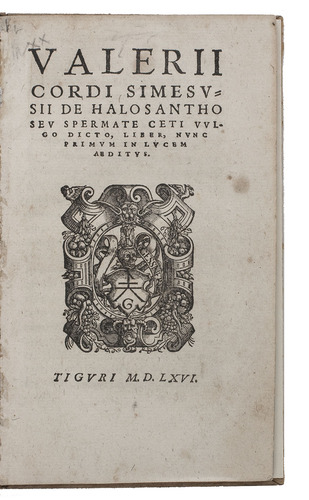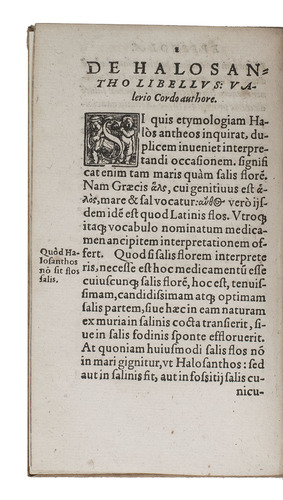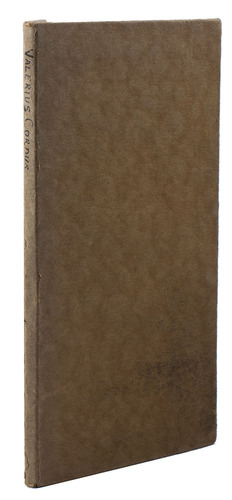 CORDUS, Valerius.
De halosantho seu spermate ceti vulgo dicto, liber nunc primum in lucem abditus.
Zürich, [Jacob Gessner], 1566. 8vo. With woodcut printer's device on title-page and a woodcut initial. Modern paper boards, early marbled edges. [3], 37 ll.
€ 1,500
First and only edition of a treatise on certain salts sometimes found in crystaline "efflorescences" from the surface of the sea, which Dioscorides and Galen had recommended for the treatment of skin diseases. The Hessian doctor and botanist Valerius Cordus (1515-1544) left this treatise unpublished at his premature death, and Conrad Gesner added a preface and "Corollarium" for its posthumous publication in his compilation, De omni rerum fossilium genere, but the treatise with corollarium is separately signed and foliated for separate publication as well. Gessner's corollarium, slightly longer than the treatise itself, refutes the popular notion that these salts were the sperm of whales.
Slightly browned with some occasional stains, once resulting in a small hole (leaf 9), and some, mostly marginal, foxing. Bookblock detached from binding, otherwise in good condition. Adams, G-522/[5]; Durling 1033; Osler 646/[5]; Sinkankas 2366/5.
Related Subjects: