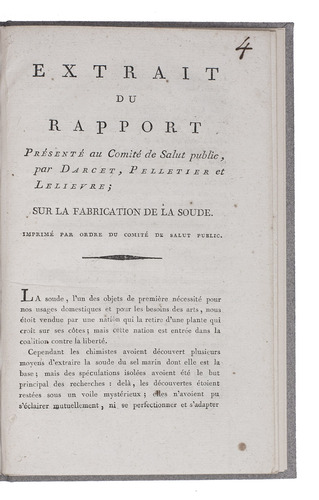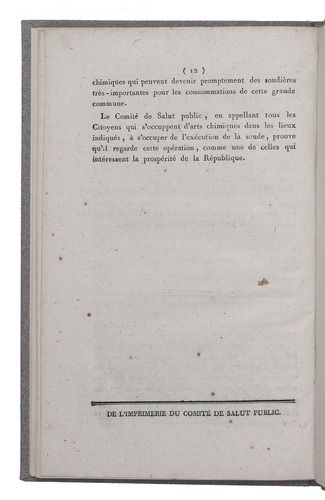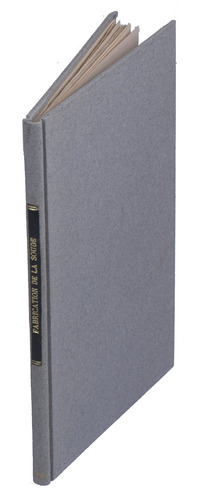 DARCET, Jean, Bertrand PELLETIER & Claude-Hugues LELIEVRE.
Extrait du rapport sur la fabrication de la soude.
[Paris, l'Imprimerie du Comité de Salut Public, after 1794]. 8vo. Contemporary boards with gold on black spine label. 12 pp.
€ 2,500
Extract of a report describing the important discovery of a new method to fabricate soda ash (Sodium carbonate) - widely used for cleaning, water softening and manufacturing glass and other products - using sea salt (Sodium chloride). At the end of the 18th century the department of public health in France asked the French chemists Jean Darcet (1724-1801), Claude-Hugo Lelièvre (1752-1835) and Bertrand Pelletier (1761-1797) to investigate and describe all the known processes for fabricating soda ash and to experiment with new processes. The present extract is part of their report, examining and describing the methods discovered by Alban, Athenas, Chaptal & Bérard, Guyton & De Carny and Ribaucourt. First, however, they describe the process discovered by Nicolas Leblanc, which proved to be the most important one and played a crucial role in the later industry.
Leblanc discovered a rather easy way to make soda ash out of sea salt. His method greatly benefitted many industrial companies, not only as a cheap way of manufacturing soda ash but also because the raw material to make it, the sea salt, was available in large, inexhaustible quantities. From that moment Leblanc was known as the "real founder of modern chemistry".
The findings and conclusions of Darcet, Pelletier and Lelièvre resulted in a report of 80 pages. The committee decided to publish this report and at the same time to publish the present extract. The extract may even have been published a few days earlier than the whole report. The extract and report were the first publications announcing and extensively describing Leblancs revolutionary discovery.
Good copy. Cf. DSB 3, pp. 560-561; for Leblanc: DSB 8, pp. 113-114.
Related Subjects: