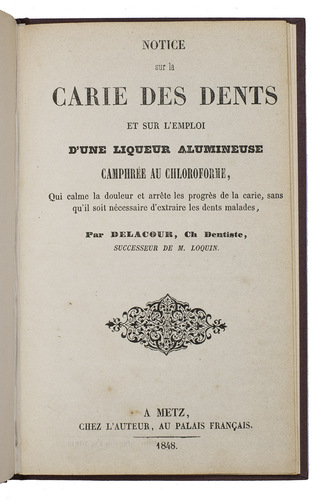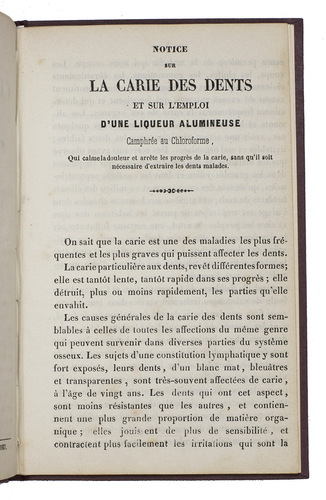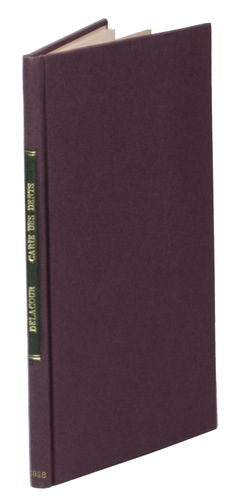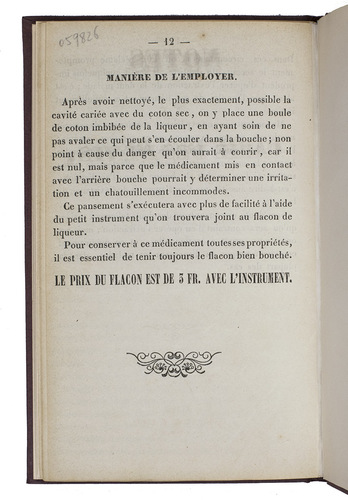 DELACOUR, chirurgien-dentiste.
Notice sur la carie des dents et sur l'emploi d'une liqueur alumineuse camphrée au chlorophorme, qui calme la douleur et arrête les progrès de la carie, sans qu'il soit nécessaire d'extraire les dents malades.
Metz, the author (back of the title-page: Metz, printed by Ch. Dieu), 1848. Small 8vo. Modern boards, with a gold-tooled morocco title-label on spine. 12 pp.
€ 3,500
First edition of a 12-page notice on the use of a mouth-wash with an aluminous elixer of camphorated chloroform to stop the progress and kill the pain of dental cavities, written by Delacour, described as a ch[irurgien]. dentiste, living in the house "Le Palais Français" in Metz (near the cathedral) and successor to Loquin. The advantage of this medicine was that the tooth did not necessarily need to be pulled. At the end it gives directions for the use of the medicine. The patient should clean the decayed tooth with a piece of cotton as thoroughly as possible, then soak a little ball of cotton in the medicine and put it on the tooth with cavities. This could best be done with the help of a small instrument which was included with the bottle. For best results, the patient should always immediately and firmly close the bottle. The price for one bottle was 3 franks, including the instrument. We have located only one other copy, at the Bibliothèque Nationale in Paris. A second edition, in 16mo format, appeared at Dijon in 1854, still with the imprint "chez lauteur", so either he moved or the printer copied the old imprint. Delacours medicine was presented at the 1855 Exposition Universelle in Paris. The medicine was not entirely new: a Paris chirurgien dentiste, J. Lefoulon, had issued a similar notice about his "pâte alumineuse-éthérée" in 1834, with a second edition in 1839.
Fine copy. Bibliographie de la France 1849, no. 3684 (cf. 1855, no. 7497: 1854 ed.); David 81; KVK & WorldCat (1 copy); Poletti 53; cf. Crowley 1092 (1854 ed.).
Related Subjects: