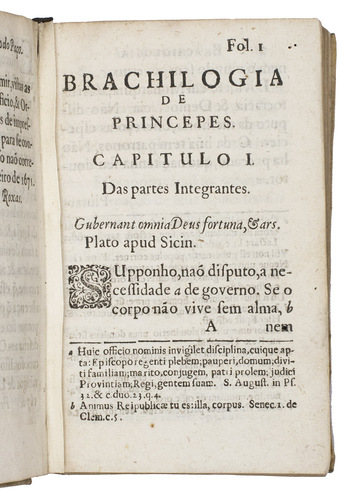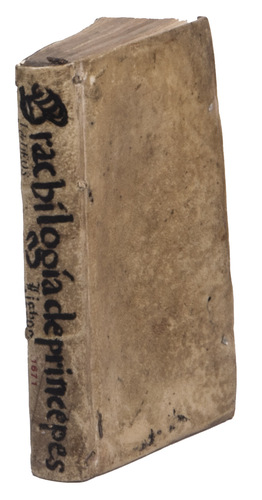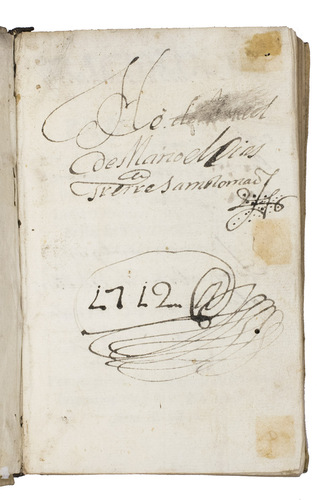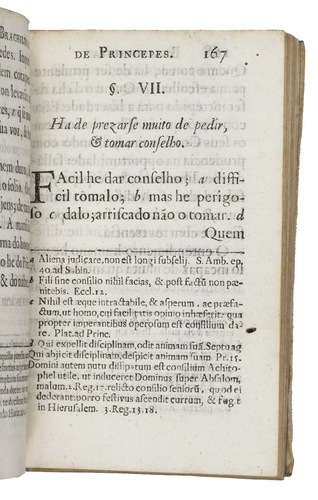 DEOS (DEUS), Jacinto de.
Brachilogia de princepes, ...
Lisbon, António Craesbeeck de Mello, printer to "Sua Alteza" [= Prince Regent and future King Dom Pedro II], 1671. Small 8vo (15 x 9.5 cm). With 2 woodcut decorated initials (2 series). Contemporary sheepskin parchment without boards. [16], 299, [1 blank], [3], [1 blank] pp.
€ 12,500
Rare first (and until 1946 only) edition of a concise account of the qualities needed to be a good ruler and the best Christian manner of educating people to be rulers, by Jacinto de Deos or Deus (Macau 1612-Goa 1681), a Capuchin Franciscan missionary in Goa under Portuguese rule, dedicated to the Prince Regent and future King Dom Pedro II (1648-1706) of Portugal. Dom Pedro was 22 when De Deos published it, though he had already been de facto head of state for three years. It was no doubt intended both for him and for the future education of his daughter and heir, then two years old, but in the event she died before him. The fact that De Deos was a Franciscan in Asia gives the book special significance for its insights into his attitudes, for the Jesuits largely dominated the literature on missionary work in Asia. We know less about the Franciscans, though they claimed priority over the Jesuits in most regions.
Pedro Craesbeeck of Antwerp, who had worked in Christoffel Plantins printing office there in the 1580s, set up his own printing office in Lisbon by 1597, founding a prominent and highly respected printing dynasty that continued there to 1690.
With manuscript annotations on the title-page and first free end-leaf, including 17th- and early 18th-century owners inscriptions: "Araujo 200"[?], "N.[?] Lucas de Slenezes[?]" and "He.[?] do ...ed des Manoel Dias ... 1712". With a small wormhole in the lower fore-edge margin, occasionally slightly affecting a letter of the text in the first third (a thinner worm trail in the upper outside corner rarely touches the text), a minor water stain at the head of quire P and a small yellow stain on S8v, but still in very good condition. The binding also shows a few small worm holes, and half of the upper headband is lost, but it remains in good condition. Innocêncio III, 238; Porbase (2 copies); WorldCat 11529534, 433447739 (7 copies).
Related Subjects: