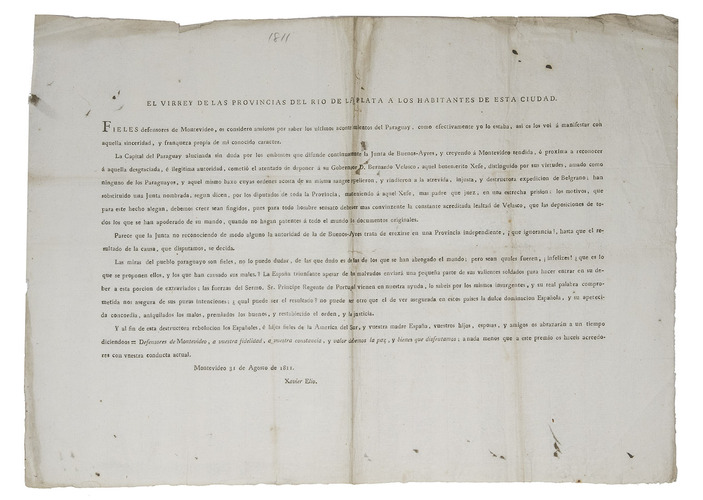 ELÍO, Francisco Javier de.
El Virrey de las provincias del Rio de la Plata a los habitantes de este ciudad.
Montevideo (Uruguay), 31 August 1811. Oblong 1mo (whole sheet) broadside (31 x 43 cm). Preserved in a half morocco clamshell box. [1], [1 blank] pp.
€ 3,350
Second known copy of one of the earliest Montevideo imprints, published by Francisco Javier de Elío (1767-1822), the last viceroy of Rio de la Plata, urging the inhabitants of the town to remain loyal to Spain, which they did until 1814 when they surrendered to the revolutionary army of the Provinces. Montevideo, capital of the Spanish colonial predecessor of modern Uruguay, was at the time a small town of about 8000 souls only. General Auchmuty established the first Montevideo printing office during the British occupation, in the winter of 1807, but it was removed in the same year to Buenos Aires. In 1810, the Infanta Carlotta Joaquina sent a printing press from Buenos Aires, allowing the city to set up its first permanent printing office, whose first imprints appeared later that year. It was an official city press, and when named in imprints (including other proclamations by the Viceroy), it was usually simply called "la imprenta de la ciudad de Montevideo". Since it was the only printing office in Montevideo at the time, it almost certainly produced the present publication. The only other copy we have located is at the John Carter Brown Library.
Folded once vertically and with some old folds, a couple small tears and a small hole, with no loss, and a few small ink stains, but still in good condition and with all deckles intact. KVK (JCB copy only); WorldCat 79060913 (no location); not in Estrada, Historia y bibliografîa de la imprenta en Montevideo; Palau; Sabin; Zinny.
Related Subjects: