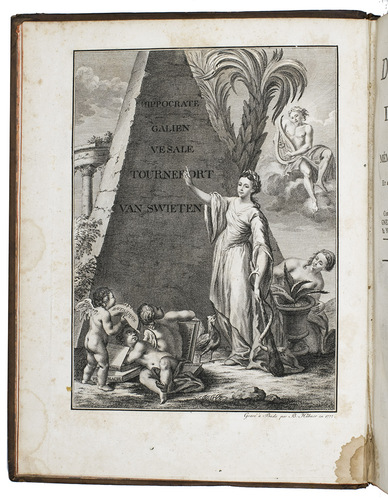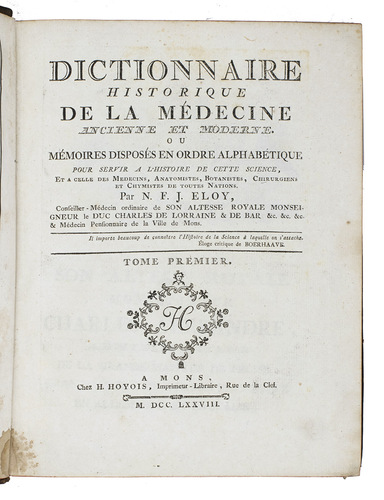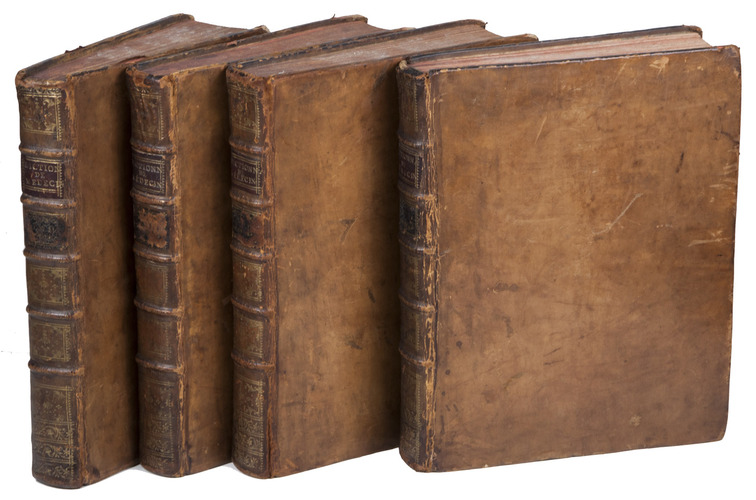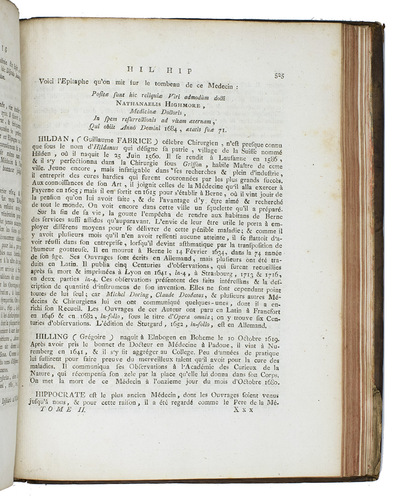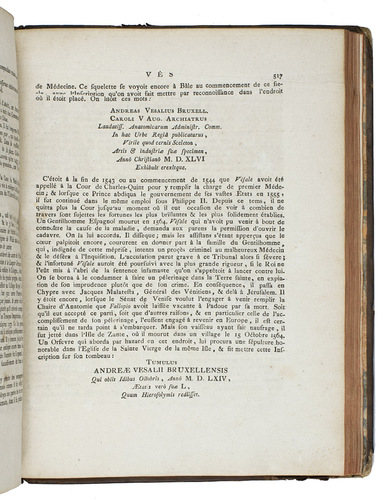 ELOY, N.F.J.
Dictionnaire historique de la médecine ancienne et moderne. Ou mémoires disposés en ordre alphabétique pour server à lhistoire de cette science, et à celle des medecins, anatomistes, botanistes, chirurgiens, et chymistes de toutes nations.
Mons, H. Hoyois, 1778. 4 volumes. Large 4to. With engraved allegorical frontispiece; woodcut printers devices, engraved and typographical head- and tailpieces. Contemporary calf, gold-tooled spine, red morocco spine label with title in gold, red edges, marbled endpapers [6], VIII, XII, 745, [2]; [4], 650; [4], 648; [4]; 626, [2] pp.
€ 750
The most important edition of this historical and biographical dictionary on the history of medicine, including many biographies of important physicians, such as Boerhaave and Hippocrates, chemists, pharmacists and surgeons, as well as often extensive and detailed entries on "Anatomie", "Botanique", "Chirurgie", "Chymie" and "Pharmacie". As a result of the publication of his Dictionnaire, Eloy is considered one of the most important pioneers of medical biography.
After the first edition of his Dictionnaire (Liege, Bassompierre, 1755), it took Eloy no less than 22 years to publish this expanded and totally re-written Dictionnaire in 1778.
Nicolas François Joseph Eloy (1714-1788) was born in Mons and after his study in Louvain he returned to his native town in 1737 where he stayed till his death in 1788 as a physician. In 1752 he was appointed town physician and in 1754 he became also court physician to princes Anne-Charlotte and prince Charles-Alexandre of Loraine.
Binding a bit shaved, corners bumped, some spotting and browning, but otherwise in good condition. Blake, p. 134; Garrison-Morton, nr. 6704; Paquot, II, p. 251; Waller, nr. 13.187; Wellcome, II, p. 521; cf. F.A. Sondervorst, his preface to the facsimile-edition of the Dictionnaire of 1973 (pp. 1-5).
Related Subjects: