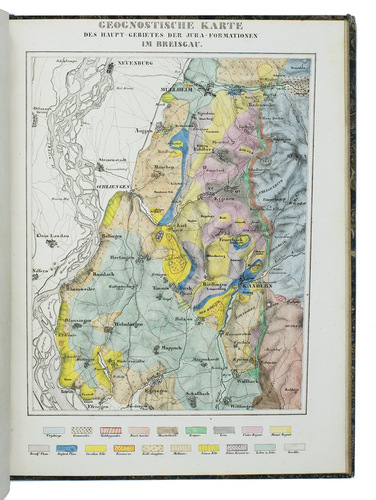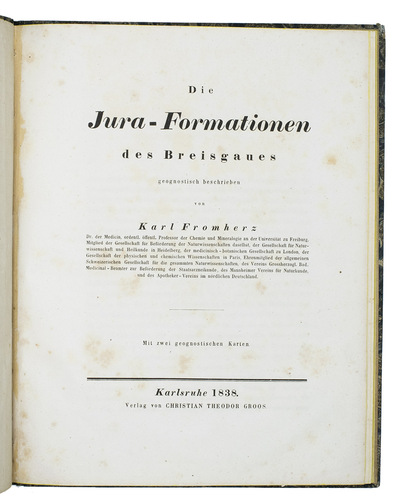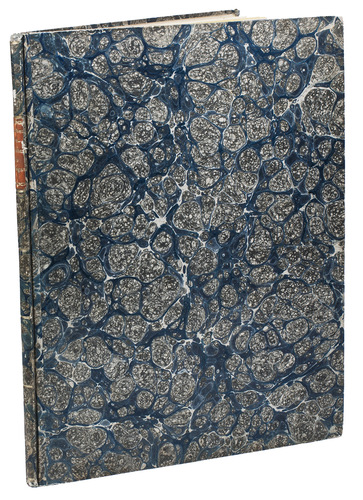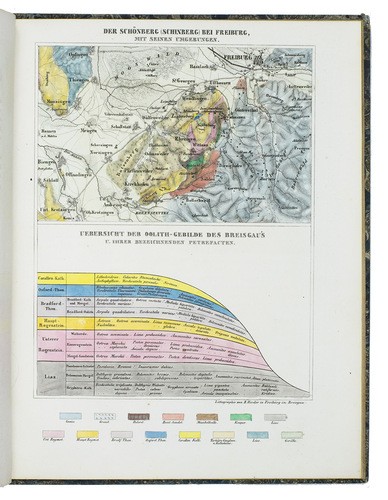 FROMHERZ, Karl.
Die Jura-Formationen des Breisgaues geognostisch beschrieben.
Karlsruhe, Christian Theodor Groos, 1838. 4to. With 2 hand-coloured lithographed geognostic maps by B. Herder, one of the Schönberg near Freiburg and one of the whole area of Breisgrau with both maps showing the different earth layers and their materials by using different colours. Contemporary marbled boards, red morocco spine label. IV, 51, [1 blank] pp.
€ 950
Treatise on the geognosy (geology, minerology and subterranean structure) of the German region Breisgau, situated near the Black Forest, written by Karl Fromherz (1797-1854). Fromherz was professor of chemistry and mineralogy at the University of Freiburg and is known for his several works on the geology and mineralogy of the area around Freiburg, the capital of Breisgau. In this work Fromherz dwells on the geological formation of Breisgau's soil in the Jura geological era. He describes the different substances in the soil and also the different effects of this epoch on the formation of the landscape in the region around the Black Forest, both depicted in the lithographed maps bound at the end of the book. On pp. 49-51 he also gives an extensive explanation of both maps.
Binding very slightly worn, some small stains throughout the book (especially on the endleaves), mostly not affecting the text. Otherwise in good condition. Poggendorff I, pp. 810-811.
Related Subjects: