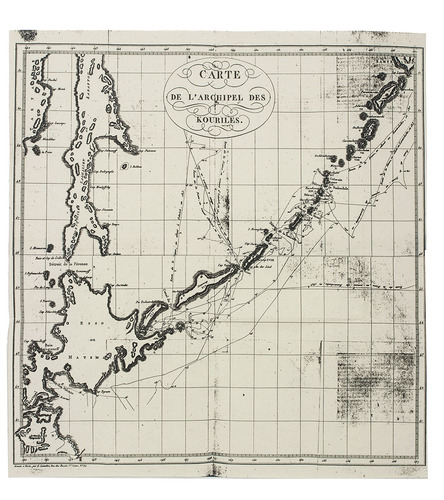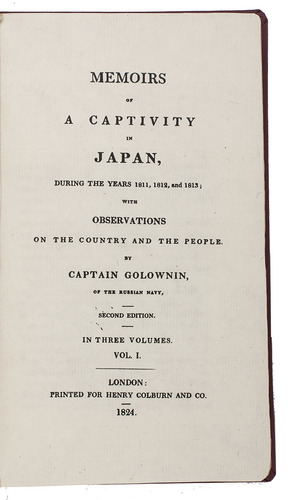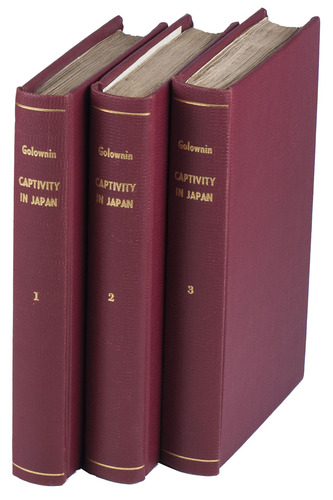 GOLOVNIN, Vasilii Mikhailovich.
Memoirs of a captivity in Japan, during the years 1811, 1812, and 1813; with observations on the country and the people ... second edition.
Including:
-RIKORD, Petr Ivanovich. Account of voyages to the coasts of Japan; and of negotiations with the Japanese, for the release of Captain Golownin and his companions.
-Account of the voyages of Messrs. Chwostoff & Dawidoff.
London, Henry Colburn & Co., 1824. 3 volumes. 8vo. With an additional facsimile map, copied from the French edition of 1818, inserted in volume 2. Modern red cloth. IV, 315, [1 blank]; [2], 356, [2]; VIII, LXXXIX, [1 blank], 302 pp.
€ 1,500
Second edition of the English translation of a primary source for the history of Russian-Japanese relations in the aftermath of disputes that began during Ivan Krusenstern's voyage around the world (1803-1806) for the Russian-American Company under Nikolay Rezanov (1764-1807). That voyage brought Rezanov's trade mission to Japan in 1805, but he failed to reach an agreement, leaving Russian ships prohibited from entering Japanese waters. The Russian sloop Diana under command of the explorer Colonel Vasily Golovnin and Captain Petr Rikord made a new Russian voyage around the world (1808-1811), especially to explore and survey the Russian Pacific shores, Kamchatka and Alaska. In 1811 Japanese samurai captured Golovnin and six of his men on the island of Kunashir and took them to the island of Hokkaido. The present book gives a gripping account of Golovnin's capture and Rikord's successful operation to rescue him in 1813.
With the title-page of volume one lacking and provided in facsimile, the publisher's advertisements at the end of volume three lacking as well, and the "General introduction" bound in volume three rather than in volume one. A fair copy, slightly thumbed throughout. Cordier, Japonica, cols. 456-466; Howgego, 1800-1850, G15.
Related Subjects: