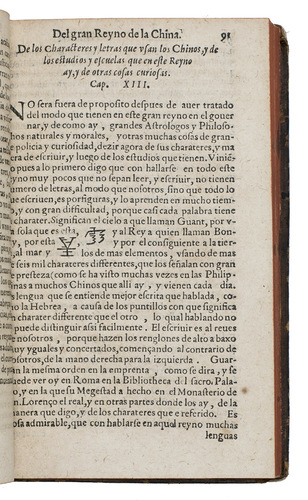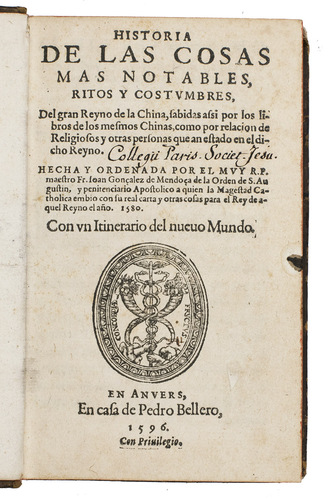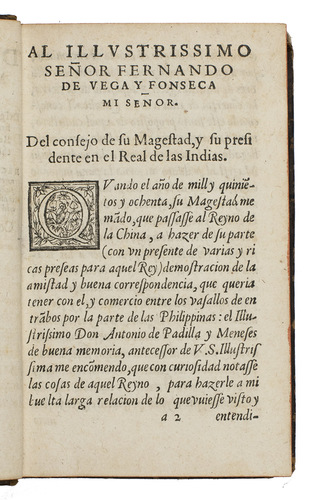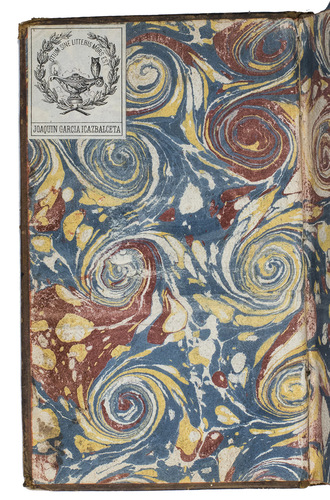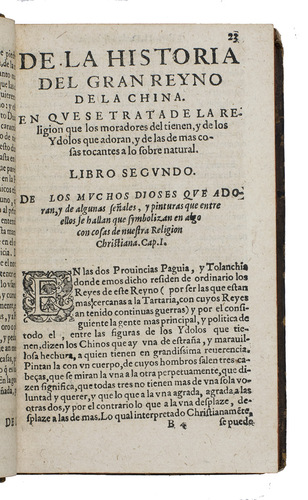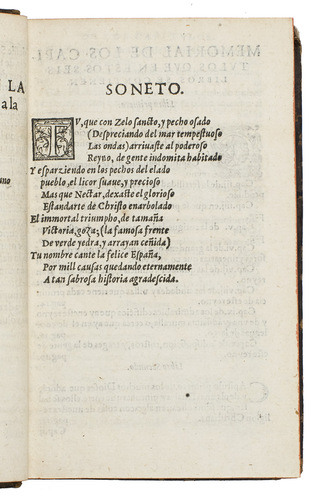 GONZALES DE MENDOÇA, Juan.
Historia de las cosas mas notables, ritos y costumbres del Gran Reyno de la China, sabidas assi por los libros de los mesmos Chinas, como por relacion de religiosos y otras personas que an estado en eldicho reyno.
Antwerp, Pierre Bellère I, 1596. 2 parts in 1 volume. 8vo. With a woodcut printer's device and some woodcut initials. With a few (woodcut?) Chinese characters in the text. Contemporary mottled calf. [24], 380, [1], [1 blank] pp.
€ 9,000
First Antwerp edition, in the original Spanish (in fact, the first Spanish edition published outside Italy and Spain), of the first major work on China, originally published at Rome in 1585, and one of the first books printed in Europe to include Chinese characters. It soon became the standard European reference work on China, translated into many languages and printed in more than 30 editions before 1600. "One of the outstanding best-sellers of the sixteenth century ... read by the majority of well-educated Europeans ... Its influence was naturally enormous, and ... men like Francis Bacon and Sir Walter Raleigh derived their notions of China and the Chinese primarily, if not exclusively, from this work" (Boxer).
In 1580, King Philip II of Spain appointed the Spanish Augustinian friar Juan Gonzales de Mendoça (ca. 1540/45-1617/18) to a mission to the Ming Empire and commissioned him to write an account of China. He intended to travel from Mexico to the Philippines and then to China, but in the event, he never got further than Mexico, where he consulted all the travel accounts written by Franciscan and Augustinian Jesuits missionaries, including much unpublished material. He returned to Spain in 1583 then went on to Rome, where he published his account under the authority of Pope Gregory XIII. Among his main sources were the accounts of Martin de Rada (1533-1578), one of the first missionaries to visit Ming China and bring back some important materials. The Historia therefore contains a four-page sketch of the Ming dynasty, from Emperor Yao to the Wan-li Emperor.
His book gave many Europeans their first view of China and served as the basis for many later accounts. Three (woodcut?) Chinese characters appear, two on F6r and one on F6v (pp. 91-92), each character spanning two lines of the main text type.
With the bookplate of the Mexican historian and bibliographer Joaquin Garcia Icazbalceta (1824-1894) on the front paste-down and an inscription reading "Collegii Paris. Societ. Jesu." on the title-page. Binding slightly worn around the edges, head and foot of spine a little chipped, some leaves a little browned, a few edges a little frayed, and a few ink stains on the fore-edge. Otherwise a in good condition. A highly important and interesting work on the journeys of missionaries to China, being the first major survey of China and the first presentation of the Ming Empire to Europe. Adams G865; Palau 105501; Peeters-Fontainas 510; Sabin 2777; USTC 440121; Wilkinson, Iberian Books 9716; cf. Boxer, South China, p. xvii (1585 ed.); Cordier, Sinica I, cols. 8-16 (other eds.); not in STCV.
Related Subjects: