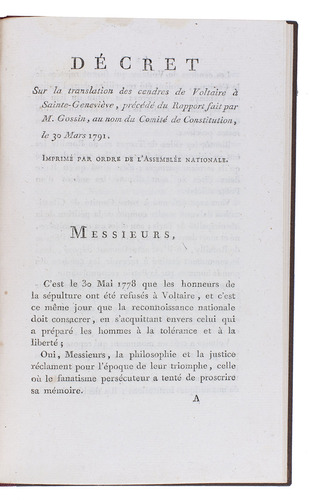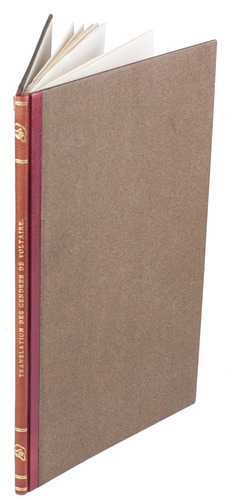 GOSSIN, Pierre-François.
Décret sur la translation des cendres de Voltaire à Sainte-Geneviève, précédé du Rapport fait par M. Gossin, au nom du Comité de Constitution, le 30 Mars 1791.
[Paris], by order of the Assemblée Nationale, [1791]. 8vo. Modern red half morocco. 3, [1 blank] pp.
€ 1,750
Rare first edition of an official decree of the French Revolutionary government declaring that Voltaire "est digne de recevoir les honneurs décernés aux grands-hommes" (is worthy to receive the honours awarded to great men) and that his remains are therefore to be transferred from the Abbey of Sellières, first to the local parish church in Romilly-sur-Seine and then to the Basilica of St Geneviève in Paris. Three days after the present decree, the Assemblée Nationale ordered St Geneviève transformed into a secular temple of French genius, now the Panthéon, where Voltaire was buried alongside Descartes, Rousseau and many others.
Finely bound in a simple and elegant style for and with the bookplate of Jankarel Gevers (1944-1998). In very good condition, with only some reinforcing in the fold and some very faint marginal stains, not approaching the text. The binding fine. A fascinating document of Voltaire's symbolic role in the French Revolution. De Baecque, Glory and terror (2001; French ed. 1997), pp. 40-52; WorldCat (5 copies); not in Sudoc.
Related Subjects: