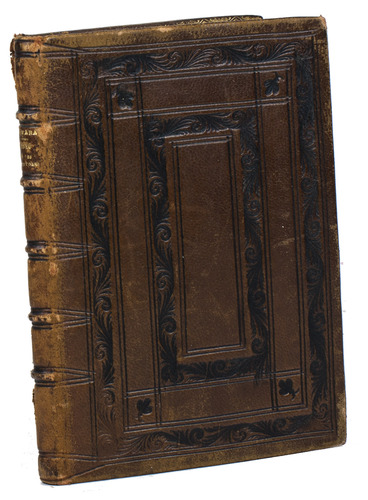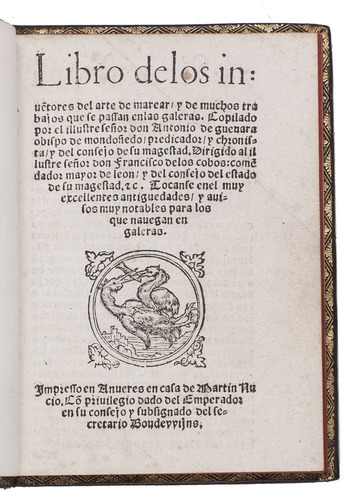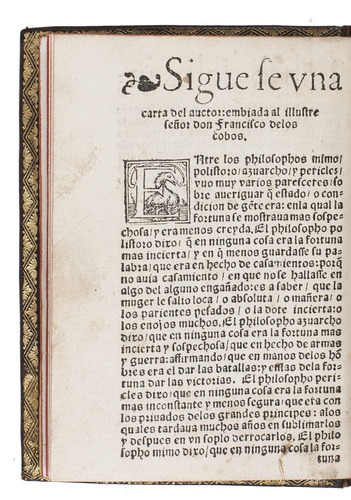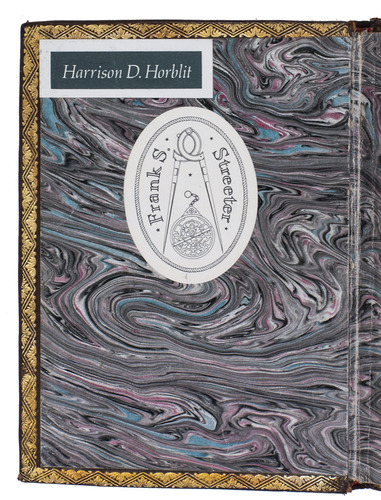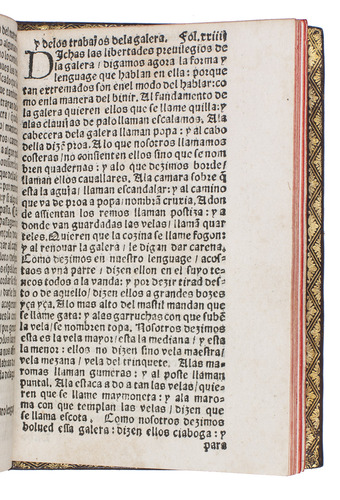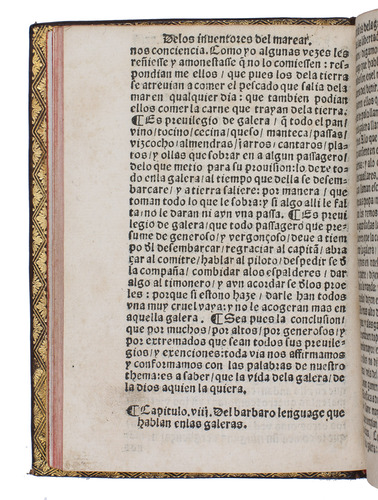 GUEVARA, Antonio de.
Libro de los inventores del arte de marear, y de muchos trabajos que se passan enlas galeras. ... Tocanse enel muy excellentes antiguedades, y avisos muy notables para los que navegan en galeras.
Antwerp, Martin Nutius, [ca. 1545/46]. Small 8vo (13.5 x 10 cm). With Nutius's woodcut device on the title-page. Set in rotunda gothic type with a few words in a large roman. Blind-tooled brown goatskin (1920s?) in 16th-century style by Victor Arias (1856-1935) in Madrid, gold-tooled turn-ins. XXIX, [1], [2 blank] ll.
€ 12,000
Rare (first?) separately published edition of an early discourse on the art of sailing and navigation, in the original Spanish, first published as part of Libro llamado Menosprecio de Corte. The book discusses the invention and use of the galley, mariners of classical antiquity, the dangers of the sea, pirates, the sea and its properties, and of special interest a chapter on the barbaric language spoken in Spanish galleys: a primary source for their lost maritime dialects. Although it covers sailing from classical antiquity onward, most of the text focuses on Guevara's own era. He includes often humorous descriptions of the horrendous food aboard the galleys, and lists, with tongue in cheek, 58 "privileges" reserved for those who live a life at sea. Ultimately, sailing separates men from beasts, for beasts flee danger while men willingly sail into unknown waters. The present work was later translated into English, French and Italian, the first as A book of the invention of the art of navigation.
With the bookplates of the famous collector Harrison D. Horblit (1912-1988) and Frank S. Streeter (1918-2006), an important collector of voyages of discovery, but also the son of the great Americana collector, Thomas W. Streeter. Trimmed close to the running heads, but with no loss, in very good condition and complete with the two final blanks. The binding shows a small tear as the head of the spine and a bit of wear at the extremities generally, but otherwise very good. Belg. typographica 1353(1 copy); Iberian Books 9931; Palau 110393; USTC 440510 (4 copies).
Related Subjects: