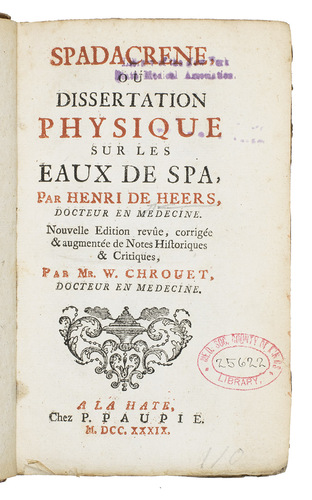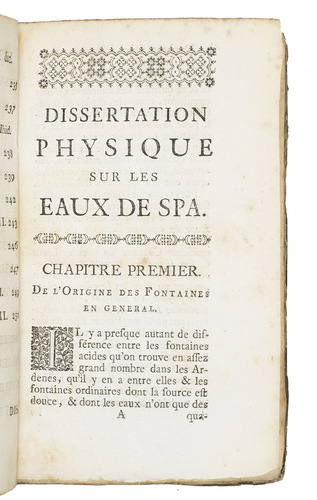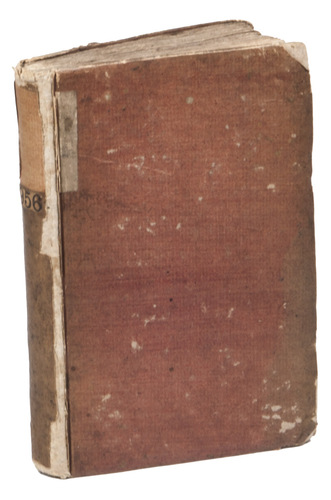 HEERS, Henri de.
Spadacrene ou dissertation physique sur les Eaux de Spa.
The Hague, P. Paupie, 1739. 8vo. Title printed in red and black, with woodcut title-vignette, initials and ornamental head- and tailpieces. Red paper over boards, paper piece with the number "2956" on the spine. [14], 252, [6] pp.
€ 200
Late (last?) edition of one of the better known works on hydrotherapy and the therapeutic use of mineral waters, concentrating on the baths of Spa, known already in Roman times and iconic for the history of the wide spread phenomenon of Taking the waters, balneotherapy, or hydrotherapy.
Henri de Heers (1570-1636) was a physician from Liege who first published his Spadacrene, hoc est Fons Spadanus in Latin in 1614. After many editions in both Latin and French, another physician from Liege, Werner Chouet edited a corrected and enlarged French edition in 1739 in The Hague (our copy). Chouet was an expert who had written a study on the waters of Spa and other places himself: La connoisance des eaux minerals dAix-la-Chapelle, de Chaud-Fontaine, & de Spa (1714). To the present edition of Heers book he added not only his own remarks and commentaries, but also the Latin annotations Heers had entered in his first Latin edition.
With the bookplate of the Library of the Medical Society of the County of Kings, dated 1909, on the front paste-down and two library stamps of this library on the title-page. With an owner's inscription of "Dr. Fries" on the first free endpaper. Manuscript spine label gone, corners bumped, some loss of the paper of the binding around the spine and corners. Otherwise in good condition. Hirsch III, p.110.
Related Subjects: