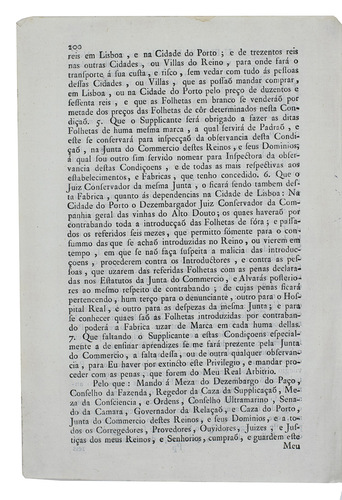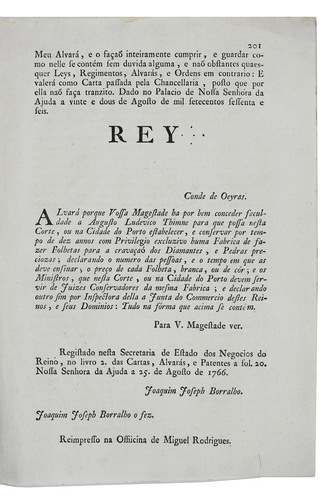 JOSEPH I, King of Portugal
Eu Elrey. Faço saber aos que este alvará virem, que por parte de Augusto Ludevico Thimne, de naçaõ alemãa, assistente na cidade do Porto, me foi representado, que havia descuberto o segredo de fabricar as folhetas para a cravaçaõ dos diamantes.
Ajuda (district of Lisbon), Palacio de Nossa Senhora ("reprinted by Miguel Rodrigues"), 22 August 1766. Folio. Disbound, folded. pp. 199-201, [blank 202].
€ 600
Rare royal proclamation, issued 22 August 1766 by King Joseph I of Portugal (1714-1750-1777) and registered and certified by his secretary Joaquim Joseph Borralho, granting August Ludwig Thimne the exclusive privilege and patent for ten years to set up a factory in Porto or Lisbon to produce foil from silver and other metals for setting diamonds and other precious stones. The proclamation forbids the import of contraband foil into Portugal, giving Thimne the sole rights to the production and sale of the foil. Thimne discovered how to manufacture foil to set diamonds and other gems and stones in 18th-century Portugal, where the setting of diamonds and gems and the creation of spectacular jewellery became more and more important.
A highly interesting proclamation on the Portuguese diamond and gemstone industry, especially on underlaying with foil as an appearance modification technique used for 18th-century Portuguese jewelry, not only granting Thimne a privilege, but also regulating the production for the Portuguese market.
The bifolium is almost completely torn into two leaves on the fold line, but otherwise in very good condition. Portuguese and Brazilian books in the John Carter Brown Library, 1537 to 1839 (2009), 766/5; WorldCat 81024902? (no copy listed); 460587852 (1 copy of the whole ed.).
Related Subjects: