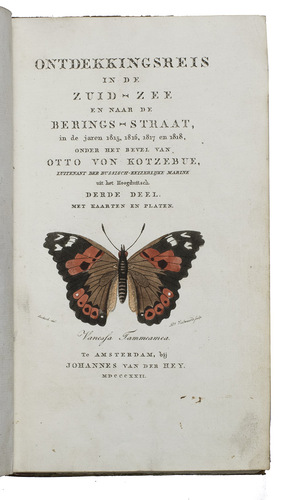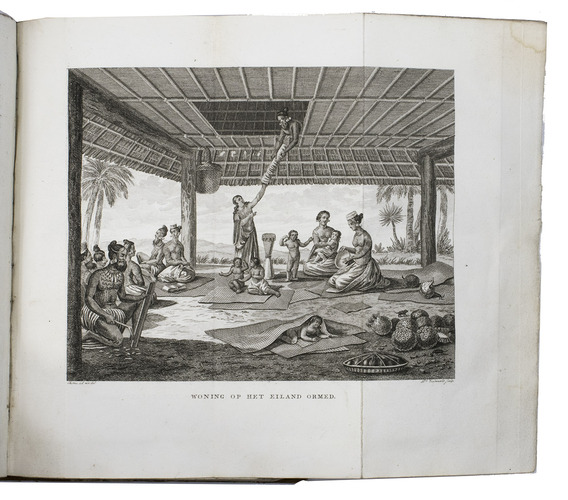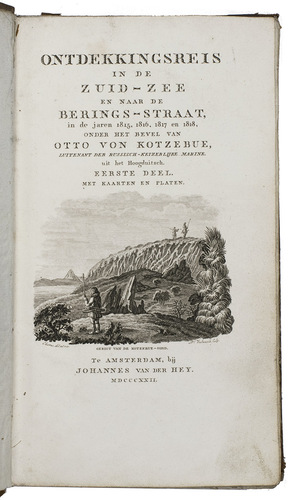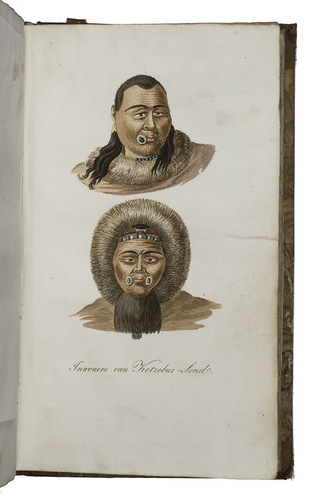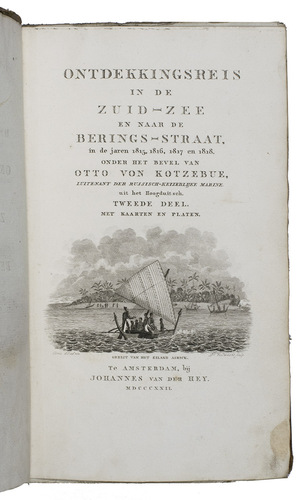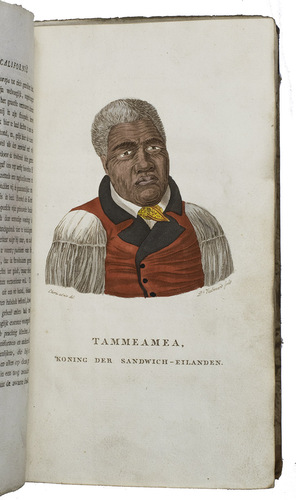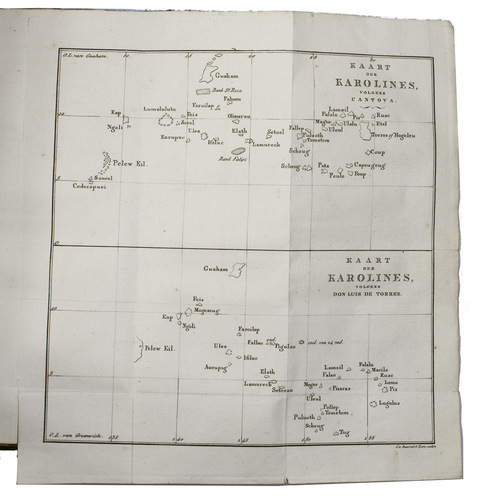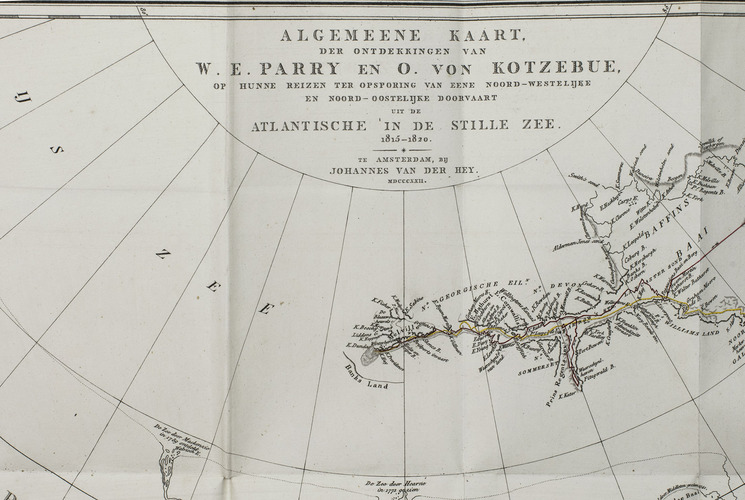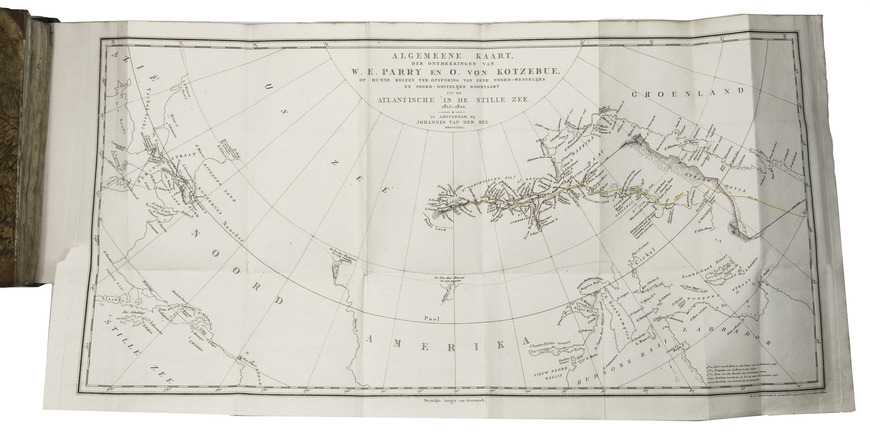 KOTZEBUE, Otto von (Pieter Gerardus WITSEN GEYSBEEK, translator).
Ontdekkingsreis in de Zuid-zee en naar de Bering-straat in de jaren 1815, 1816, 1817 en 1818, onder het bevel van Otto von Kotzebue, luitenant der Russisch-keizerlijke marine.
Amsterdam, Johannes van der Hey, 1822. 3 volumes. 8vo. Volume 1 with an engraved title-page showing a view of the Kotzebue-sound engraved by D. Veelwaard after L. Choris, a hand-coloured engraved plate and an engraved folding map; volume 2 with an engraved title-page showing a view of Airick Island by Veelwaard after Choris, 3 hand-coloured engraved portraits, 2 engraved folding plates and 4 engraved folding maps, including one large map showing the route of the entire voyage; volume 3 with an engraved title-page showing a hand-coloured "Vanessa Tammeamea" butterfly by Veelwaard after Eschbach, an engraved folding map signed by C. v. Baarsel and son, and an engraved folding plate showing skulls. Half brown calf and brown decorated paper sides, with gold- and blind-tooled spines. VIII, 428, [2 blank], [1], [1 blank]; IV, 413, [1 blank], [1], [1 blank]; VIII, 492, [1], [1 blank], [1], [1 blank] pp.
€ 2,950
Very rare, first and only Dutch edition of the extensive report of Otto von Kotzebue's first major voyage in the Pacific Ocean and the Bering strait, translated from the first German edition of 1821. The translator, Witsen Geysbeek (1773-1833), added his own prefaces to volumes 1 and 3 and added many footnotes to the original text. The work also includes most of the contributions by other members of the expedition, like Krusenstern, Chamisso, Eschschotz, Horner and Engelhardt.
The expedition first visited Tenerife and the Cape Verde Islands, rounded Cape Horn, and sailed to Easter Island (March 1816). In the Tuamotus Kotzebue discovered Romanzoff Island (= Tikei), the Radak and Ralik chains of the Marshall Islands and New Year Island. Via the Caroline Islands he proceeded to the North Pacific where he discovered the Rurik and Krusenstern Islands. He then sailed for Kamchatka and in July 1816 he set out to survey northward through the Bering Strait. He also discovered Kotzebue Sound. Fearful, however, that the lateness of the season would trap his ship in the ice, Kotzebue decided to retire south to refit. He visited the Sandwich Islands in November and December 1816 and then proceeded to California. In June 1817 he returned to the Aleutian Islands. During a sudden storm Kotzebue broke one of his ribs and was forced to return to the Sandwich Islands. He returned to Europe by way of Guam, Manila and St Helena and arrived back in Kronstadt in the following year, bringing with him a large collection of unknown plants and much new ethnological information.
The bindings (mainly vol. 2) show signs of wear, the half-title of vol. 1 is nearly detached, the edges of the leaves are very slightly browned and frayed, and with some very slight occasional spotting. Otherwise in good condition. Borba de Moraes, p. 439; Chavanne, die Literatur über die Polar-Regionen der Erde 4113; Du Rietz, Kroepelein collection 672; Forbes 551; Howgego (1800-1850), K20; NHSM, p. 144; O'Reilly-Reitman 778a; Sabin 38285; cf. (all German 1821 ed.) Arctic bibliography 9189; Cowan, p. 132; Hill, Pacific voyages 943; Howes K258; Lada-Morcarski 80; Nat. Maritime Museum 814; Nissen ZBI 2297.
Related Subjects: