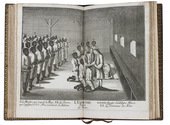 [CRANZ, David and/or J.K. ULRICH].
Briève & fidèle exposition de l'origine, de la doctrine, des constitutions, usages et ceremonies ecclesiastiques de l'eglise de l'unité des freres connus sous le nom de Freres de Boheme & de Moravie, ... avec XVI. planches.
[Saxony?], 1758. 8vo. With 16 numbered double-page engraved plates. Brown morocco (Lyon, ca. 1900) with gold-tooled turn-ins, signed by L(ouis) GUÉTANT. 87 pp.
Full description
€ 4,500