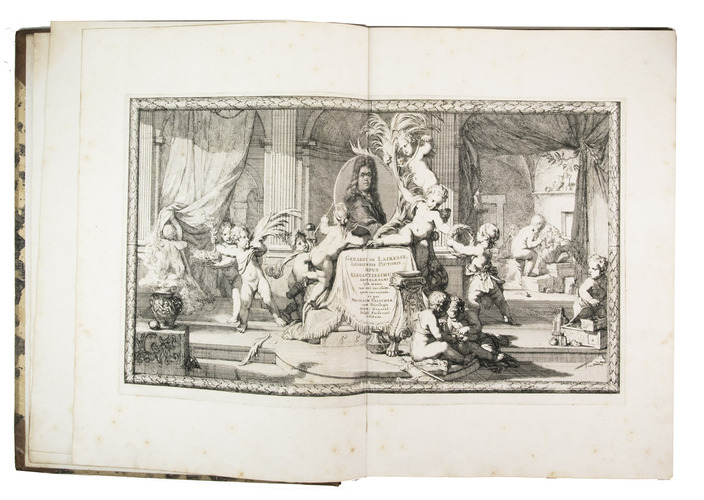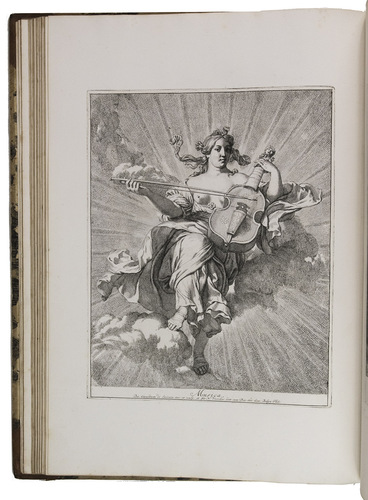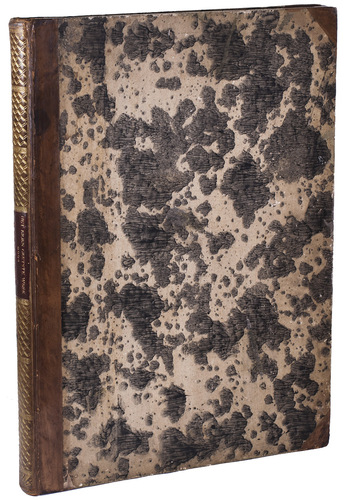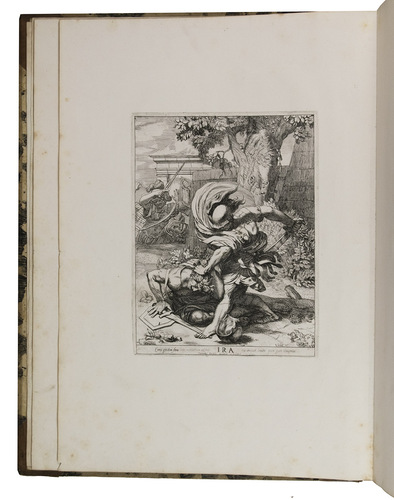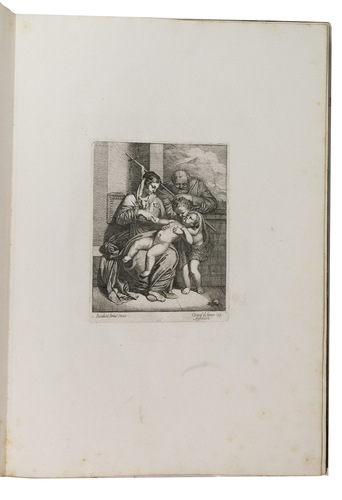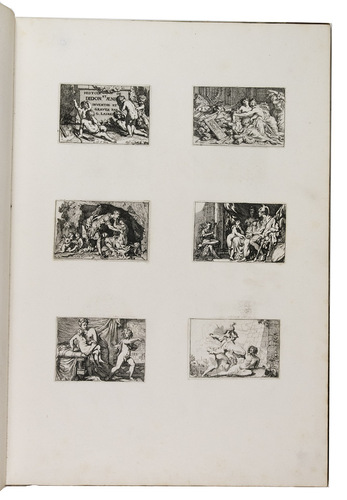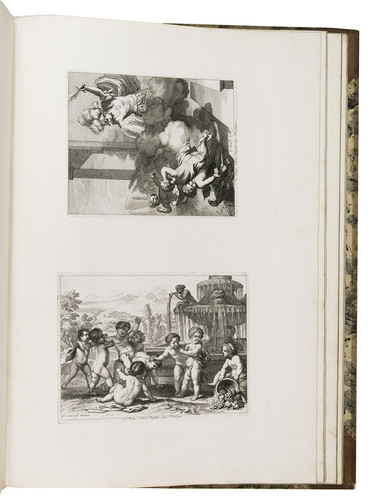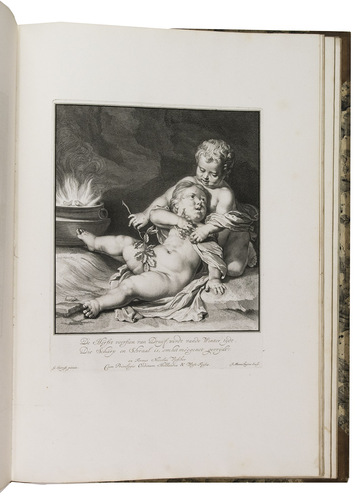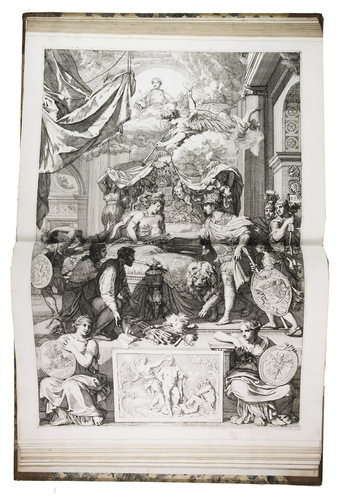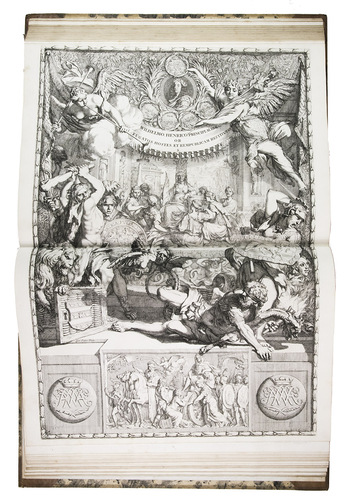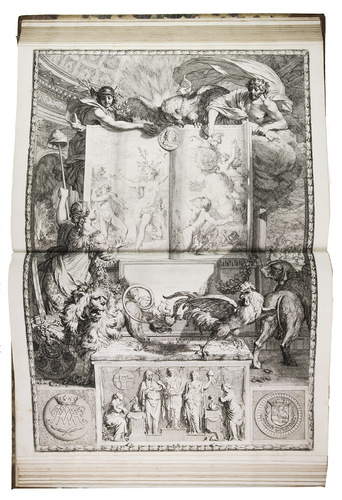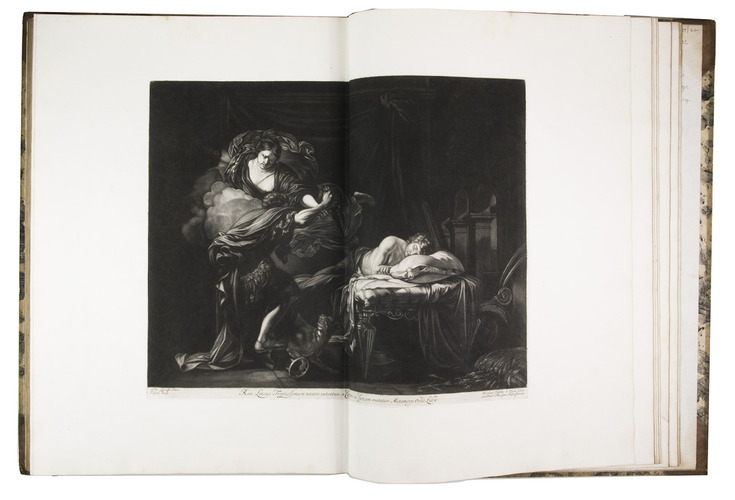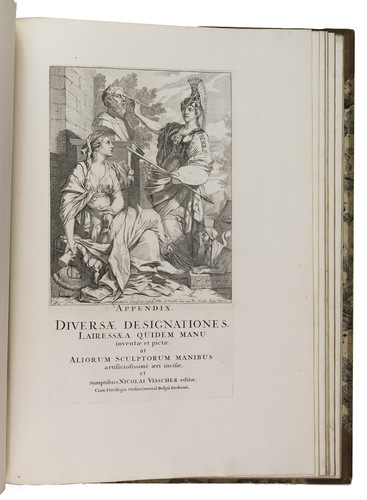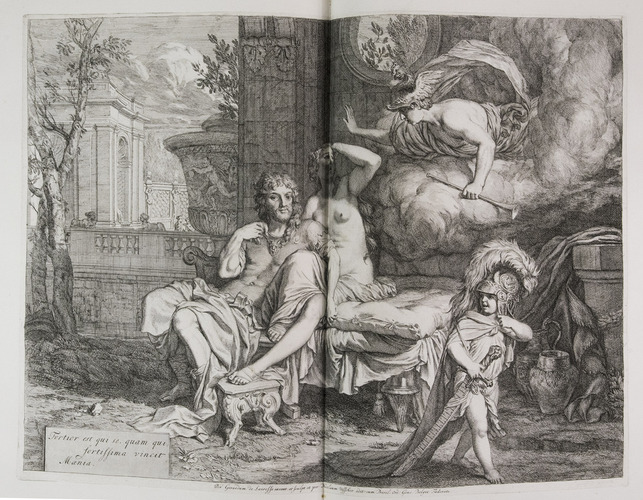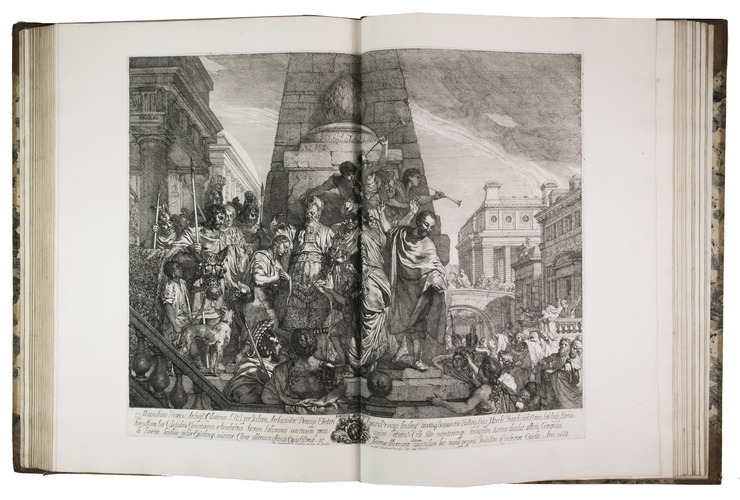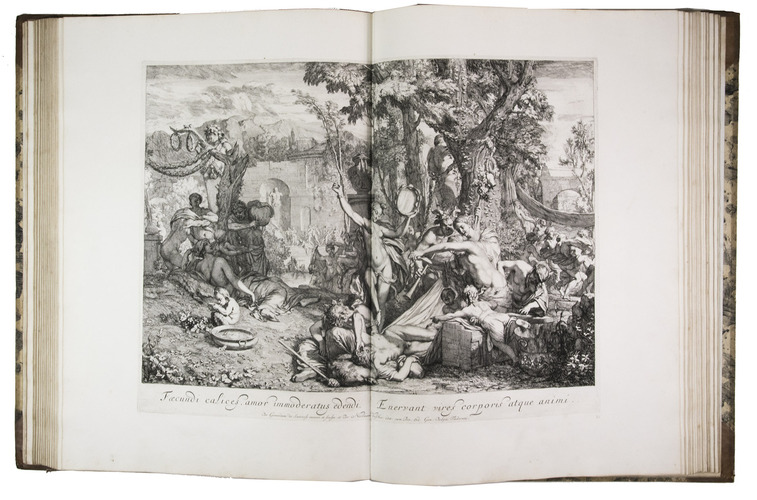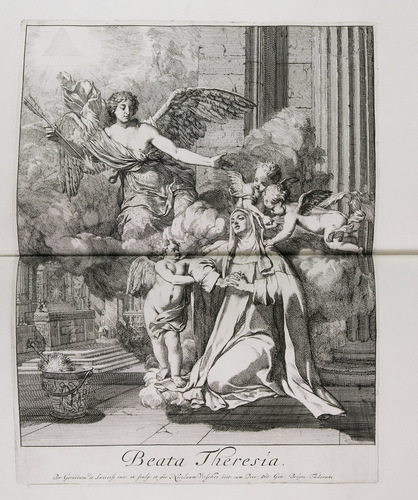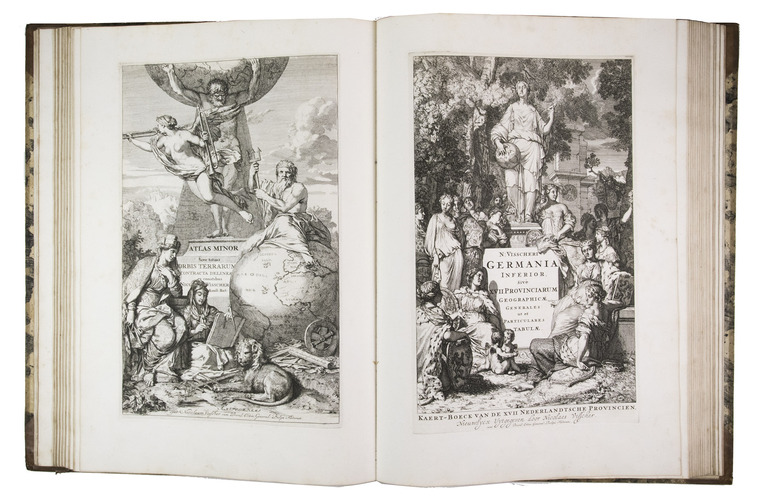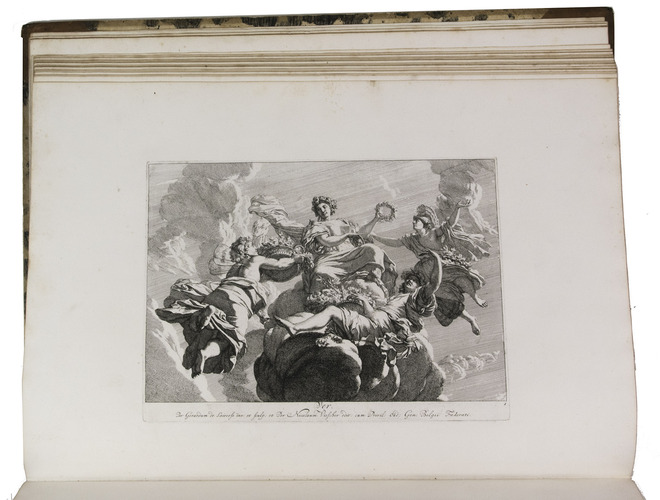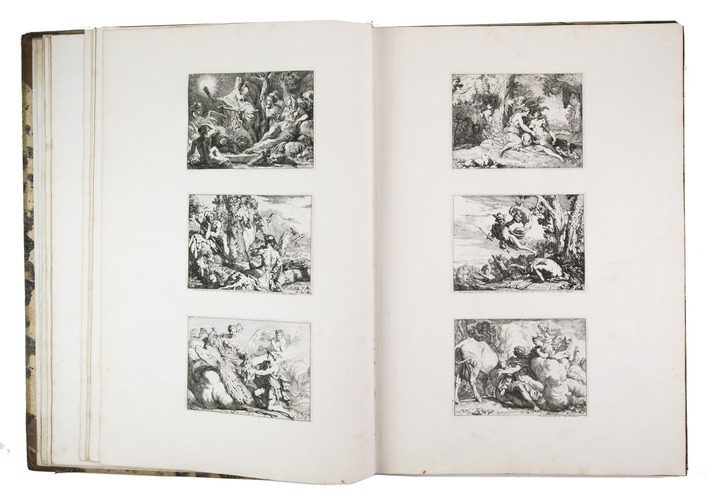 LAIRESSE, Gerard de.
Gerardi de Lairesse, Leodiensis pictoris, opus elegantissimum, Amstelaedami ipsa manu tam aeri incisum, quam inventum.
Including: [LAIRESSE, Gerard de, and Nicolaas VISSCHER II]. Appendix. Diversae de signationes, Lairessaea quidem manu inventae et pictae, at aliorum sculptorum manibus artificiosissime aeri incisae et sumptibus Nicolai Visscher editae.
[Amsterdam], [Nicolaas Visscher II], [ca. 1690?]. 1mo (52 x 39 cm). With a double-page engraved title-page, an engraved title-page of the appendix and more than 100 engraved illustrations on 56 large double leaves, including 31 double-page engravings. 18th-century half gold-tooled, sprinkled calf, decorated paper over boards, with a gold-tooled red morocco title-label on the spine. [50]; [8] double ll.
€ 27,500
Beautiful set of engraved illustrations by the Dutch Golden Age painter and engraver Gerard de Lairesse (1641-1711) in its first state, with the engravings bearing the imprint of N. Visscher. Almost all known copies of the present work show differences in contents and order of the plates. The present copy contains the large double-page engraved title-page, the engraved title-page of the appendix and more than 100 engraved illustrations of varying sizes on 56 double-page leaves, including 31 large double-page illustrations.
Gerard de Laraisse was the son of the Liège painter Renier Lairesse and followed in his father's footsteps. He moved to Amsterdam in 1666 to paint in the atelier of the art dealer Uilenburg, before starting out on his own. He became one of the famous painters and engravers of the Dutch Golden Age, producing works in a classic style depicting historical, allegorical and mythological subjects. His works were greatly appreciated during his lifetime and long after and he was sometimes even called the Dutch Poussin. Although Lairesse went blind in the 1690s, he was still able to earn his living teaching drawing and painting and writing instructional works on these matters. His lessons and works were all based on his own lifelong experience. De Lairesse's teachings also strongly influenced 18th-century book-illustration.
With the bookplate of the Dutch art collector Joseph Augustin Brentano (1753-1821) on the front paste-down, with his signature at the foot of the bookplate in brown ink "J. A. Brentano".The binding shows slight signs of wear, slight foxing to the first few leaves and very slight foxing to the edges of the leaves throughout, the illustrations remain fine and clean. Overall in very good condition. STCN 317791346 (3 copies); Timmers, Gérard Lairesse, 24; WorldCat 22670296 (4 copies); 900782756 (4 copies, incl. 1 the same as STCN); 740253279 (2 copies, same as STCN); 54212851 (1 copy); 835994396 (5 copies). For De Lairesse: Thieme Becker 22, p. 233-237.
Related Subjects: