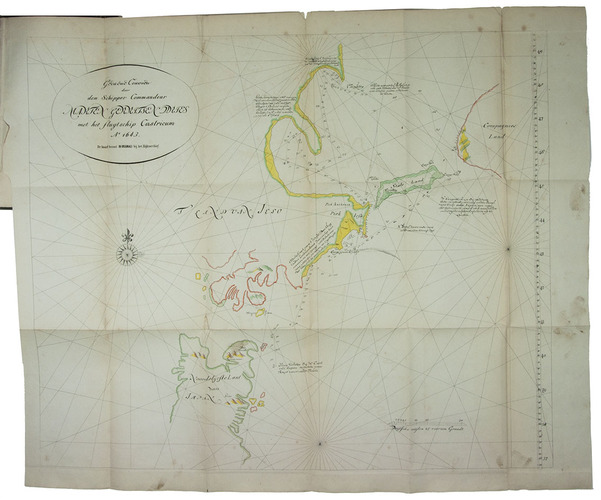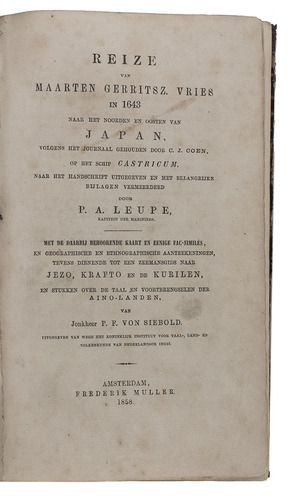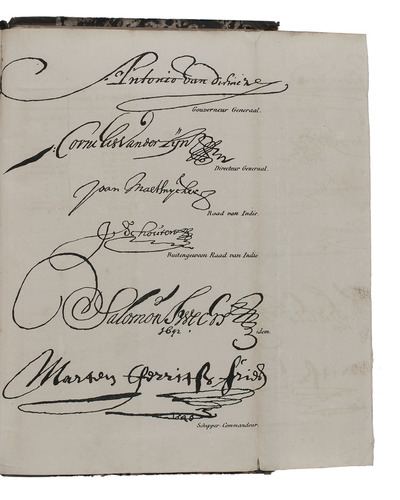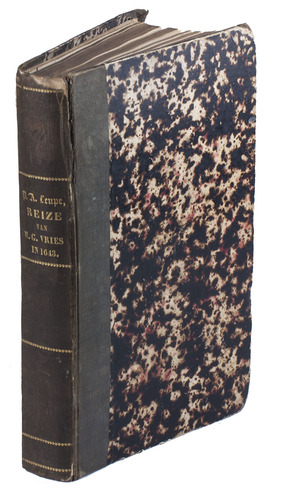 LEUPE, Pieter Arend.
Reize van Maarten Gerritsz. Vries in 1643 naar het noorden en oosten van Japan.
Including: SIEBOLD, Philipp Franz Balthasar von. Aardrijks- en volkenkundige toelichtingen tot de ontdekkingen van Maerten Gerritsz. Vries, met het fluitschip Castricum a[nn]o. 1643.
Amsterdam, Frederik Muller; [The Hague], Koninklijk instituut voor taal-, land en volkenkunde van Nederlandsch Indië, 1858. 2 parts in 1 volume. 8vo. With lithographed folding plate with reproductions of six signatures and a folded lithographed reproduction of Maarten Gerritsz. de Vries's original map, coloured in outline. Contemporary half cloth. [4], 440 pp.
€ 1,800
First edition of a transcription of the original 17th-century manuscript ship's log of the ship Castricum under the command of Maarten Gerritsz. de Vries, on its journey to the north of Japan to discover the coast of Tartary. Included is a geographical and anthropological commentary written especially for this publication but also separately published in the same year, by the well-known Philipp Franz Balthasar von Siebold (1796-1866), a German physician and botanist, sent to Dejima (Japan) in service of the Dutch and the first European allowed to teach Western medicine to the Japanese.
The editor Pieter Arend Leupe also added transcriptions of several 17th-century documents related to the voyage.
With bookplate. Some spots throughout, especially in the preliminaries, title-page browned and slightly soiled, the map somewhat thumbed and with a minor tear along a fold, still a good copy. Corners of the binding a bit bumped and the spine slightly damaged. Cat. NHSM, p. 180; Cordier, Japonica, col. 356; Tiele, Bibl. 1183.
Related Subjects: