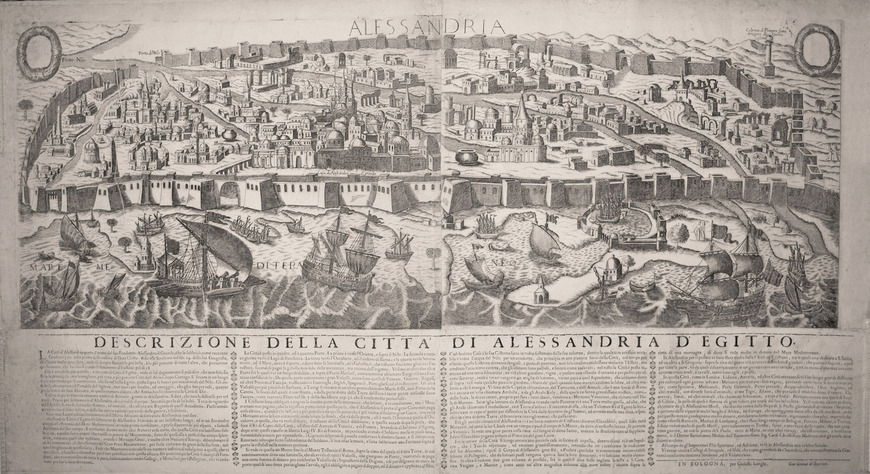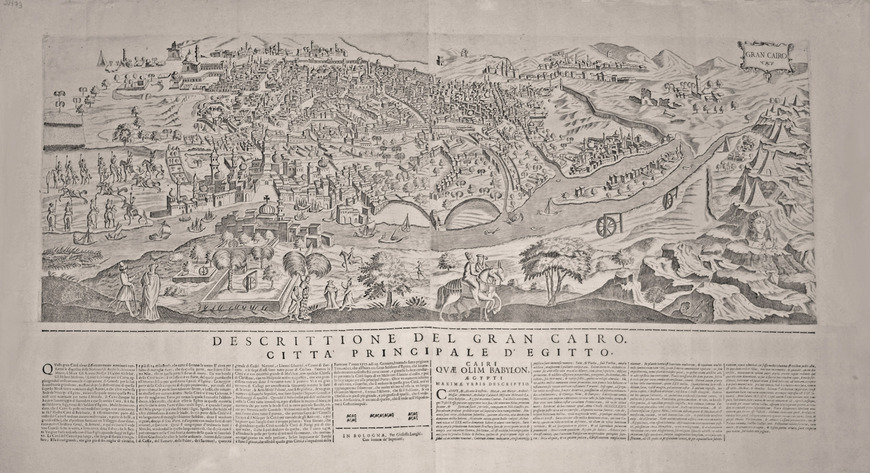 LONGHI, Gioseffo.
Gran Cairo.
With: (2) Alessandria.
Bologna, Longhi, 1670 [and 1670s]. 94.5 × 62 cm, 106.5 × 57.8 cm. Engraved views, each on 2 sheets joined; letterpress text pasted below with publisher's imprint. Both views matted, framed and glazed.
€ 48,000
Unrecorded in the standard bibliographies and without counterpart in western libraries: unique, large-scale views of Cairo and Alexandria. The Muslim influence may be discerned in the people's clothing in the foreground as well as in both cities' architecture. On the river Nile, the views depict numerous trade boats and sailors. The Italian (and, in the case of Cairo, Latin) letterpress text pasted under the engraving provides mostly historical and geographical information.
Under Ottoman rule since 1517 and having expanded south and west from its nucleus around the Citadel, Cairo in the latter half of the 17th century was second only to Constantinople, and the view reflects the economic and cultural effervescence of the second-largest city in the Empire. To the left are soldiers battling as part of a tournament; on the right are the Sphinx (wearing a necklace!) and the famous pyramids of Giza: those of Khufu, Khafre, and Menkaure, as well as the smaller pyramids. The centre of the city shows numerous mosques and gardens.
Formerly the most powerful city of the ancient world after Rome, Alexandria came under Ottoman rule in 1517 and subsequently lost much of its importance to the new port of Rashid (Rosette), 40 miles east, though it would regain some of its former prominence with the construction of the Mahmoudiyah Canal in 1807. Longhi's engraving shows several mosques within the city; the ancient obelisks are crowned with crescents. The Nile flows through the city and underneath the walls; outside lies Pompey's Pillar.
According to scholars, Gioseffo (Giuseppe) Longhi (1620-91) issued a series of views of Italian and foreign cities between 1654 and 1674. A publisher, bookseller and archiepiscopal printer, he was active in Bologna from 1650 to the time of his death.
Excellent specimens; some small marginal tears to the Cairo view repaired with slight marginal fraying to upper left. Cf. Tooley, Mapmakers III, 150 (for Giuseppe Longhi); Schulz, Venice 70 (for Arrigoni/Bertarelli).
Related Subjects: