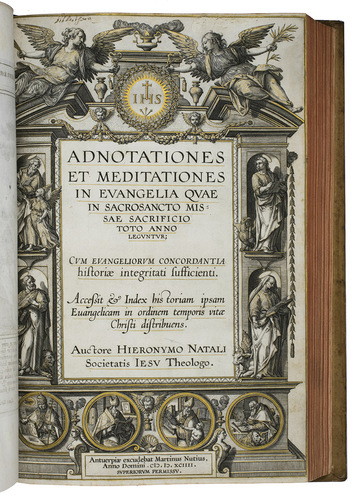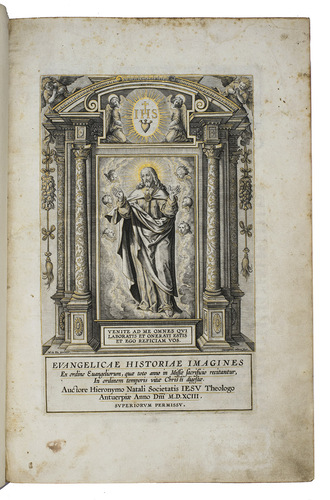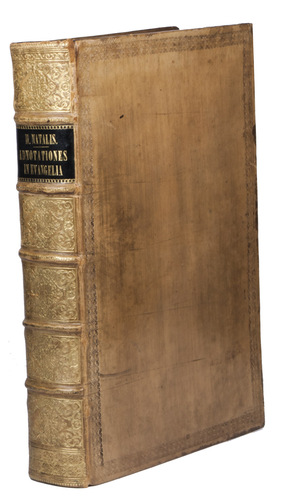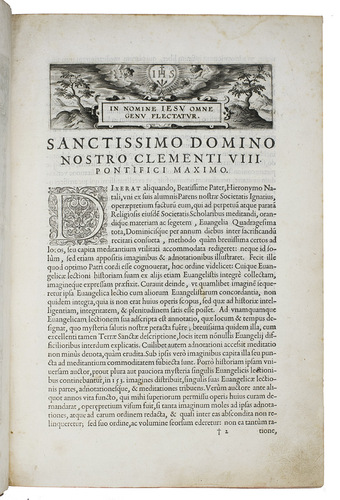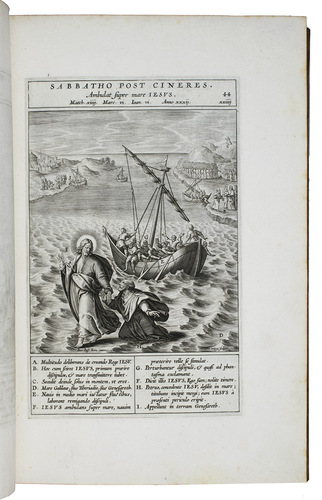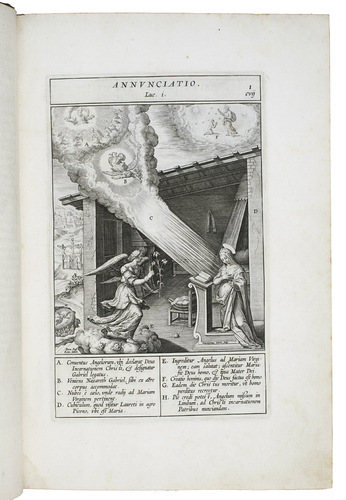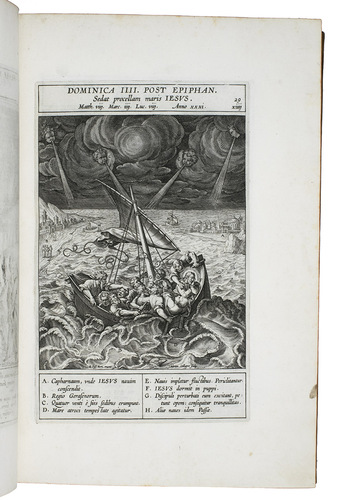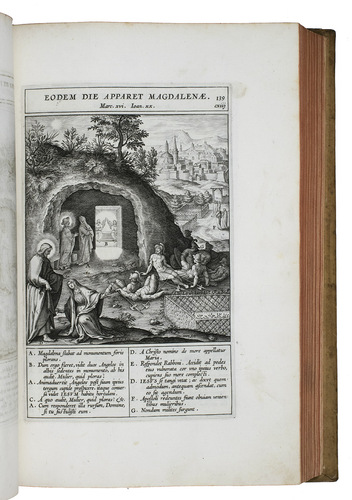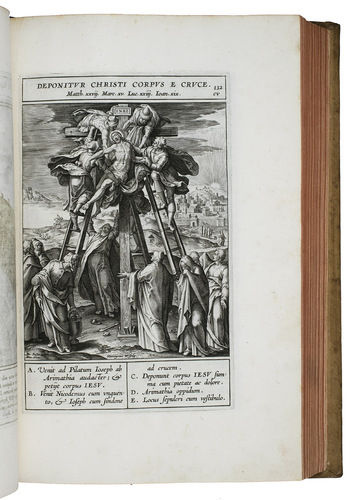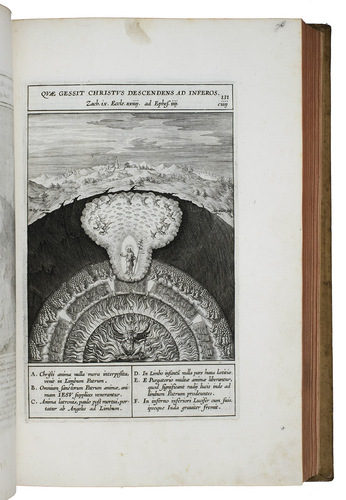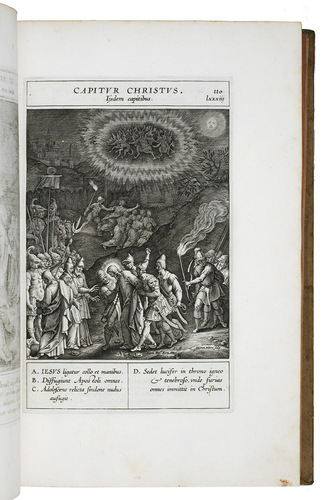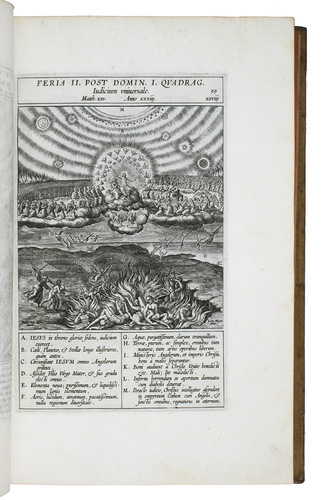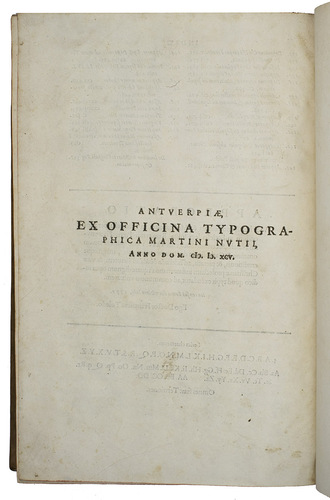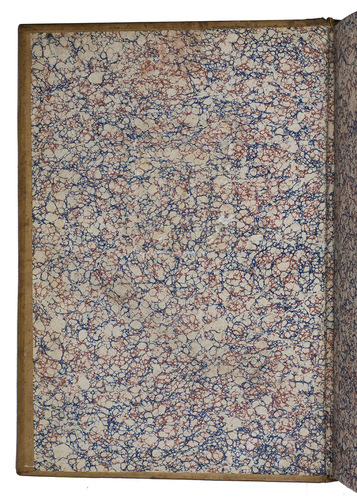 NATALIS, Hieronymus (Jerónimo NADAL).
Evangelicae historiae imagines ex ordine evangeliorum, quae toto anno in missae sacrificio recitantur, in ordinem temporis vitae Christi digestae.
Antwerp, [Martinus Nutius], 1593.With: (2) IDEM. Adnotationes et meditationes in evangelia quae in sacrosancto missae sacrificio toto anno leguntur. Cum evangeliorum concordantial historiae integritati sufficienti. ...
Antwerp, Martinus Nutius, 1594 (colophon dated 1595). 2 works in 1 volume. Folio. Each work with an engraved allegorical title-page, extensively highlighted in gold, and woodcut initials and headpieces. Ad 1 contains a print series showing the life of Christ in 153 full-page engravings by the Wierix brothers, Jan II and Adriaen Collaert and Charles de Malery after Bernardo Passari and Maarten de Vos. It also has an engraved allegorical and ornamental headpiece on A2, reading "IHS In nomine Jesu". Mid 19th-century light brown calf with a blind-tooled ornamental frame on both boards, a gold-tooled spine, a black morocco spine label with the title in gold, red edges and marbled endpapers. [5] ll. plus 153 engraved prints; [1], [3 blank], 595 [= 593], [5] pp.
€ 9,750
Nataliss famous print series for the gospels, depicting the life of Christ in an extensive series of 153 numbered large and detailed gospel illustrations , here bound together with his additional commentary to this work, here both in their first editions. The engravings, showing the life, death and resurrection of Christ, were made by some of the best Flemish engravers, including the Wierix brothers at Antwerp, Jan II and Adriaen Collaert, Charles de Mallery, after drawings by the Italian painter Bernardo Passari and a few after Maarten de Vos.
The present famous print series of the life of Christ soon became a highly important work for Jesuit missionaries and, moreover, a masterpiece of Flemish engraving at the end of the 16th century, engraved by some of the best Flemish engravers of its time in exceptional quality. The present copy is outstanding because both title-pages are highlighted with gold, which is rarely seen.
With an inscription in brown ink ("Bibliotheca") on the title-page of ad 2. Ad 2 lacks two preliminary leaves (†2 and †3), but these seem likely to have been intentionally omitted when the two works were published or bound together, because they contain the same text, reset and reprinted almost line for line, of the corresponding preliminary leaves in ad 1. Binding slightly worn around the spine, especially at the head and foot, some margins of the plates slightly stained or foxed (not affecting the engraved images) and only a few plates with some minor stains (plates 67, 68, 72, 107 and 123), some leaves of ad 2 browned or slightly foxed. Overall in very good condition. Natalis's famous print series with his complementary text, here in their first editions and with their title-pages extensively decorated with gold. Ad 1: Adams N56; Belgica typographica 8786 (cf. 2193 & 8787-8789: other variants of the 1st ed.); STCV 12922190. Ad 2: Belgica typographica 2191, 8780 & 8781 (8781 mistakenly treated as a variant issue?; cf. 2192 & 8782-8785, the 2nd ed.); STCV 7091386.
Related Subjects: