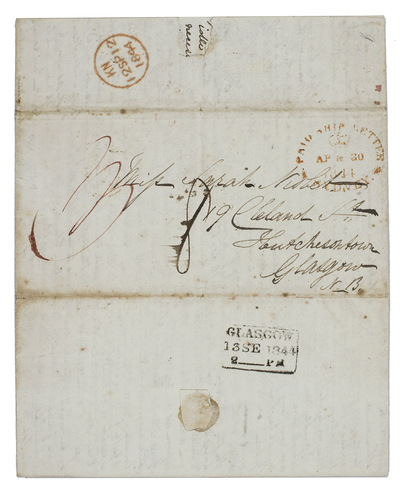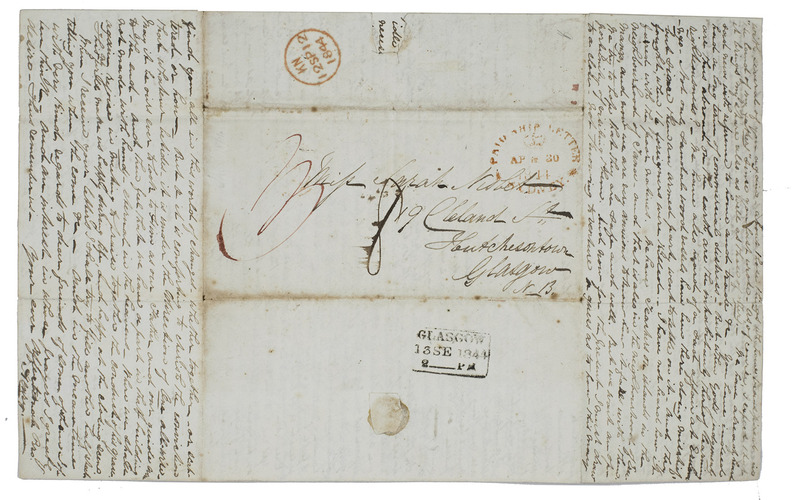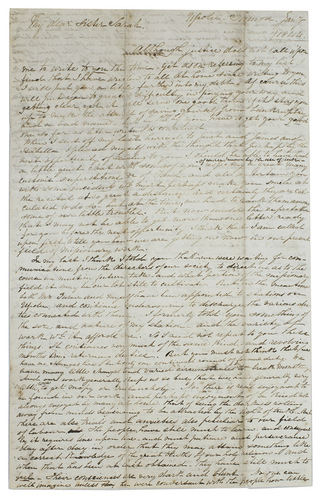 NISBET, Henry.
[Letter to his sister Sarah Nisbet].
Upolu, Samoa, 7 January 1844. Folio. Written in one column in brown ink in a cursive 19th-century hand. Folded. [2] ll.
€ 5,000
Four-page manuscript letter by Henry Nisbet (1818-1879) to his sister Sarah Nisbet in Glasgow, dated 7 January 1844. Nisbet was a missionary of the London Missionary Society, who left England for the Pacific Islands in August 1840 together with George Turner (1818-1891). From Sydney they reached Samoa in August 1841 and went to Tanna (nowadays Vanuatu), New Hebrides, where they arrived on 30 June 1842. In January 1843 they fled from Tanna, as the natives threatened to become dangerous, arriving back in Samoa in February 1843. Nisbet would be stationed there for the rest of his life. Nisbet and Turner were among the earliest missionaries to Samoa in 1843. The inhabitants were friendlier, tolerated the mission stations and the religious school classes and let the missionaries do their work.
In the present letter to his sister, Nisbet writes about the situation as a missionary in Samoa. Although he states that the missionary work brings much pleasure and variety, he also writes extensively about the difficulties, drawbacks and sources of discouragement that he and his colleagues face: they need a lot of patience and perseverance, the local population is indifferent about their sins and has a great desire for property, while the gospel truths are invisible to them and they are unable to handle it. Therefore, Nisbet continues, the local population still has a lot to learn about the "correct knowledge of the great truth of our holy religion".
With a 21st-century transcription of the letter and with some of the contemporary postal and toll stamps and the remnants of the wax seal below the address on the second leaf. With a few minor spots and stains, ink on the third page slightly faded, some small tears where the folds reach the foot margin, a small piece torn out of the outer margin of the second leaf where the letter was closed with the wax seal and subsequently opened (thus tearing the paper), without loss of text. A beautiful original letter that gives a glimpse into 19th-century missionary life in the Pacific.
Related Subjects: