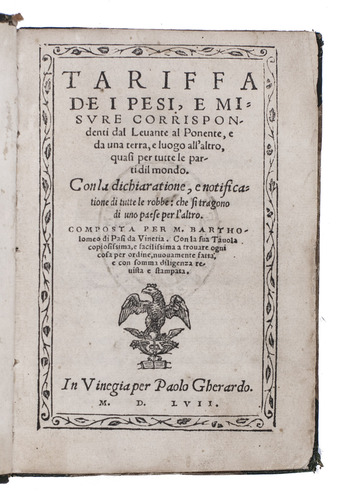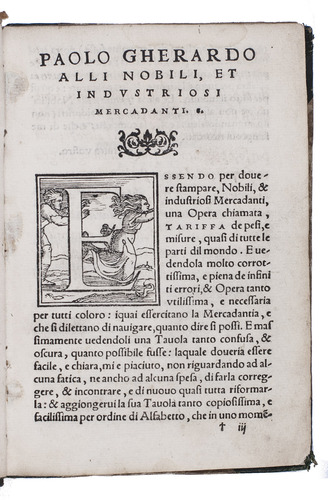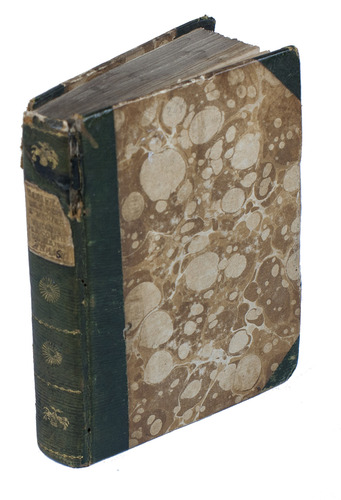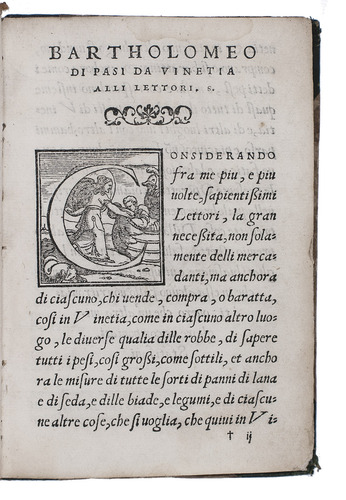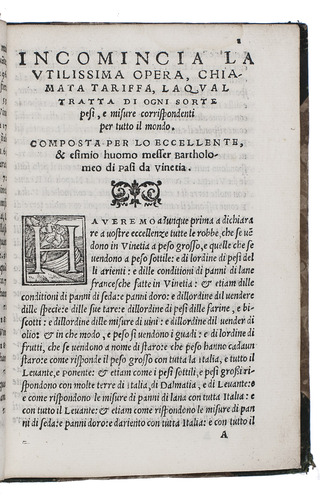 PASI, Bartolomeo.
Tariffa de i pesi, e misure corrispondenti dal Levante al Ponente.
Venice, per Paolo Gherardo (colophon: per Comin da Trino), 1557. 8vo (15.5 x 11 cm). With the title in a woodcut border of 4 matching parts, and with a crowned eagle device. 18th-century half green morocco, gold-tooled spine. [12], 200 ll.
€ 4,750
Fourth and last edition of a practical handbook for international merchants, giving information for the conversion of monetary units, weights and measures from various countries. It covers not only units from cities in the Italian states but also from Constantinople, Aleppo, Tripoli, Damascus, Cyprus, Corfu, Rhodes and Crete. Venice was at this time the centre of European trade with the Near and Middle East. Little is known about the author and this is his only published work.
With the armorial owner's stamp of Count Ercole Silva (1756-1840) in Milan on the back of the title-page. In good condition, with only an occasional minor marginal spot or stain. The binding is somewhat tattered and if the marbled paper sides ever included bright colours, they have faded to shades of brown. A good copy. BMC STC Italian, p. 491; ICCU CNCE 17269; Riccardi II, col. 251; Smith, Rara arithmetica, p. 77; cf. Adams P-374-P-375 (1503 & 1540 eds.); Kress 51 (1540 ed.).
Related Subjects: