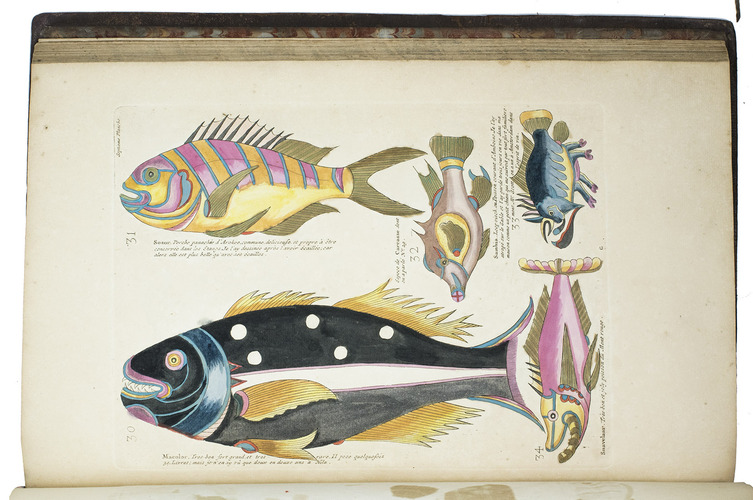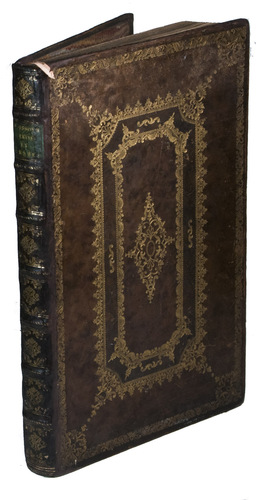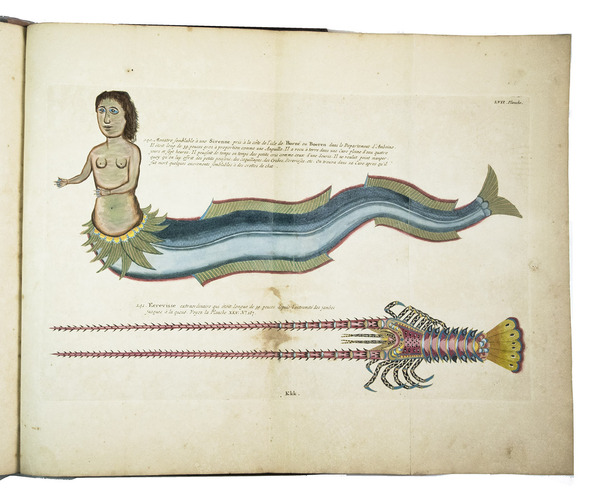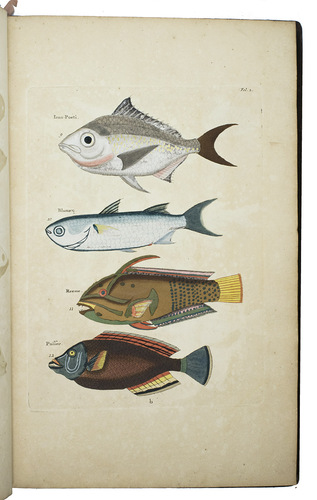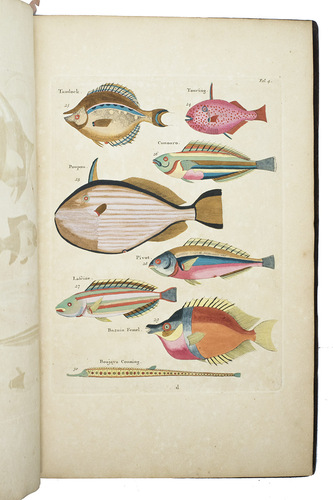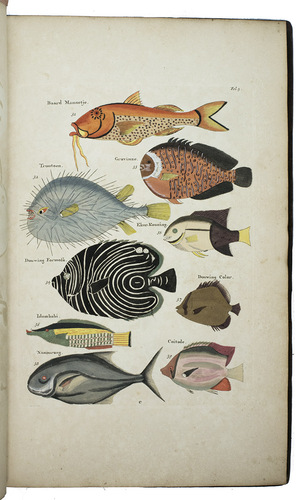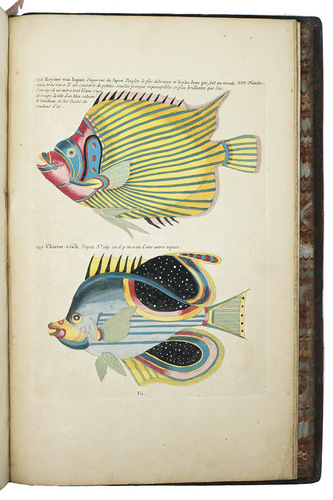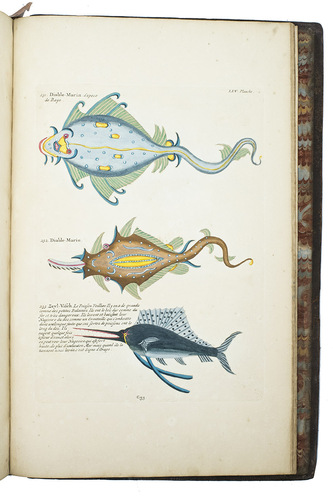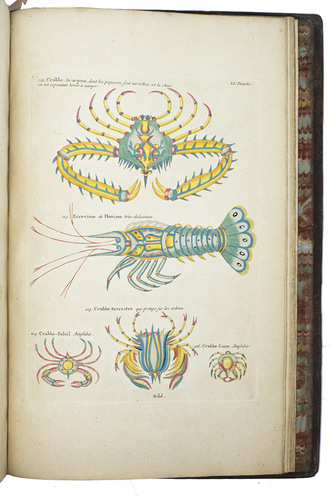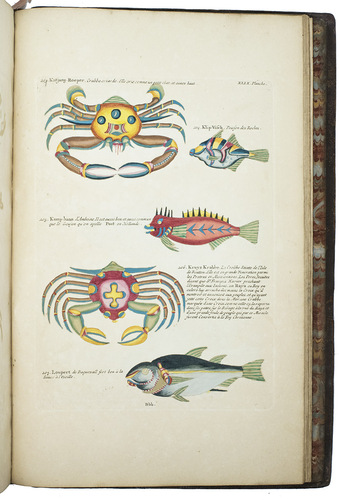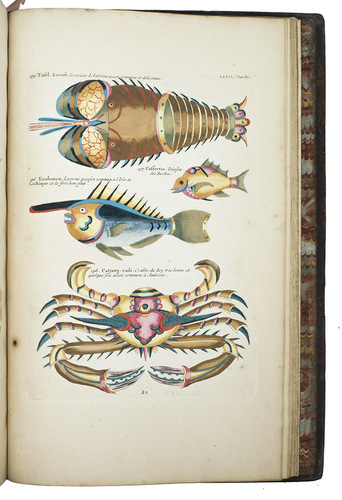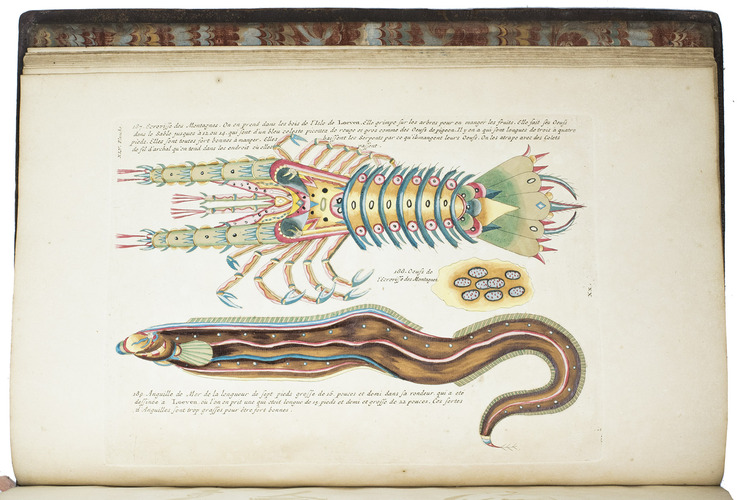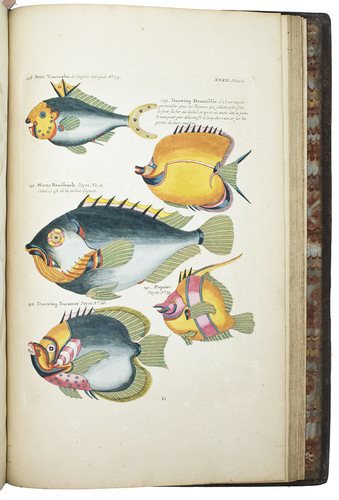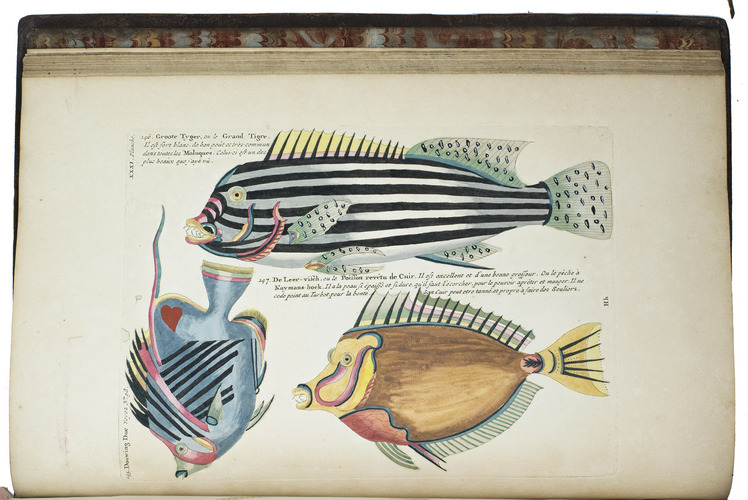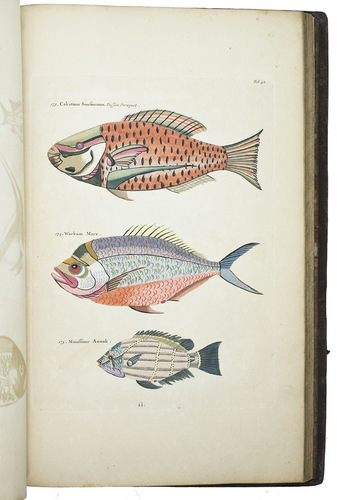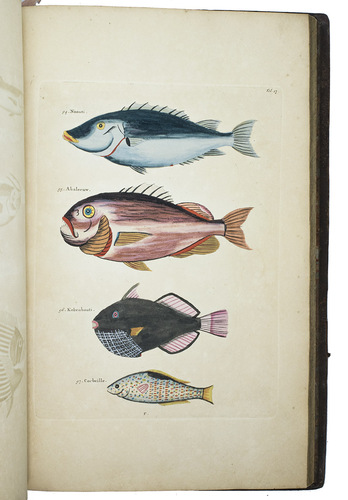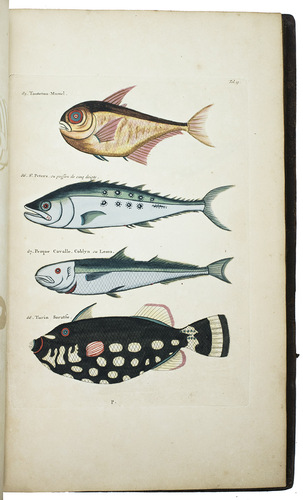 RENARD, Louis.
Poissons ecrevisses et crabes, de diverses couleurs et figures extraordinaires, que l'on trouve autour des Isles Moluques et sur les côtes des Terres Australes.
Amsterdam, Reinier & Josua Ottens, 1754. 2 volumes bound as 1. Folio. Title-page in red and black, a divisional-title for each volume and 100 engraved plates, vividly hand-coloured as published, showing 460 fishes and other marine animals. Contemporary calf, richly-gold tooled spine and bords, green morocco spine label with title in gold, decorated edges, marbled endpapers. Preserved in a professionally made black cloth box. [7] ll., 43 plates; [1] leaf, LVII plates, [4] ll.
€ 125,000
Renard's famous but rare work, noted for the spectacular imagery of colourful but also bizarre tropical fishes, crabs and lobsters from the Indo-Pacific, being the first colour-plated fish book, here in its rare second edition. The book contains 100 plates with 460 originally and extraordinary hand-coloured copper engravings, divided over two volumes with their own half-title ('Histoire naturelle des plus rare curiositez de la mer des Indes'), of 415 fishes, 41 crustaceans, two stick insects, a dugong and even a mermaid, all living in the Indian Ocean between the East Indies. Sometimes the descriptions specifically refer to fishes of some islands in the East Indies, as Ambon, the Moluccas or Buton, but they also contain references to the "fishes of the Antilles, Brazil" (Sabin) and Mauritius. The illustrations in the first volume seems to be quite realistic, in contrast to those in the second volume, which are sometimes quite surreal, which is even more emphasized by the short anecdotical and highly entertaining descriptions.
The Amsterdam publisher and bookseller Louis Renard compiled this collection of ichtyological illustrations by copying the sets of drawings which were brought to Amsterdam by Frederik Julius Coyett, the son of the governor and ambassador of Ambon and Banda, Balthasar Coyett. The drawings in the first part were copied after the collection of Balthasar Coyett. The illustrations in the second part were copied by Samuel Fallours, a soldier in the service of the Dutch East India Company who started drawing marine life in the East Indies for the governors, after those in the collection of Andriaen van der Stel, governor of the Moluccas.
The book shows marine life in the East Indies and the Indo-Pacific when Europe knew very little on this subject there. Because of the brilliant colours, fantastic shapes and the described habits of its subjects, the work, however, was often dismissed in its own time as fantasy. Nevertheless Renard's Poissons ecrevisses et crabes is nowadays still one of the rarest and most magnificent ichtyological works, being the first colour-plated fish book and a highly interesting scientific effort to represent the Indo-Pacific maritime life, mixed with flights of fantasy.
Spine and joints professionally restored, preliminaries a little foxed, some minor browning (especially in volume 1), but overall in good condition with brightly coloured plates. One of 35 known copies of a rare ichthyological work. Landwehr, Coloured plates 159; Nissen, ZBI 3361; Nissen, Schone Fischbucher 103; Sabin 69600; cf. Grace Costantino, "Renard's book of fantastical fish" (2016) on https://blog.biodiversitylibrary.org; Julie Gardham, "Louis Renard: Poissons, ecrevisses et crabes" (2002) on www.gla.ac.uk; Theodore W. Pietsch, Fishes, crayfishes, and crabs ... (1995), pp. 22-26.
Related Subjects: