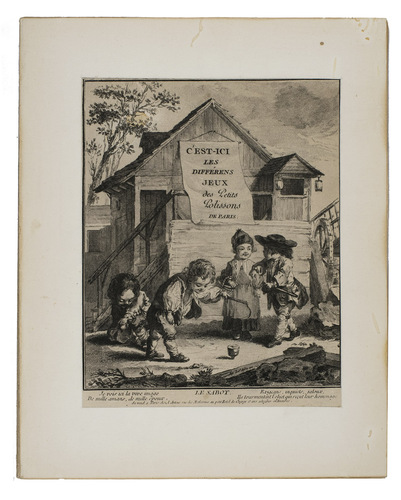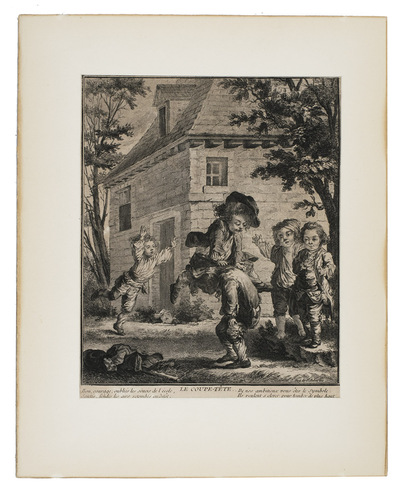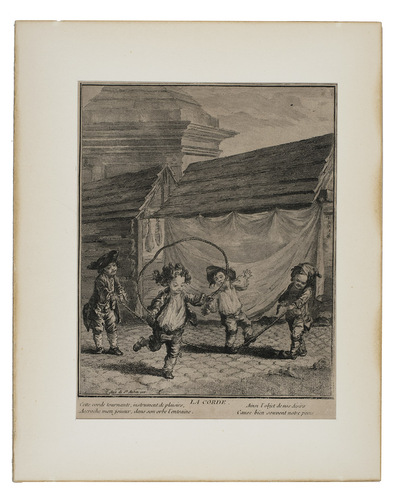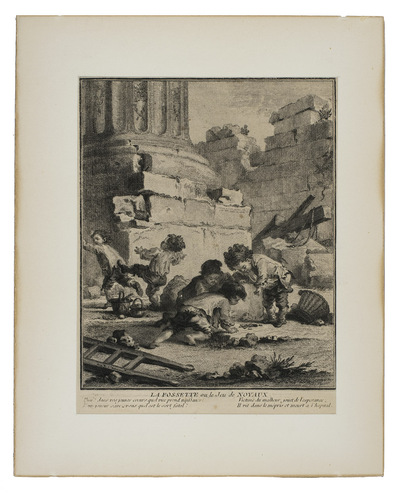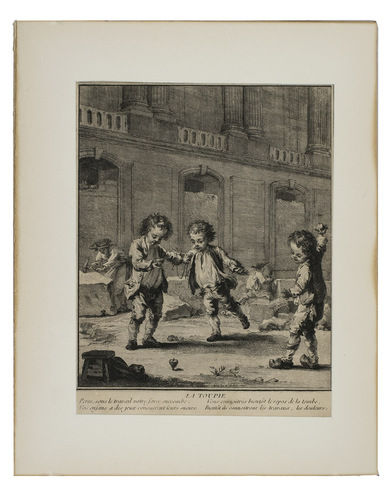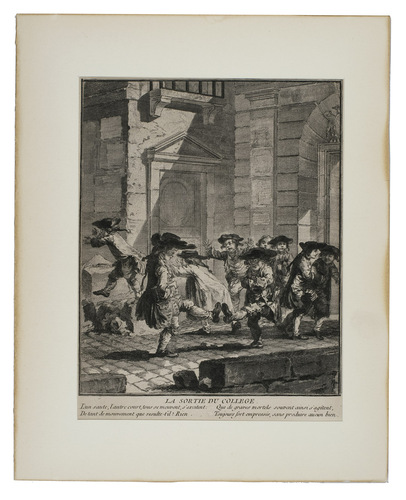 SAINT-AUBIN, Augustin de.
C'est-ici les différens jeux de petits polissons de Paris.
Paris, 1770. 4to (ca. 24.5 x 18.5 cm). A series of 6 unnumbered engraved prints (ca. 17 x 22 cm) representing children playing games. Each print is mounted on a paper leaf in a passe-partout (30 x 24 cm).
€ 1,250
Complete set of 6 engraved prints by Augustin de Saint-Aubin showing children playing games in architectural settings. Saint-Aubin (1736-1807), one of France's leading engravers, was appointed official engraver to the French Bibliothèque Royale in 1776. In the present series the title print "Le sabot" (bearing a seller's imprint) and the print "La toupie" show children playing with a spinning top ("La toupie" with men in the background cutting or breaking up stone blocks), "Le coupe-tête" depicts two boys playing leapfrog, "La corde" children skipping rope, "La fossette ou le jeu de noyaux" children playing marbles with fruit stones among classical ruins, and the last, "La sortie du collège" boys leaving school running and dancing. The print "La fossette" bears a 1770 imprint. The series, showing the variety of children's games, is rare when complete.
Prints very slightly browned, some small spots on the passe-partouts (not affecting the prints), some prints are a little unevenly trimmed and a little frayed (never affecting the images), but overall in good condition. A rare complete set of a print series of children's games. Cicognara 1562; Cohen, col. 923; Colas II, 2615; WorldCat (3 copies).
Related Subjects: