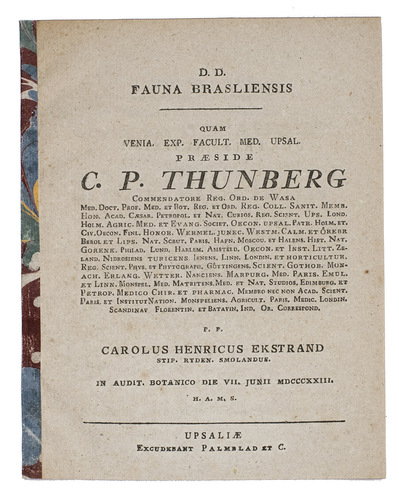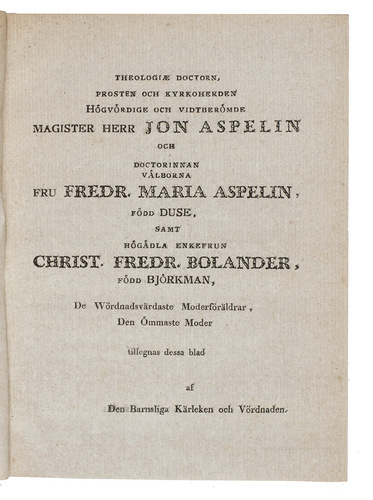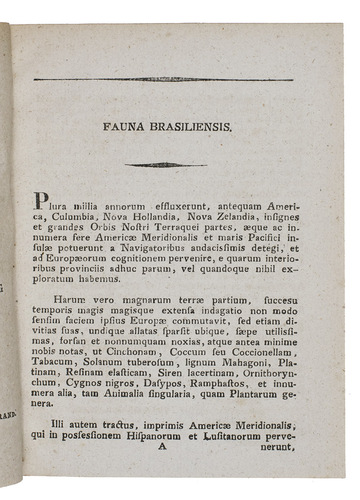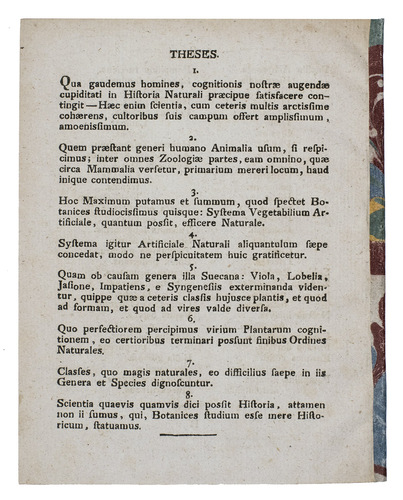 THUNBERG, Carl Peter and Carolus Henricus EKSTRAND.
Fauna Brasliensis [sic].
Uppsala, Palmblad et C. 1823. Small 4to. With a thin marbled paper strip to reinforce the spine. [4], 9, [1] pp.
€ 1,500
Very rare first edition of an overview of some species of the Brazilian fauna. The work is the dissertation of Carolus Henricus Ekstrand, who had to defend it, although Thunberg, presiding the work, is considered to be the actual author, as was common these days. Carl Peter Thunberg (1743-1828) was a Swedish natural historian and pupil of Carl Linnaeus. As researcher for the Dutch East India Company (VOC), Thunberg sailed to South Africa, where he is considered to be a pioneer in botanical investigation, and moreover to Japan, where he became the first Western scientist to investigate Japan botanically. In 1784 he succeeded Linnaeus as professor at the university of Uppsala. The present dissertation provides a small catalogue of animals living in Brazil that came up to their knowledge, listing birds, fishes and mammals.
A highly interesting zoological work on Brazilian animal life, written by one of the most important taxonomists after Linneaus.
Very slightly browned, but overall in excellent condition. A scarce dissertation on Brazilian zoology. L.C. Rookmaaker & Ingvar Svanberg, Bibliography of Carl Peter Thunberg, in: Svenska Linnesallskapets Arsskrift 1992-1993 (1994), pp. 7-72, nr. 487; not in Borba de Moraes, Rodrigues nor Sabin.
Related Subjects: