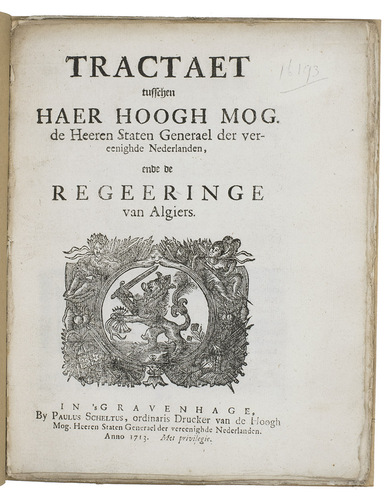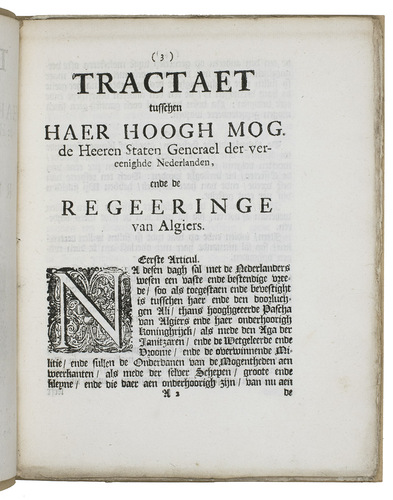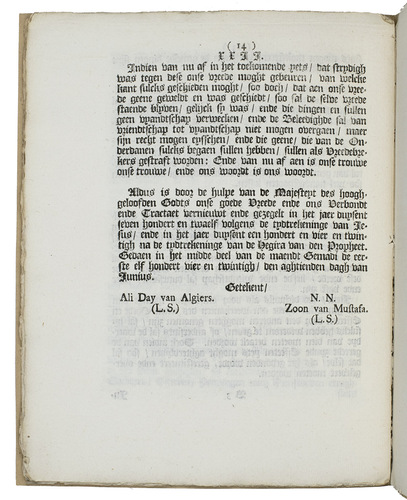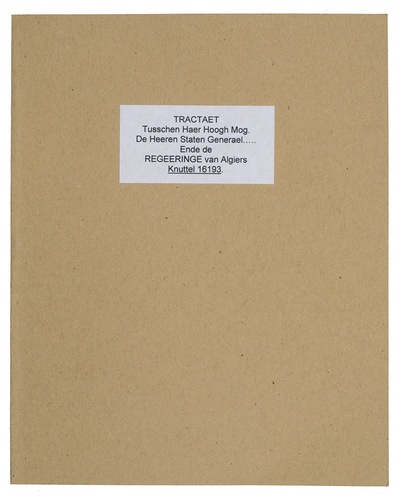 [ALGIERS - TREATY - STATES GENERAL].
Tractaet tusschen Haer Hoogh Mog. De Heeren Staten Generael der vereenighde Nederlanden, ende de Regeeringe van Algiers.
The Hague, Paulus Scheltus, 1713. 4to. With Scheltus's woodcut printer's device on the title-page and with a woodcut initial. Modern brown wrappers with printed title-label pasted on the front side. 14, [2] pp.
€ 1,250
First edition of the text of a treaty between the States General of the Dutch Republic and the government, or the Dey (or Sultan) of Algiers Baba Ali Chaouche who reigned from 1710-1718 (Dey, from the Turkish honorific title dayý, literally meaning uncle, was the title given to the rulers of the Regency of Algiers, Tripoli, and Tunis under the Ottoman Empire from 1671 onwards). The treaty was concluded on the 18th of June 1712 at Algiers by the Dutch consul general Johan van Baarle (consul 1709-1716), and ratified the 4th of July 1712.
The XXII articles of the treaty mirror very interestingly the problems the Dutch merchants trading in the Mediterranean and the (war)ships of the Dutch West India Company protecting their interests, encountered on the northern coasts of Africa: Algiers, Tunis and Tripoli. In these articles taxes and imposts are regulated as well as compensations and claims for damages, arrangements in case of deaths, treatment and buying off of (Dutch and European) slaves, and returning of run off slaves.
In good condition. Knuttel 16193.
Related Subjects: