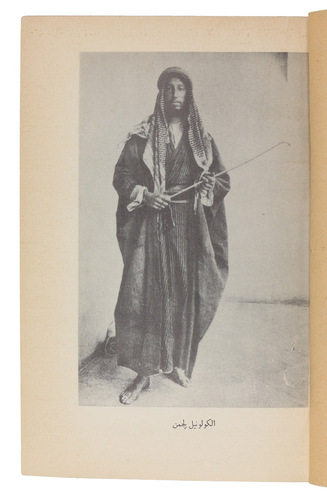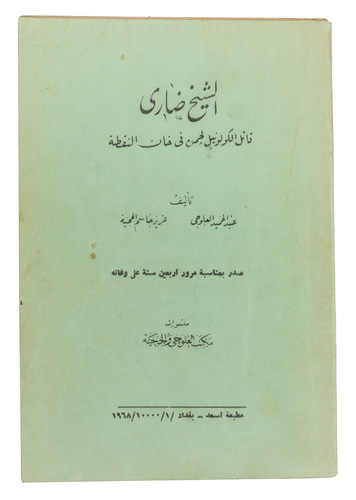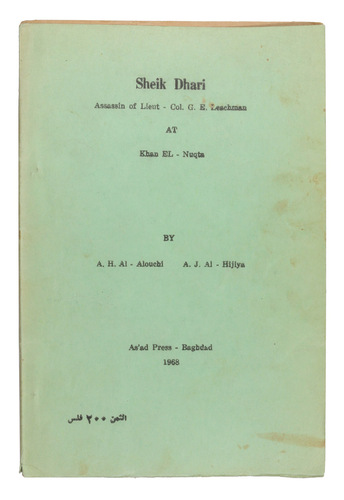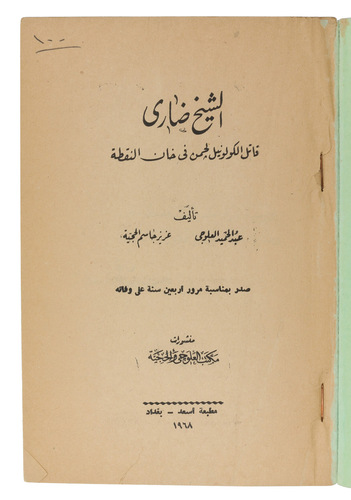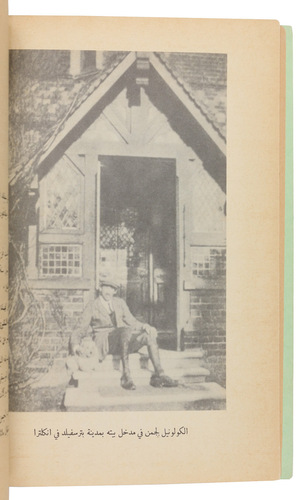 'ALWACHI ('Abd al-Hamid).
Al-Shaykh Dari qatil al-Kulunl Lichman fi Khan al-Nuqtah. [English title:] Sheik Dhari, assassin of Lieut-Col. G.E. Leachman at Khan el-Nuqta.
Baghdad, Maktab al-Alwaji wa-alHajjiyah, 1968. 8vo. With the English title on the back wrapper and the recto of the final leaf, main text set in Arabic type throughout. With 16 black and white photographic illustrations (on 5 leaves). Original lime green printed wrappers. 158, [2] pp.
€ 1,500
First edition. A fascinating defence of Sheikh Dari, who killed the British intelligence officer Gerard Leachman on 12 August 1920. It includes brief but detailed biographies of both men (that of Leachman includes his travels to Arabia and Iraq), an exposition of the acts leading up to the event and an account of the day itself. Though the book links Sheikh Daris act to the Iraqi revolt of 1920, records of his trial indicate that the killing was not politically motivated in the wider sense, but was instead committed in response to abuse suffered at Leachmans hands (see: Abbas Kadhim, Reclaiming Iraq, 2012, p. 80). Leachmans legacy, like those of so many British officials operating in the Middle East at the time, is complicated: earlier accounts tended to paint a picture of "a courageous and devoted servant of empire" (ODNB), whereas recent assessments rightly factor in the evidence of his abuses. Rare.
Minor wear to head and tail of spine, wrappers a little dusty and thumbed, otherwise very good. Copac/Jisc (2 copies); WorldCat 164692240, 1179211757 (3 copies).
Related Subjects: