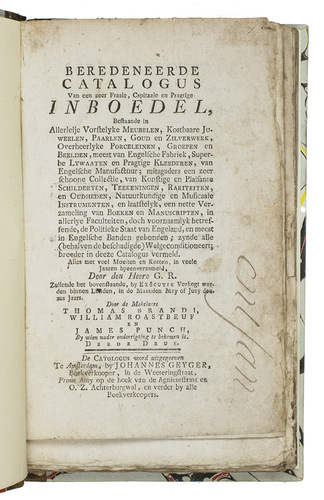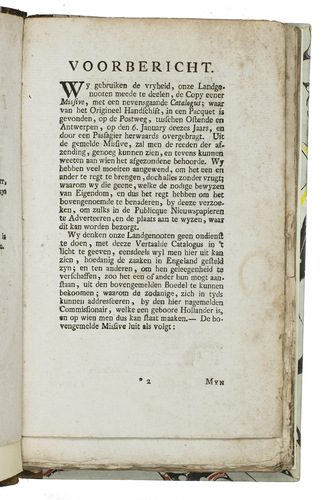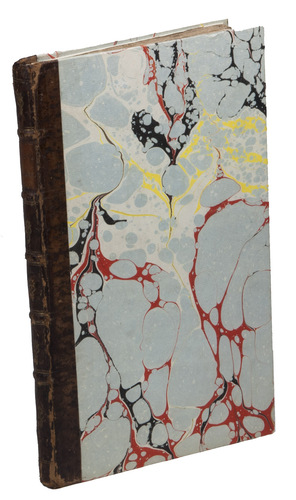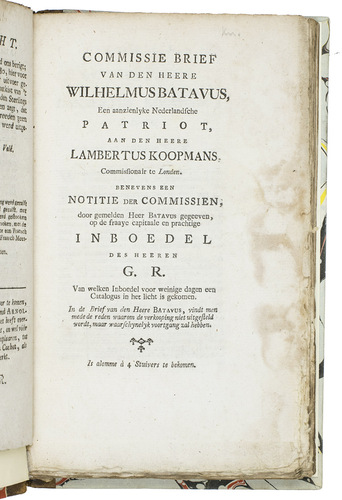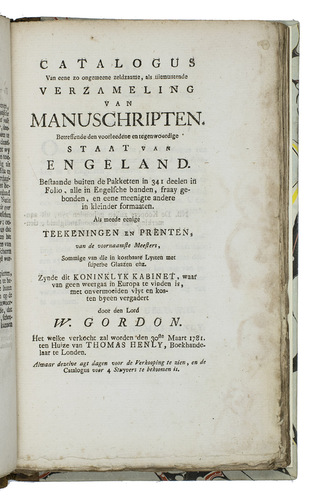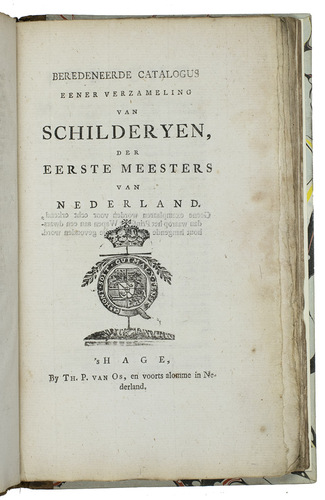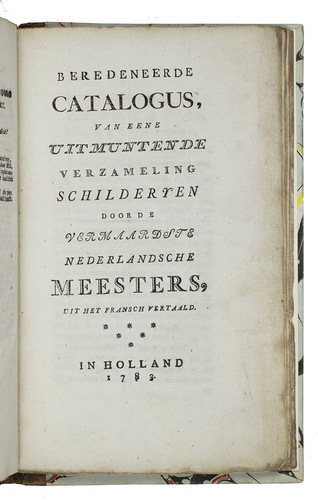 [AUCTION CATALOGUES - FICTITIOUS].
Beredeneerde catalogus van een zeer fraaie, capitaale en pragtige inboedel, bestaande in allerleije vorstelyke meubelen, kostbaare juweelen, paarlen, goud en zilverwerk,... en laatstelyk, een nette verzameling van boeken en manuscripten, in allerlye faculteiten, doch voornaamlyk betreffende, de politieke staat van Engeland, en meest in Engelsche banden gebonden... byeenverzameld, door den Heere G. R. Zullende.. Derde druk.Amsterdam, Johannes Geyger, [1781].
With: (2) Commissie brief van den heere Wilhelmus Batavus, ...
[The Hague?], [no publisher], [1781]. The introductory letter, from "Wilhelmus Batavus" to "Lambertus Koopmans" is dated from The Hague, 15 February 1781.
(3) Catalogus van eene zo ongemeene zeldzaame, als uitmuntende verzameling van manuschripten[!]... Bestaande buiten de pakketten in 341 deelen in folio, alle in Engelsche banden ... byeen vergadert door den Lord W. Gordon.
London [= Amsterdam or The Hague?], sold by Thomas Henly [true publisher unknown], [1781]. The introductory letter, from Thomas Henly, is dated 2 February 1781.
(4) Beredeneerde notitie van 't vorstlyke poppe- en speel-goed, der kinderen van den heere G.R. ...
[Amsterdam?], [no publisher], [1781]. This catalogue presents itself as a second appendix to ad 1. Both the original catalogue and the first appendix describing themselves as catalogues for the sale in May or June 1781.
(5) Sleutel of noodige ophelderingen der onlangs uitgekomene catalogus, ... byeenverzameld, door den heere G.R. Zullende gemelde boedel, by executie verkocht worden, binnen Londen, in de maanden Mey of Juny deezes jaars.
Dordrecht, Abraham and Pieter Blussé and several others; etc., [1781].
(6) Beredeneerde catalogus eener verzameling van schilderyen, der eerste meesters van Nederland.
The Hague, Thomas Pietersz. van Os, [1783? or 1789?]. With the supposedly authenticating woodcut on the title-page, showing the coat of arms of William the Silent hanging from a memorial cross.
(7) Beredeneerde catalogus, van eene uitmuntende verzameling schilderyen, door de vermaardste Nederlandsche meesters, uit het Fransch vertaald.
Holland, [no publisher], 1783.
7 fictitious auction catalogues in 1 volume. 8vo. Contemporary half mottled calf, brown spine label with blind-tooled text and with some gold-tooled floral decorations, 20th-century marbled sides and endpapers. [4], 27, [1]; 16; 16; 16; 15, [1]; 32; 37, [2 blank] pp.
€ 3,950
Collection of 7 fictitious auction catalogues, satirically describing the lots supposedly offered for sale. These catalogues, all in Dutch, were published mostly during the Anglo-Dutch War (1780-1784), which threatened the Dutch Republics existence, and they all mock the British Empire. Most of them purport to describe the collection of "G.R." (Georgius Rex), meaning King George III (ad 1 explicitly describes the goods as coming from the foreclosure on his estate). The third catalogue in this collection, titled Catalogus van eene zo ongemeene zeldzaame, als uitmuntende verzameling van manuschripten, supposedly offers the collection of the English nobleman Lord William Gordon (1744-1823). These fictitious auction catalogues proved popular enough that several went through multiple editions. These catalogues appeared during the heated strife between two political parties, the Orangists, who supported the stadtholder Willem V, Prince of Orange, and the anti-Orangist Patriots, leading to the failed Patriotic Revolution of 1787, inspired by the American Revolution and in turn, in spite of its failure, inspiring the French Revolution. King George III of England supported the stadtholder Willem V and the two together were the enemies of the Dutch Patriots.
Ad 1 is here in its third edition, being a very rare re-issue of the second edition. Even its list of "errata" is a joke, noting three corrections to the descriptions of paintings: in each, the omission of a comma makes a phrase that should refer to the painting refer instead to the subject, indicating that the king was anointed with soot, a lord stabbed with a pen, and an English admiral nicely washed by a French master.
With a few marginal annotations, particularly headwords to help the reader find items in specific categories in the inventory. Spine very slightly rubbed, with a small crack at the head, some browning, stains, frayed margins and a tear in A4 of ad 2. Some leaves are trimmed. Overall in good condition. A collection of fictitious auction catalogues, rarely found on the market (we have noticed only 3 examples in the past hundred years). Ad 1: STCN 202814955 (4 copies); not in Knuttel; cf. Knuttel 19700 & 19701 (first and second impression). Ad 2: Knuttel 19709; STCN 166695440. Ad 3: Knuttel 19699; STCN 166705268 (5 copies); not in ESTC. Ad 4: Knuttel 19704; STCN 166698857. Ad 5: Knuttel 19706; STCN 166318329 (8 copies). Ad 6: Kossmann, Boekhandel te 's-Gravenhage, pp. 300-301; Knuttel 20420; Knuttel, Verboden boeken 91; STCN 169116417. Ad 7: Knuttel 20419; Knuttel, Verboden boeken 92; STCN 169113078 (9 copies); cf. Van Vliet, "Fopcatalogi en spookbibliotheken", in: De boekenwereld 22 (2005-2006), p. 150.
Related Subjects: