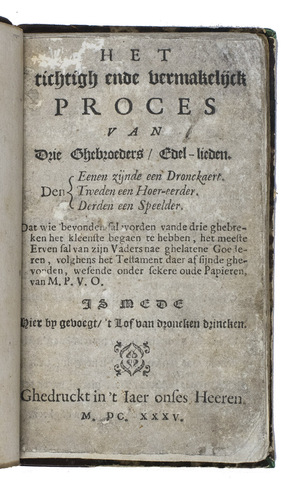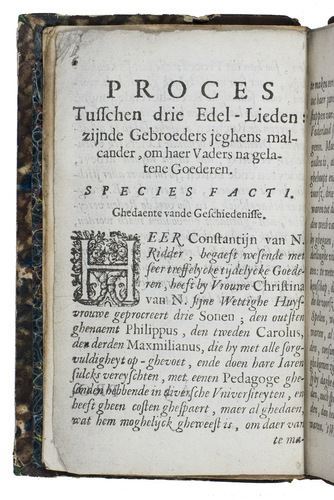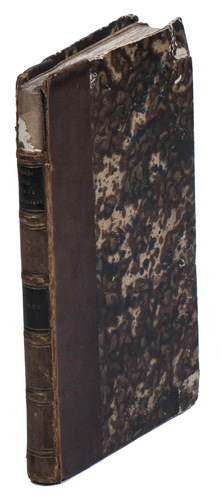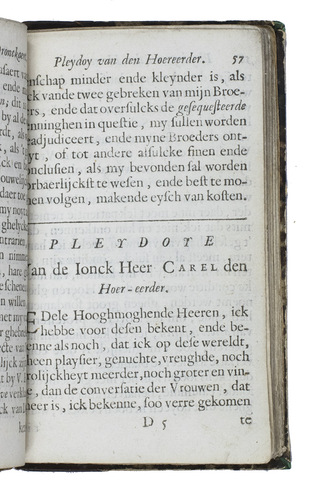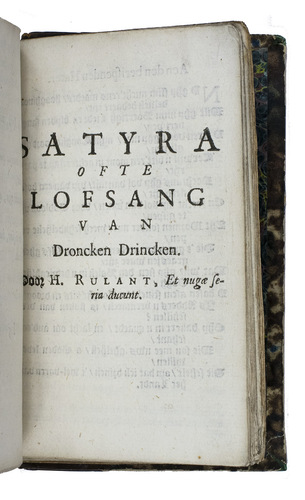 [BEROALDO, Filippo, and anonymous adaptor].
Het stichtigh ende vermakelijck proces van drie ghebroeders, edel-lieden. Den eenen zijnde een dronkaert. [Den] tweden een hoer-eerder. [Den] derden een speelder. Dat wie bevonden sal worden vande drie ghebreken het kleenste begaen te hebben, het meeste erven sal van zijn vaders nae ghelatene goederen, volghens het testament daer af sijnde ghevonden, wesende onder sekere oude papieren, van M. P. v. O.
Including: RULANT, H. Satyra ofte lofsang van droncken drincken.
[Amsterdam?, Jacob Aertsz. Colom?], 1635. Small 8vo (14.5×9 cm). Half calf (ca. 1830s), with the binder's stamp on an endleaf (F. DUQUESNE À GAND). 136, [1], [1 blank]; [30] pp.
€ 4,500
Second known copy of the third edition (1635) of a rare satirical Dutch adaptation (first and second editions 1634) of a moralistic story in Latin by Filippo Beroaldo (1453-1505), possibly intended in this adaptation to satirize the Princes of Orange. The quotations from classical sources are given in Latin, each followed by a Dutch verse translation that takes some liberties with the text. Pieter Nootmans (active 1627-1635) contributed a verse about the book, printed on the back of the title-page. Following the main text is a drinking song by H. Rulant (active 1632-1634), with its own part-title, which had been published separately in 1632. We have located only one other copy of the present edition, in the library of Tresoar in Leeuwarden.
The British Library database of bindings includes one binding by this Ghent binder. The title-page is worn and dirty, with a small abrasion obliterating the letter S in "Stichtigh", and the upper outside corner of the last leaf has been restored, with the loss of a few words of the text of the added drinking song. The binding is good, with some cracks in the hinges and minor damage along the edges. KVK & WorldCat (1 copy); cf. Kruyskamp, Jan Mommaert en het "Stichtelyck Proces", in: Het Boek XXX, pp. 306-312 (1640 ed.).
Related Subjects: