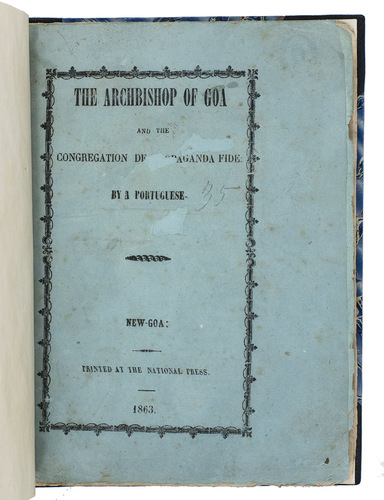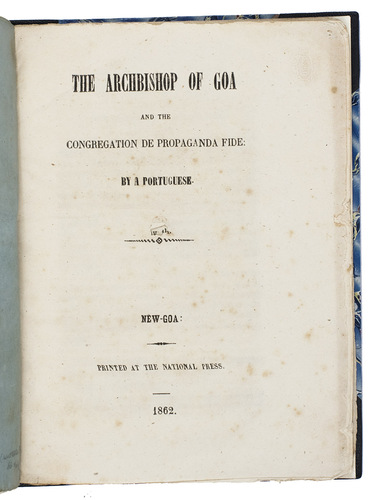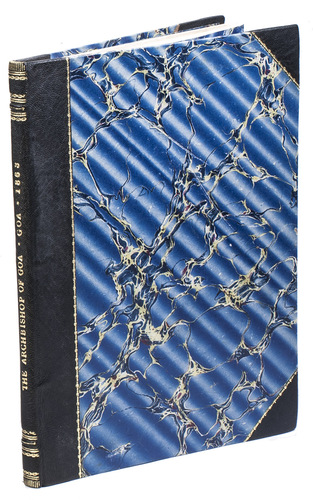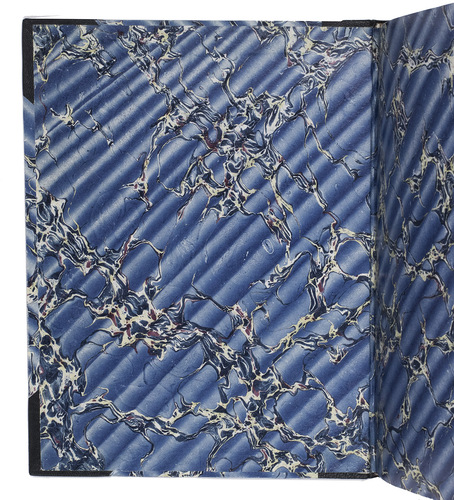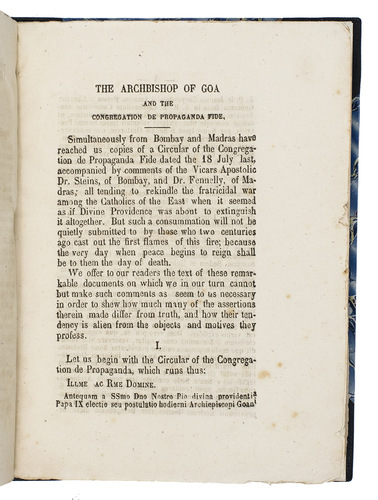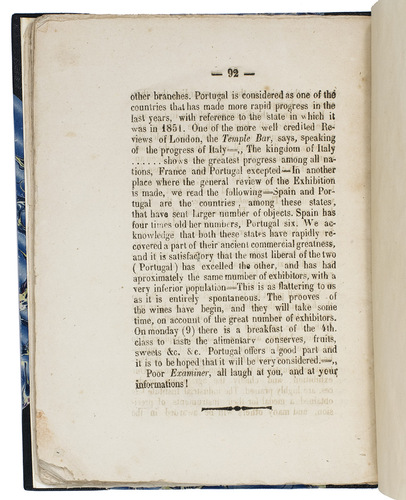 [CUNHA RIVARA, Joaquim Heliodoro da].
The Archbishop of Goa and the Congregation de Propaganda Fide.
"New-Goa" [= Panaji, near Goa], "printed at the national press", 1862 (wrapper 1863). 8vo in 4s with double-size sheets, giving 4to proportions (20.5 x 16 cm). With the original publishers front wrapper, printed letterpress on blue paper, repeating the title-page but in a decorative frame built up from typographic ornaments, with a different decorated swelled rule and dated 1863 rather than 1862. The imprint is set in back-sloping roman capitals. Half navy blue, gold-tooled goatskin morocco (later 19th-century), . 92 pp.
€ 1,750
Fourth copy located of the first and only English edition (translated from the first and only Portuguese edition by the same publisher, also in 1862) of a defence of João Chrysostomo de Amorim Pessoa (1810-1888), Archbishop of Goa, in response to a printed attack on him published in Latin by the Propaganda Fide in Rome on 18 July 1862 and published in Portuguese translation (according to this account a "false" translation) by Walter Steins, Jesuit Vicar Apostolic in Bombay. Although the attack nominally concerned the Archbishops supposed failure to have a promised audience with Pope Pius IX, who had appointed him, before taking up his post, it was primarily a power struggle for influence over the churchs activities in Asia, with the Archbishop supporting Portuguese rights while the Propaganda Fide and Jesuits tried to keep the power in Rome (the Archbishop avoids directly criticizing the Cardinal Prefect, noting about "these breaches of all faith and of all right": "We hope he will not only disapprove, but also punish them severely; and if he has not done this already, it is surely from his ignorance of their existence.". The Archbishops obituary cites this incident as proof of his integrity and claims that it led to the Papal nuncio Luigi Oreglia di Santo Stefanos departure from his post in Portugal (if true, it proved a temporary setback). The Portuguese title of the present work is O Arcebispo de Goa e a Congregação de Propaganda Fide.
Neither edition names the author: the title-pages simply call him "um Portuguez" and "a Portuguese" but Yale University Library (and the British Library, but only in the entry for the Portuguese edition) identify him as Joaquim Heliodoro da Cunha Rivara (1809-1879), originally a physician in Portugal, but from 1856 to 1870 secretary general to the governor general of Portuguese India.
WorldCat records only two copies, at the Gulbenkian Foundation in Lisbon and the British Library, but there is also a copy at Yale University Library.
With a small hole in a blank area of the title-page, a small marginal tear where the bolt at the head of a pair of leaves was partly opened, the fore-edge of the first few leaves slightly tattered, a hole punctured within the text block of the last 4 quires, but with no loss, and minor browning or foxing. The front wrapper has some gaps, slightly affecting the title, and has been backed with similar blue paper. Overall in good condition and nearly untrimmed, with most bolts unopened. The binding very good. A remarkable copy of a very rare book printed in India, providing an intimate view of a power struggle within the Catholic Church regarding its activities in Asia. WorldCat 504624495, 958961714 (2 copies).
Related Subjects: