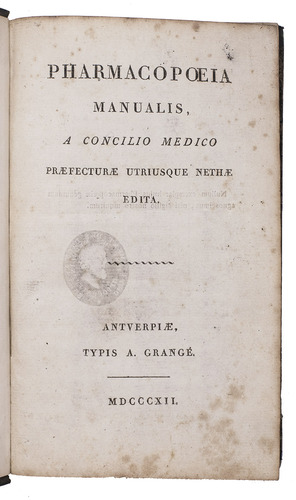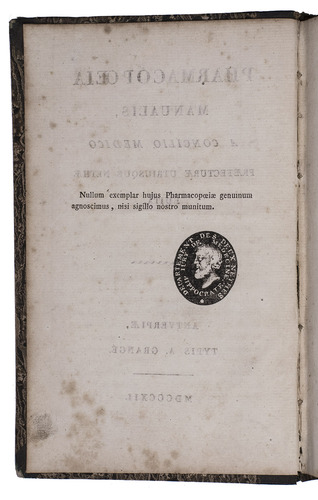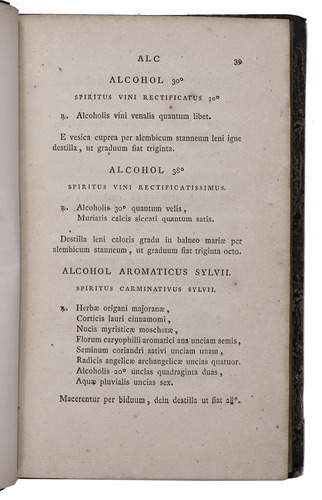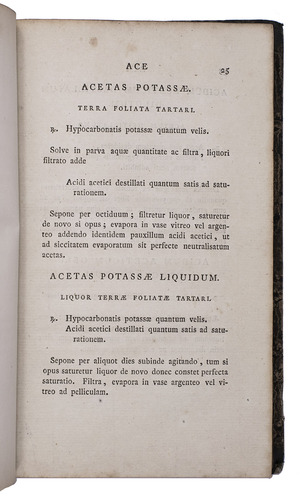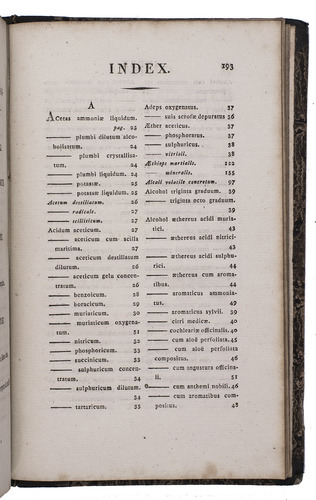 [DEUX NÈTHES - PHARMACOPOEIA]. VAN DEN ZANDE, J.B.J., et al (ed.).
Pharmacopoeia manualis, a concilio medico praefecturae Utriusque Nethae edita.
Antwerpen, Antonius Grangé, 1812. 8vo. 19th-century green half sheepskin, marbled sides. VIII, 208 pp.
€ 650
First and only edition of the pharmacopoeia for the department of Deux-Nèthes in the First French Republic, which contained the present-day Belgian province of Antwerp and parts of the Dutch province of North Brabant. Intended to be a revision of the Antwerp pharmacopoeia of 1660(!) it was heavily inspired by the Pharmacopoea Batava, published in Amsterdam in 1805. Jean-Bernard-Joseph van den Zande (1778-1833), doctor and professor of physics and chemistry, headed the committee with L.H.J. Francken carrying out experiments and F.M. Verbert editing the book itself
Like the Pharmacopoea Batava, the Pharmacopoeia manualis Utriusque Nethae shows the ever increasing importance of chemical medicine over natural substances. Its official use proved to be short-lived as the department was incorporated in the United Kingdom of the Netherlands in 1814, which prescribed the Pharmacopoea Batava and from 1823 onward the Pharmacopoea Belgica.
With the stamp of the Département des deux Néthes on the verso of the title-page. Binding slightly rubbed, bumped edges, but still in good condition. Daems & Vandewiele, p. 63; Vandewiele, "De farmacie onder koning Willem I", in: Kring voor de geschiedenis van de pharmacie in Benelux, no. 56 (1978), pp. 35-51; Vandewiele, Geschiedenis van de farmacie in België, p. 306; Wellcome IV, p. 357.
Related Subjects: