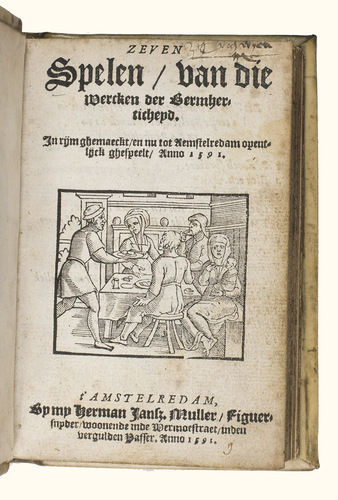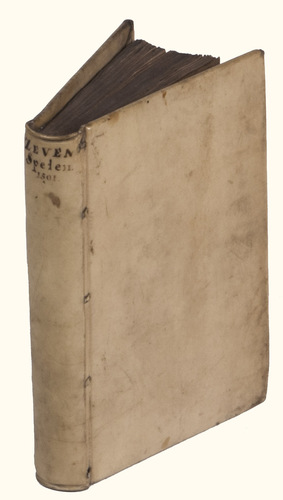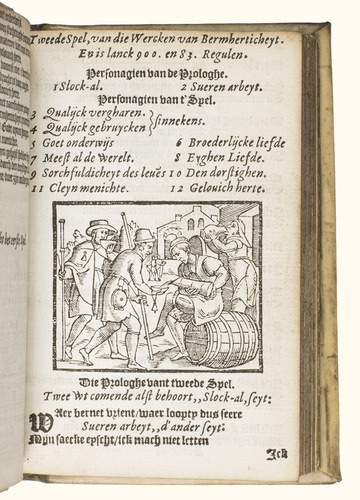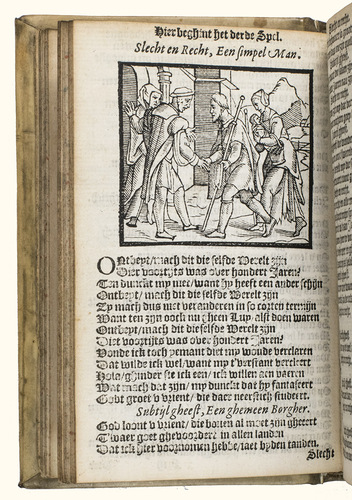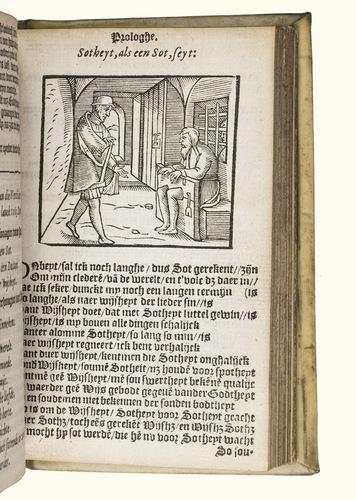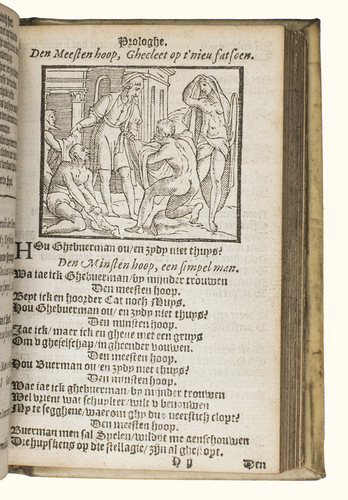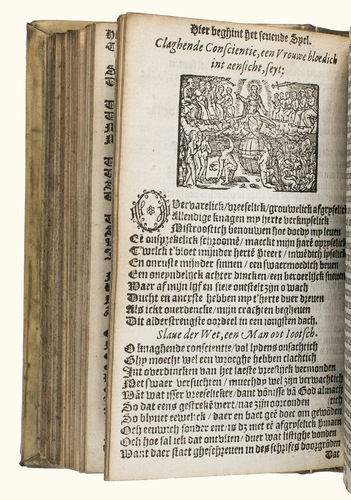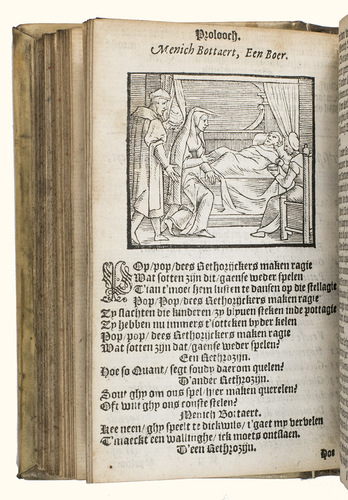 [DUTCH MORALITY PLAYS - REDERIJKERS].
Zeven spelen, van die wercken der bermherticheyd. In rym ghemaeckt en nu tot Aemstelredam opentlyck ghespeelt, Anno 1591
Amsterdam, H. J. Muller, 1591. 8vo. Woodcut title vignette and 6 woodcut illustrations at the beginning of the plays, Contemporary vellum with manuscript title on spine. [302] pp.
€ 12,500
A collection of seven moral seven morality plays, performed at the Amsterdam rhetoric chamber De Egelantier in 1591. The plays revolve around Christian virtues and put exemplary behaviour on the stage. The Zeven spelen van die ercken der bermherticheyd are so rooted in Amsterdam folk life that we can use them to create a fairly clear picture the social reality in the Dutch society in the sixteenth century. The protagonist in Slecht en recht, een simpel Man for example wonders whether this is the same world as it was a hundred years ago: the world and the people seem very different to him. The people he meets during his travels and that he asks are unable to answer his main question, but through dialogue he reveals his contemporaries as lost and strangers on earth, as exiles, longing for their Father's house: Heaven. Driven from paradise, man lives wretchedly here on earth, where he is a stranger and starving; he is also mortal. But God has promised a man that one day he will dwell in heaven. Christ will not despise the people, the strangers, for all His actions are aimed at harbouring the strangers.
The Eglantier was a chamber of rhetoric (Kamer van Rethorycke) in Amsterdam that emerged in 1517 or 1518 and possibly evolved from older chambers of rhetoric. It is one of the most famous chambers of rhetoric and was headed by P.C.Hooft in the early seventeenth century. In the 1570s, the chamber was banned by the city council because of claims of Reformational affiliations. After the alteration of 1578 it was refounded by the Catholic Hendrik Laurensz. Mirror (1549-1612). Other prominent members during this period were the Protestants Laurens Reael, Roemer Visscher and the outside member Dirck Volkertsz. Cornheert. After 1585, De Eglantier became the most important chamber of rhetoric with the Fall of Antwerp (De Violieren). Het Wit Lavendel (where Joost van den Vondel, among others, was active) was founded in 1598, after which De Eglantier was also referred to as the "Old Chamber".
With two bookplates of V. de la Montagne (bookplate) and F.J. Buisman and M. Buisman. Contemporary marginal notes to title page. Paper slightly browned. Otherwise in good condition. BM Dutch, 192; Machiels, A 341; Moes-Burger, I, p. 315, no. 223; Pettegree / Walsby 32033; STCN 844000841 (7 copies); USTC 422985 (12 copies); Valkema Blouw 5745; Van Aken I, p. 4; Van Maanen, KNAW, 587; WorldCat 64807044 (11 copies).
Related Subjects: