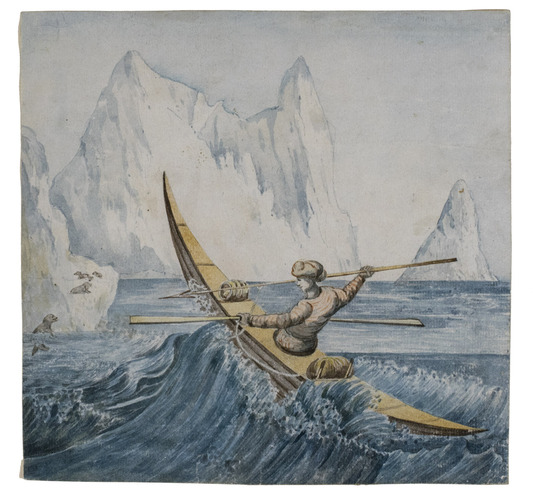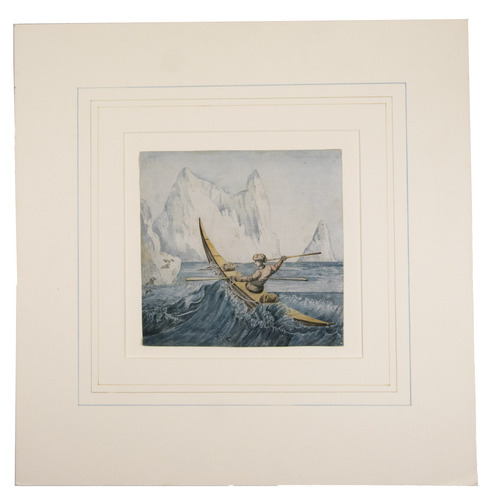 [INUIT - WATERCOLOUR].
[Watercolour of an Inuit hunting seals in a kayak].
[ca. 1839?]. Watercolour on laid paper (18.5 x 19.3 cm), in a passe-partout (44 x 43.5 cm).
€ 5,000
Beautiful watercolour of an Inuit seal hunter in a kayak. The drawing shows a hunter carrying a paddle and preparing to strike a seal with a harpoon connected to an inflated bladder. Once attached to the seal, the bladder tires the seal and obliges to it reappear at the surface after a relatively short amount of time. On perceiving the bladder, the hunter rows up to it to kill the seal.
Although the artist of the watercolour is unknown, the laid paper on which it is drawn is probably English, with a watermark: M & WE|1839[?]. The last two digits are not entirely clear, but look more like 39 than 20, 29 or 30. The composition is related to an aquatint by M. Dubourg after John Heavyside Clark (1770-1863), published in Edward Ormé's collection Foreign field sports (1813-1814) titled "Greenlanders seal catching". The watercolour and the aquatint could have been based on the same original, but is more probable that the watercolour is a somewhat more artistic drawing based on the aquatint. The artist apparently had a particular fascination for the water; applying numerous parallel strokes to suggest the waves and foam of the sea. Similar to the aquatint, the dress of the hunter does not seem particularly suited to the climate of the arctic. In the watercolour his hat has turned into some sort of turban, which together with the stripes of his coat, brings to mind the orientalist designs fashionable in the eighteenth century.
With a few small tears at the foot of the drawing; in very good condition.
Related Subjects: