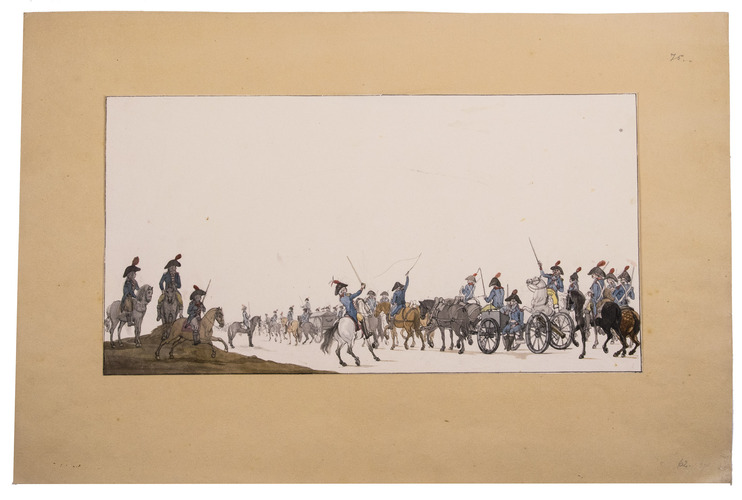 [LANGENDIJK, Jan Anthonie].
[Watercolour of a train of the Batavian Republics horse artillery].
[North Holland?, 1799-1800]. Pencil, ink and watercolour drawing on wove paper (22 x 42.5 cm) mounted on a larger sheet.
€ 3,950
Watercolour drawing of a column of horse artillery of the Batavian Republic during the aftermath of the Anglo-Russian invasion of Holland in 1799. As part of the War of the Second Coalition, an expeditionary force of British and Russian troops invaded North Holland in the Batavian Republic, the Dutch state established by and allied with the French Republic. After 5 weeks of fighting against a combined army of Batavian and French forces, the badly supplied Anglo-Russian army capitulated and was able to negotiate a strategic withdrawal.
Together with his father Dirk (1748-1805), Jan Anthonie Langendijk visited the battlefield a few days before the final retreat of the Anglo-Russian troops, as well as other parts of the country where the effects of the campaign were visible, either through the mobilisation of the armies or the presence of prisoners-of-war. Both artists produced drawings of battles fought during the campaign (at which they had not been present), as well as scenes of the aftermath (at which they might have been present). Several of these were reproduced as engravings.
In comparison with other drawings by Langendijk, the current drawing appears unfinished. Remains of the original pencil drawing, differing in several parts from the pen-and-watercolour drawing, are clearly visible. The drawing also notably lacks a background. Elements of this drawing might have been used as a study for a larger drawing or engraving, or Langendijk simply abandoned the work. Nevertheless, it gives an interesting view of the Batavian Republic's horse artillery on the move, showing that many of the soldiers were still wearing parts of the uniforms from the Dutch Republic (cf. De Rochemont & De Wilde).
Jan Anthonie Langendijk (1780-1818) was a Dutch painter and engraver, known for his depictions of costumes and of battles. During the Napoleonic Wars, Langendijk created hundreds of drawings of uniformed soldiers of most of the participating countries, most of which were bought by the future King George IV of Great Britain and are now in the Royal Collection.
With a few spots. For Langendijk: Hazewinkel, "Dirk en Jan Anthonie Langendijk en Christoffel Meijer", Rotterdams jaarboekje 1955, pp. 121-142; for the Batavian horse artillery: De Rochemont, De Nederlandsche rijdende artillerie, p. 8; De Wilde, "De uniformen van het Leger van de Bataafse Republiek deeI II: de cavalerie" in: Armamentaria X, pp. 41-56.
Related Subjects: