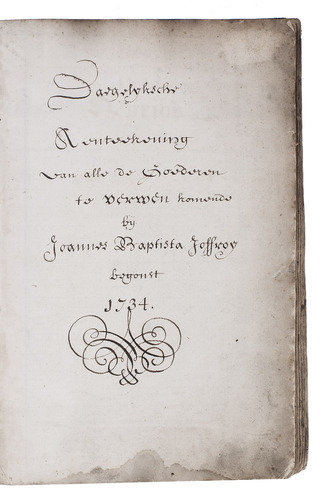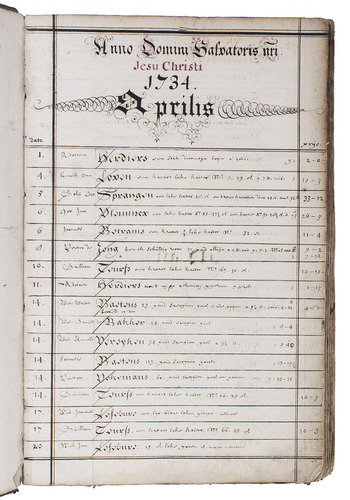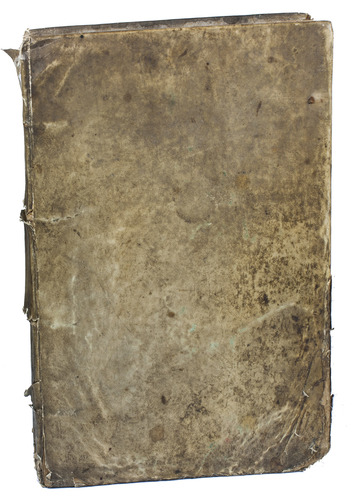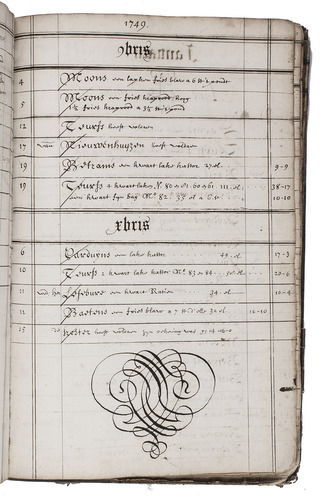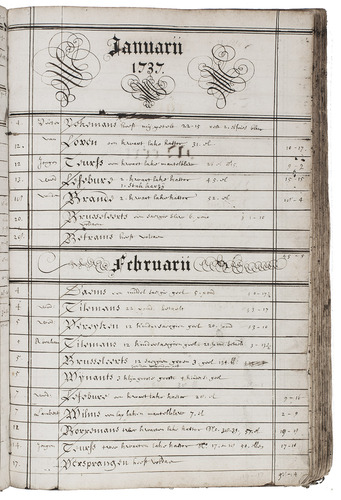 [MANUSCRIPT]. JOFFROY, Joannes Baptista (Jean-Baptiste).
Daegelyksche aenteekening van alle de goederen te verwen komende bij Joannes Baptista Joffroy begonst 1734.
[Mechelen (Malines, Belgium), 1 April 1734-31 August 1759]. Folio (32.5 x 21 cm). Manuscript journal of accounts in dark brown ink on paper, written in Dutch in an upright gothic hand, with each page ruled in double and single lines to make 4 or 5 columns and up to 22 rows, decorated with hundreds of pen flourishes, three forming pictures of birds as tailpieces and with a decorative cross to begin 1750 (some other years with a simpler cross), a couple headings with additions in red. Contemporary vellum. [268] pp.
€ 3,750
Journal of accounts of the cloth dyeing factory of Joannes Baptista Joffroy (1699/1708-post 1772?) in Mechelen (Malines) in the Southern Netherlands (now Belgium) under the Austrian Habsburgs, beginning on 1 April 1734 and ending with 21 August 1759. Most of the entries are for accounts receivable, but the journal also records deliveries of materials and goods to the firm and payments made for them, as well as other transactions or events, occasionally not monetary.
The entries record a wide variety of cloths, almost entirely wollens: most common are laken, serge and "kastor" but also flannel, "Fries", "perpetuan", ratiné, etc., and sometimes combinations. An unusually detailed note, apparently for incoming cloth includes "tricots". The entry usually indicates the colour the cloth was dyed, most often green or blue, but also yellow, bay (reddish brown), red and others. Some are more specific. The records of goods received and their payments are especially interesting for the materials and their prices, recording indigo, sandalwood, vitriol and other dyestuffs. The entries identify hundreds of customers.
Joannes Baptista Joffroy was the only surviving child and successor of Jan Bartholomeus Joffroy (1669-1740), not only a cloth dyer, but dean of the dyers guild in Mechelen.
With a small brown stain running into the text of 1 leaf and occasional minor smudges, ink spots or minor marginal stains, but the journal remains generally in very good condition. The binding is dirty, with some chips and tears, especially in the backstrip, and with the spine concaved. An essential primary source for any study of the cloth-dyeing trade. For Jean-Baptiste Joffroy and his family: "J.-B. Joffroy, de Malines", Bibliophile Belge III (1846), pp. 379-382; Installé, Patriciërs en ambachtslui in het stadsbestuur te Mechelen (1982), pp. 87-92.
Related Subjects: