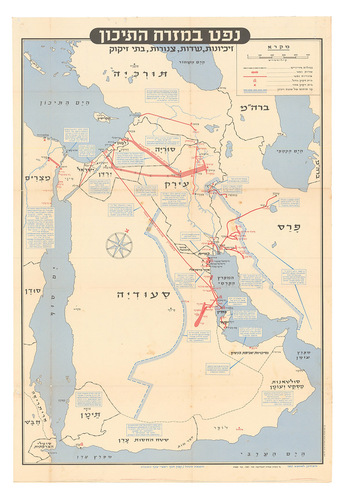 [MAP - ARABIAN PENINSULA OIL RESOURCES].
Neft ba-mizrah ha-tikhon. Zikaynot, shadot, tzinorot, batei zikuk. [= Oil in the Middle East. Concessions, oilfields, pipelines, refineries].
Tel Aviv, Israel Defence Forces, General Staff, [1957]. 56 x 82.5 cm. Chromolithographic map of the Arabian Peninsula, from Turkey in the north to the Indian Ocean in the south, and covering Saudi Arabia, Egypt, Israel, Palestine, Jordan, Syria, Lebanon, Iraq, Iran, Kuwait, Bahrain, Qatar, United Arab Emirates, Oman, North and South Yemen. Scale 1:5,000,000. Scale and key in Hebrew inset to top-right, inset explanatory panels in Hebrew and English, compass rose in Saudi Arabia. Folded.
€ 7,500
Extremely rare Israeli strategic map of the Arabian Peninsula showing oilfields and associated infrastructure. Printed in black, red and blue, the map demarks the political boundaries of the time along with the areas covered by oil companies concessions. Pipelines form a web across the northern part of the Arabian Peninsula (shown in an uncommon vertical orientation), while oilfields and refineries, large and small, are also marked. The IDF probably made the map in responce to the 1956 Suez Crisis and its associated geopolitical shifts. With the Egyptians operating the Suez Canal, and the USA forcing Britain and France to abandon their post-imperial plans, Israel now counted in both U.S. and Soviet plans for their control of Middle Eastern politics. Britain had to anchor its Middle Eastern influence in Cyprus, Aden and Iraq, while the increased American influence can be seen in the huge swathe of territory assigned to Aramco. We have located only one institutional copy of this map, in the National library of Israel.
With traces of pins from former wall mounting. A couple of small light stains, some uneven creasing and tears at the edges of some folds and a couple tiny holes where the folds cross. Otherwise in good condition.
Related Subjects: